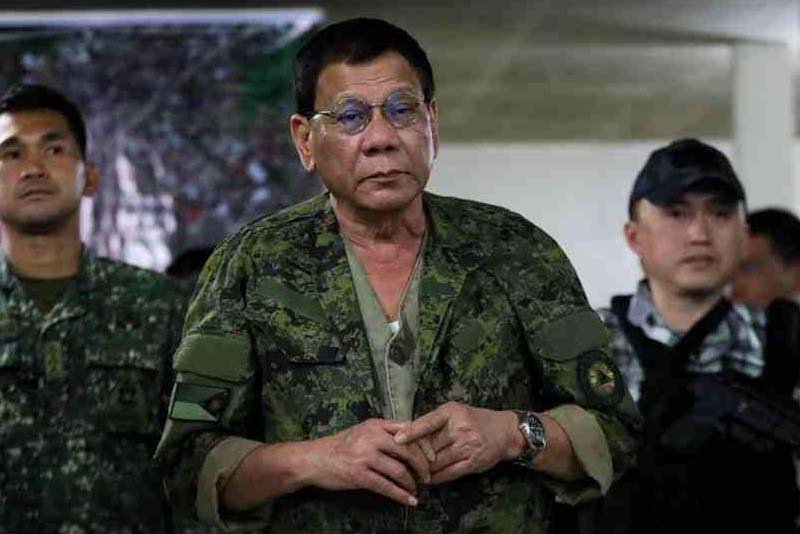 In this July 20, 2017 photo, President Rodrigo Duterte visits government troops who are engaged in a battle with the Maute terrorist group in Marawi City on July 20, 2017. The President gave out food packs and other assistance when he set foot at Camp Ranao. PPD/Ace Morandante
Duterte now claims arrest warrant vs drug lord triggered Marawi siege
(philstar.com) - September 27, 2017 - 4:28am
MANILA, Philippines – President Rodrigo Duterte on Tuesday claimed that the deadly Marawi siege, which has dragged on since May, erupted after security forces served a warrant of arrest on a drug lord operating there.
"The Marawi war was ignited by the service of a summon and a warrant of arrest of one of the drug lords there," Duterte said in his speech during the 56th anniversary of the Philippine Constitution Association.
"There was a firefight and that started the rebellion. And I was really aghast to know that until now, they have so many bullets, ordnance and everything that the fight is still going on," he added.
The president's claim runs counter to what security forces have been saying since hostilities in the city began months ago.
According to the military, a failed attempt by government troops to arrest Abu Sayyaf leader Isnilon Hapilon in Marawi on May 23 triggered the battle against the Maute group, homegrown jihadist militants who claim allegiance with the Islamic State of Iraq and Syria and backed by some foreign fighters.
"A firefight ensued and our troops reacted properly, but as of tonight, in the Philippines, the Maute group burned several facilities (in the city)," Defense Secretary Delfin Lorenzana said in a briefing from Moscow the night of the attacks.
The urban warfare prompted Duterte to place the entire Mindanao region under military rule. After the declaration reached the 60-day limit, Congress overwhelmingly voted to extend martial law in the strife-torn region until yearend.
Hapilon, the appointed emir of ISIS in the region, is wanted for the kidnapping of foreigners in the Philippines. The US government has put up a $5-million bounty for his capture with his name on its "most wanted" terror list.
Duterte has, in the past, said that drugs are behind the Marawi siege, claiming in June that "Christians and the Moro, who were into shabu sought sanctuary amongst the terrorists for protection and to ensure the success of their business."
'Marawi drug matrix'
Last week, Duterte released a "drug matrix" of politicians and alleged drug lords whom he claims to have financed the deadly Marawi siege, the biggest internal security crisis for the Philippines in decades.
He then claimed that slain Ozamiz City Mayor Reynaldo Parojinog was one of those who poured cash into the extremists that occupied Marawi. He added that some local officials in Central Mindanao are also financing terrorists, but did not elaborate.
In July, government forces discovered 11 kilograms of high-grade methamphetamine or shabu during clearing operations in Marawi.
A few days later, authorities seized two kilos of shabu worth P10 million in the house of former Marawi Mayor Omar Solitario Ali – a discovery that Malacañang said affirmed the link between the ongoing crisis in the city and illegal drugs.