US Embassy: Ambassador misquoted in 'speech that was never made'
September 25, 2017 | 3:22am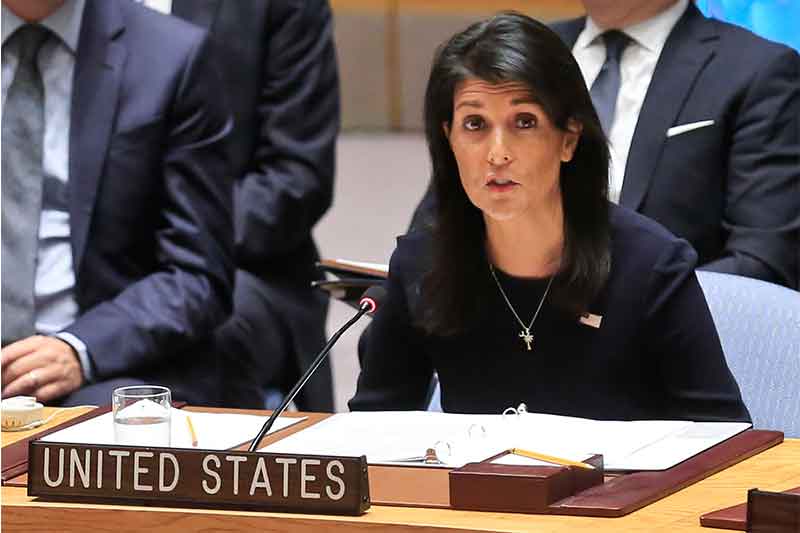 MANILA, Philippines — The US Embassy on Sunday denied comments attributed to a US ambassador that have been picked up by at least two broadsheet columnists.
"Sending a quick note to let you know that Ambassador Haley's remarks at the USUN are available at the US Mission to the UN's website," US Embassy Press Attaché Molly Koscina said in a message to reporters.
"There has been reporting recently incorrectly quoting a speech that was never made," she said in the same message.
Although Koscina did not go into detail, a statement attributed to US Ambassador to the United Nations Nikki Haley that have been quoted by the Manila Times' Yen Makabenta and the Manila Standard's Lito Banayo.
Neither columnist cited a source for their quotes, but both claimed that Haley told critics that they must give President Rodrigo Duterte "the space to run his nation."
The ambassador supposedly said: "The Philippines is suffocating. We must give President Duterte the space to run his nation. We must respect their independence … It is not in our purview to decide administrative issues for the Philippines."
Haley also supposedly said: "Destructive forces have never given the Duterte administration enough space to jump-start his programs of government; they did not even afford him the proverbial honeymoon period…. Now, they have calibrated their plot to ouster movements and this is just the second year of his presidency."
But transcripts posted on the UN Mission's website show that Haley has not mentioned the Philippines at all in the past month.
The remarks have since been traced to a website masquerading as that of Qatar-based Al Jazeera.
Journalist Jamela Alindogan, a correspondent for Al Jazeera, warned on her Facebook page last Friday that: "This is a fake aljazeera website. The correct one is www.aljazeera.com."
She also asked social media users to be careful about what they share online.
"Trolls are working overtime. Their intention is to discredit journalists and to fool the public," she said.
On Monday afternoon, the Canadian Embassy issued its own warning about the same website over social media.
Aljazeeranews-tv. com wrongly attributed quote to Canada's PM in his speech to UNGA Sept 21. For official speeches: https://t.co/n8qq8d8Sr8.

— CanadaEmbPhilippines (@CanEmbPH) September 25, 2017
— Jonathan de Santos