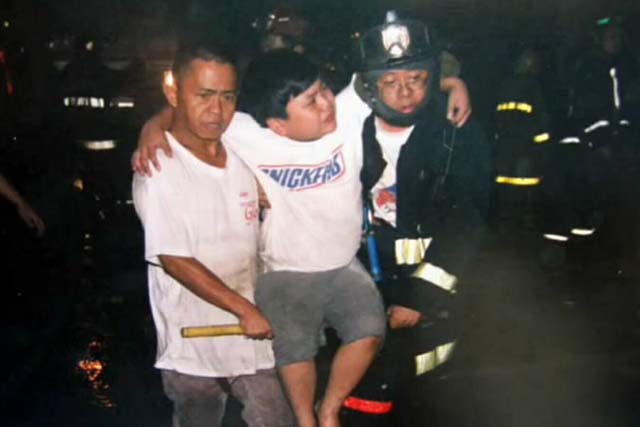 Arson investigator Lords Ramos Hernandez recalled how he saved the life of Horacio "Atio" Castillo III in a residential fire incident in Paco, Manila. Lord Ramos Hernandez/Facebook
Death of Horacio 'heartbreaking,' says fireman who saved him
MANILA, Philippines — One of the firefighters who saved the life of Horacio "Atio" Castillo III in 2005 mourned the death of the student.
In a Facebook post that recently circulated online, arson investigator Lords Ramos Hernandez recalled how he saved the life of Castillo in a residential fire incident in Paco, Manila and shared the photos he took of the then 12-year-old kid.
Hernandez said he confirmed that it was Castillo whom he saved after seeing the victim's parents on television.
He called the UST law student's death heartbreaking.
The 22-year-old law student of the University of Santo Tomas succumbed to death after incurring injuries from alleged hazing rites.
His body was dumped on a sidewalk in Balut, Tondo last week and was declared dead on arrival at the Chinese General Hospital.