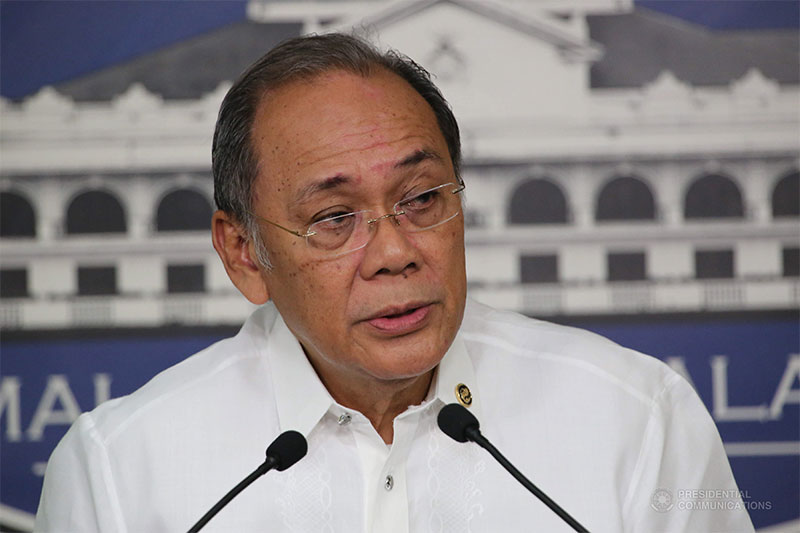 Abella said the government will tolerate the formation of new armed groups. Presidential Photo
Palace: Dialogue, not armed groups, best way to air grievances
(philstar.com) - September 21, 2017 - 4:40am
MANILA, Philippines – Demands and and grievances are better expressed through proper channels, the Palace said Thursday as it continues to verify reports of a new armed group in Marawi City.
"The government, through the military, is still verifying the veracity of the video posted online on the existence of a new armed group called Meranaw Victims Movement. The government does not tolerate the formation of armed groups to seek redress for grievances of citizens," Presidential Spokesman Ernesto Abella said in a statement.
"Also, demands from government are better made through dialogues and consultation with various stakeholders," he said.
Chief Superintendent Reuben Theodore Sindac, director of the Regional Police Office-Autonomous Region in Muslim Mindanao, said Thursday that they are now verifying the background of the people behind the appearance of the MVM with the help of civilian informants in Marawi City.
Sindac said he has directed the chief of the Marawi City police, Superintendent Ebra Moxsir, an Islamic theologian, to enlist the help of religious leaders in the ongoing probe.
"Our efforts are being done in coordination with our military counterparts there in Marawi City and in Lanao del Sur," Sindac said.
Evacuees from Marawi City told reporters Thursday that they are convinced the small group is merely emphasizing their demand for authorities to let them return to their abandoned homes, where conditions could be better than in evacuation centers.
Some groups have also been urging for an end to government airstrikes in Marawi City to enable internally-displaced people to salvage whatever is left in their houses, many of which have been flattened by bombs or destroyed in the fighting.
Local executives in Lanao del Sur, whose capital is Marawi City, have promised to help the PRO-ARMM investigate on the organizational intricacies of the group.
"We believe this is not a threat group. We Meranaws are touted as enterprising, wise people. We don't believe it's capable of fighting the Maute terror group or the government," one of the officials said on Thursday morning.
The video of the MVM shot in a barangay outside of Marawi City reminded some residents of central Mindanao on how the Indigenous People's Federal Army surfaced in South Upi town in Maguindanao in 2001.
Armed men wearing shirts marked "IPFA" appeared to reporters in a cornfield in South Upi, called for the resumption then of the government's suspended peace talks with the Moro Islamic Liberation Front and urged for the involvement of the Lumad communities in negotiations.
The IPFA was led by its main organizer, Roger Adamat, an ethnic Teduray, who later confessed to his having initiated the show to entice Malacañang's attention to resume with its talks with the MILF to put a negotiated closure to the nagging Moro issue hounding Mindanao since the late 1960s.
The group disbanded right after it got the publicity Adamat longed for. – with John Unson in Cotabato City