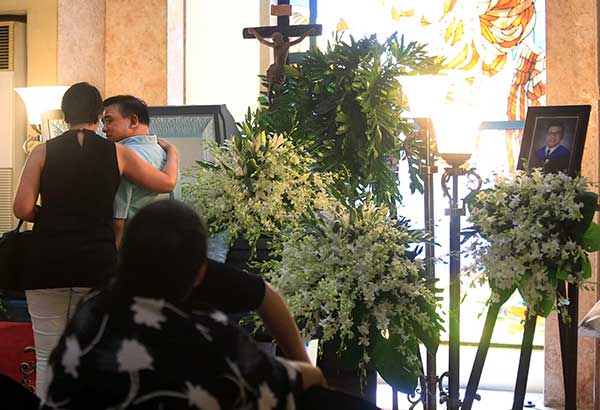 Horacio Castillo II, father of slain UST law student Horacio III, is consoled by a visitor during the wake at the Santuario de San Antonio in Makati yesterday. Inset shows a GMA-7 News screen grab of John Paul Sarte Solano, the student who brought the hazing victim to the hospital on Sunday morning. EDD GUMBAN
'Are you your brother's killer?
Ghio Ong
(The Philippine Star) - September 19, 2017 - 4:00pm
MANILA, Philippines — Amid the mourning and outrage over the hazing death of University of Santo Tomas (UST) law student Horacio Tomas Castillo III, student leaders want his fraternity brothers in Aegis Juris to man up and ask themselves: "Am I my brother's killer?"
Students in the UST Faculty of Civil Law raised the challenge without naming the fraternity, but it was the one to which the 22-year-old law freshman called Atio had applied for membership.
"To those responsible for this atrocious killing, now's the time for you to question this barbaric tradition. Did his death justify your sense of brotherhood?" the student leaders said in a statement.
"While it is human for us to mourn and be devastated, it must also be prudent for us to seek the highest form of justice for his life," the student council said.
Fraternity brothers of Castillo have yet to surface to shed light on the circumstances surrounding his death. Initial police reports said he was found Sunday morning on a sidewalk in Tondo – either dead or unconscious – and was brought to Chinese General Hospital where he was declared dead on arrival. Doctors said he died of heart attack caused by his injuries.
In its statement, the UST Faculty of Civil Law student council also called on those with first-hand information on the incident to approach officials and help in the investigation.
"(We) will not allow this horrendous act to pass without having those accountable face the consequences of their actions," it added.
It said it was deplorable that Castillo died at the hands of people who were supposed to be his "brothers."
Parents of Castillo tagged the Aegis Juris fraternity as responsible for the death of their son. They said he was supposed to attend the fraternity's "welcome activity" Saturday night at UST.
Faculty of Civil Law dean Nilo Divina, a member of Aegis Juris, issued a memo on Monday suspending fraternity members indefinitely and barring them from entering the UST campus.
In a statement released by TV5, the Aegis Juris fraternity extended its condolences to Castillo's loved ones and promised cooperation in the investigation.
"The fraternity extends its condolences to the bereaved family of Horacio at these very trying times," read the statement.
"Rest assured that the fraternity will extend its utmost cooperation in the investigation of this unfortunate incident," it added.
Last November, members of the Aegis Juris fraternity were among those suspended after figuring in a brawl at a hotel during the Bar exams at the UST campus.
Also suspended were members of the Gamma Delta Epsilon fraternity.
In a statement, Castillo's parents denounced the "barbaric and criminal acts" committed in the "false name of brotherhood" against their 22-year-old son.
"While the death of Atio is still under investigation, it is clear to us that Atio was killed by criminals from the Aegis Juris fraternity in a blatant act of hazing," the family said in a statement, referring to Castillo by his nickname.
Family lawyer Adelfa Villar prepared the statement signed by Castillo's parents.
The family also called on "the elders and young members of the Aegis Juris fraternity to bring the killers of Atio to justice."
"The Aegis Juris fraternity should not allow the acts of Atio's killers to forever tarnish their reputation and define their character, lest they be deemed complicit in Atio's murder," they said.
They said UST's Divina should "exhibit heroic leadership and champion the rights of Atio, his fallen student, regardless of his affiliation with the fraternity."
They also thanked the Manila Police District for its "invaluable assistance" and for its "continuous support in our quest for the truth." At the same time, they urged the public to "provide any leads that will assist the investigation into his death."
"We will not rest and we will not stop and will leave no stone unturned and resources untapped, until Atio's killers and everyone complicit in the hazing are brought to justice," they said.
Sympathy and outrage
Castillo's schoolmates, professors and friends continued to express both sadness and outrage over his death.
Around 200 to 300 people gathered at the UST's Faculty of Civil Law lobby to pray the rosary and light candles for Castillo last Monday.
"Hardworking, joyful, genuine: three words that best describe Horacio Castillo when I worked with him at the AB-SC (AB Student Council) office," a student said during the prayer gathering.
"Horacio had dedicated himself in the service of the Political Science community, the Artlets (Faculty of Arts and Letters) community and the Thomasian community," another student said.
"Whether as an officer or a senior student giving advice to his younger counterparts, his commitment to the Political Science, Artlets and Thomasian communities is unparalleled and his loss has been certainly felt by our forum and our university," Jonathan Santos, president of the UST Faculty of Civil Law's student council, said.
He added they pray that Castillo's tormentors realize that "in facing the consequences… being accountable to what you did will never diminish your masculinity."
Santos said he and Castillo had been close even if they belonged to different parties during the student council elections in April.
"We got close to each other because after the campaign, they dined out and I would join them… there, we got to know him," he told reporters.
Castillo was a debater "and even in usual conversations he had the training of a debater," Santos said.
He was "sobrang bait na bata," Santos said of Castillo.
He did not expect that Castillo would join a fraternity as he had offered him help in his studies. "I told him that if you ever need help with reviewers, notes, any tips with professors… I can help you," Santos said.
Dennis Lachica, a master's student of English and Castillo's partymate, said the law freshman might have felt the need for connections after his law studies, hence his decision to join a fraternity.
"If I may say, many join fraternities or sororities because the moment you step out of law school you need to find a job, you need connections," Lachica pointed out.
He also appealed to Castillo's killers to surrender immediately. "You did not just play 'pitik bulag' on him, you killed him," he said. "Come to think of it, there are killers in our midst in the campus. We fear for our safety."
After the 2001 hazing death of Mark Welson Chua, a staff of The Varsitarian, Lachica said the UST community thought hazing had become a thing of the past in the university.
Chua was killed by fellow cadets and officers in the ROTC after he exposed irregularities in the reservist military program. Chua's body was fished out of Pasig River wrapped in a blanket and his face covered with duct tape. Chua's death set the stage for the abolition of ROTC.
"I don't know who to blame for (Castillo's death) – the administrators of UST, the government or the people who have a shallow concept of brotherhood or sisterhood," Lachica said.
Santos said there are two other fraternities in the Faculty of Civil Law – Gamma Delta Epsilon and Suprema Lex.
He said that with hazing banned, fraternities are only allowed to perform initiation rites for new members – usually with the participation of professors or some alumni.
"With regard to what they do during initiation, they don't tell us. They're not obliged to tell anyone."