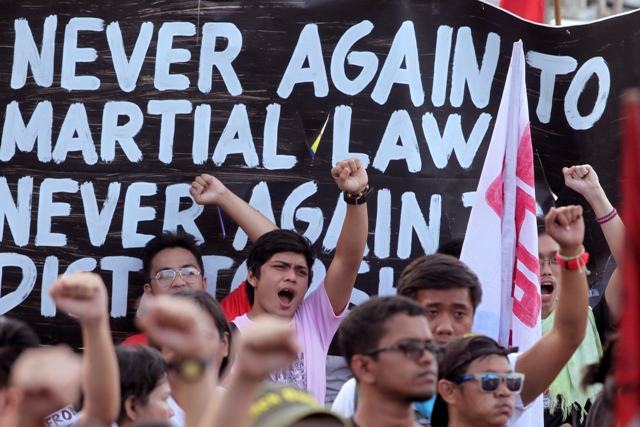 Bayan Muna party-list Rep. Carlos Zarate said if any saboteurs would join the massive protest rally on Sept. 21, they would most likely be state agents "out to create chaos and justify the declaration of martial rule." AP/Bullit Marquez, file
Duterte warned on martial law talk as protests set
Jess Diaz
(The Philippine Star) - September 16, 2017 - 4:00pm
MANILA, Philippines — President Duterte's talk of imposing martial law nationwide is just a "scare tactic" to stifle political dissent, leftist congressmen said yesterday.
Bayan Muna party-list Rep. Carlos Zarate said if any saboteurs would join the massive protest rally on Sept. 21, they would most likely be state agents "out to create chaos and justify the declaration of martial rule."
He warned that this was what dictator Ferdinand Marcos did to justify the declaration of martial law on Sept. 21, 1972.
"Floating the idea of a nationwide state of martial law is a tactic designed to scare our people and reduce the number that would participate in and join the massive rally on Sept. 21, the anniversary of the declaration of martial law," Zarate said.
"The organizers of the protest, particularly the Movement Against Tyranny, would not allow infiltrators or saboteurs among their ranks that would sabotage the peaceful gathering," he added.
Rep. Antonio Tinio of Alliance of Concerned Teachers said the martial law statements of Duterte and Defense Secretary Delfin Lorenzana "are intended to counter the growing opposition to Duterte's increasingly tyrannical rule, cow citizens outraged by the rising death toll due to tokhang and martial law in Mindanao, and dissuade them from participating in rallies."
Tinio also warned that Duterte is laying the basis for declaring martial law nationwide.
"He is insidiously conditioning the public to accept that 'massive protests' and 'fighting in the streets' are sufficient justification for declaring martial law, conveniently ignoring that the Constitution allows for martial law only in cases of invasion or rebellion," he said.
Tinio added that next week's planned protest actions could not be considered invasion or rebellion. He also urged people to join rallies against extrajudicial killings and "rising tyranny."
For party-list group Kabataan, Duterte's martial law pronouncement "shows his utter disregard for the bravery and sacrifice of those who fought against the Marcos dictatorship, which includes his mother who led the anti-dictatorship movement in Davao."
"This is nothing but a desperate attempt to cling to power amidst growing calls for his ouster for his failed policies," the group said.
But Communications Secretary Martin Andanar maintained that the President will respect the freedom of expression of every Filipino who would join protest rallies.
Andanar reiterated the President's statement that protesters can even burn the effigy of Duterte.
"What is important is that our countrymen will be allowed to practice their freedom of expression," Andanar said in a radio interview yesterday.
"If they plan to launch protests, the President said they can protest anytime, anywhere they want and however how long, as long as there will be no chaos, nobody will vandalize and they will not destroy properties," he added
Duterte's leftist allies in the House of Representatives have recently deserted his supermajority in the chamber.
#TindigPilipinas launch
Non-government organizations, civil society groups, members of the academe and opposition leaders will tomorrow launch themselves as a group called #TindigPilipinas to urge peace-loving Filipinos to stand up against the worsening violence and lawlessness in the country.
"We are alarmed, indignant and outraged by the path our nation has been led to, a path filled with violence, contempt for law and hate," TindigPilipinas said in a statement yesterday.
"We have decided to come together and we want this nightmare to end. It is time for our country to stand together, time to stand up and be counted," they added.
TindigPilipinas will hold a press conference tomorrow at 10 a.m. at the Kalayaan Hall, Club Filipino in Greenhills, San Juan City.
Digital ML museum launch vs revisionism
Various organizations also led yesterday the launching of a digital museum aimed at addressing efforts to revise Philippine history, particularly the atrocities committed by the Marcos dictorial regime during the martial law years.
The museum, accessible at http://MartialLawMuseum.ph, is a collective effort of various individuals and civil society groups to counter historical revisionism about martial law.
"We are really in this serious problem, not just defending the truth but actually deepening the truth – the truth about our history, the truth about martial law and what happened at the time," digital museum administrator Arjan Aguirre said during the launch yesterday at the Ateneo de Manila University.
"The initiative, the martial law museum, is a means not just to inform but to allow people to reflect and perhaps to form new advocates of the truth about martial law… We are ready to engage people who undermine the truth," he added.
In her keynote address, former National Historical Commission of the Philippines (NHCP) chair Maria Serena Diokno said there is hope despite the efforts to revise the truth about the dictatorship.
"There are Filipinos who still refuse to comply and will not remain silent, either about the past or about the creeping authoritarianism of the present. It is in fact this present that we live in that compels us to remember our past," she said.
"What you have established is not a mere pocket of memory, but the entire boundless chamber of remembrance that educates, empowers and offers hope," she added, referring to the museum.
Diokno resigned as NHCP chair following the decision to bury the dictator at the Libingan ng mga Bayani.
According to project proponents, the digital martial law museum will feature works of art, lectures, essays and teaching resources curated from artists, experts, scholars, researchers, teachers and students.
The initiative will operate under the principles mag-aral, magturo and manindigan.
"(These are) principles that enable us to defend and strengthen our commitment to the truth, the stories of martial law," Aguirre said. – With Janvic Mateo, Jose Rodel Clapano, Christina Mendez