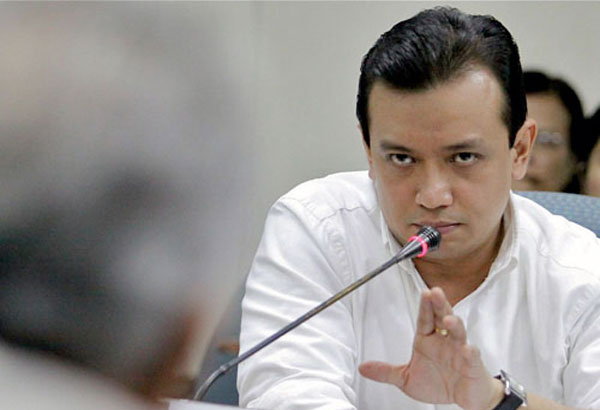 Sen. Antonio Trillanes IV on Monday declared that he would sue three individuals for libel. File
'Era of fake news over': Trillanes to sue Tulfo, Mocha for libel
MANILA, Philippines — Sen. Antonio Trillanes IV on Monday declared that the era of fake news is over as he revealed his plan to file libel cases against several individuals who spread information on his alleged foreign bank accounts on the internet.
Trillanes slammed pro-President Rodrigo Duterte social media accounts and personalities for allegedly spreading false information about the existence of the said bank accounts, specifically Erwin Tulfo, a broadcast journalist, Mocha Uson, an assistant secretary, and Ben Tesiorna, a content contributor of CNN Philippines.
"Kaya nga within the next few days I will file a case against itong si Mr. Erwin Tulfo, si Ms. Mocha Uson at itong si Mr. Ben Tesiorna. Kakasuhan ko sila ng libel," Trillanes said in a media conference at the Senate.
He added, "Hindi na pupwede yung fake news. The era of fake news is over."
Trillanes signed bank waivers allowing the Anti-Money Laundering Council and the Office of the Ombudsman to scrutinize the bank accounts that were alleged to be owned by the senator.
In doing so, he issued a challenge to Duterte to sign similar documents to allow a probe into an account in Pasig City containing more than P200 million allegedly owned by the chief executive, an allegation that the senator hurled last year at the height of the election campaign.
"Ako naman ibabalik ko kay Duterte yung hamon. Nagparatang ka sa akin pumirma ako ng waiver. Nagparatang ako sa'yo isang taon mahigit na iniiba mo yung usapan," he said.
This is the latest episode in the tit-for-tat between the senator, who caucuses with the minority in the Senate, and the irascible president.
Over the weekend, Duterte said in Cagayan De Oro that Trillanes had offshore accounts, a proof, he said, of the senator's clandestine wealth.
This followed the allegation of Trillanes in a Senate panel investigation into how billions of pesos worth of methamphetamine was able to pass through Manila's ports and that Duterte's son, Paolo, and son-in-law, Manases Carpio, had a handful of accounts containing hundreds of millions of pesos.
"Itong Duterte administration nanalo kayo dahil sa fake news pero ngayon hindi na pupwede yan. Hahabulin at hahabulin ko kayo every time," Trillanes said.
Tulfo is a broadcast journalist at the government-owned PTV-4 and is the brother of Wanda Tulfo Teo, the secretary of tourism.
READ: Duterte camp spent $200000 for troll army, Oxford study finds
Uson, on the other hand, maintains a blog with millions of follower and has been accused of spreading spurious information to her followers in the past
According to Trillanes, Tesiorna, the maintainer of Davao Breaking News website, is a correspondent of CNN Philippines.
The network however clarified that Tesiorna was only an occasional contributor.