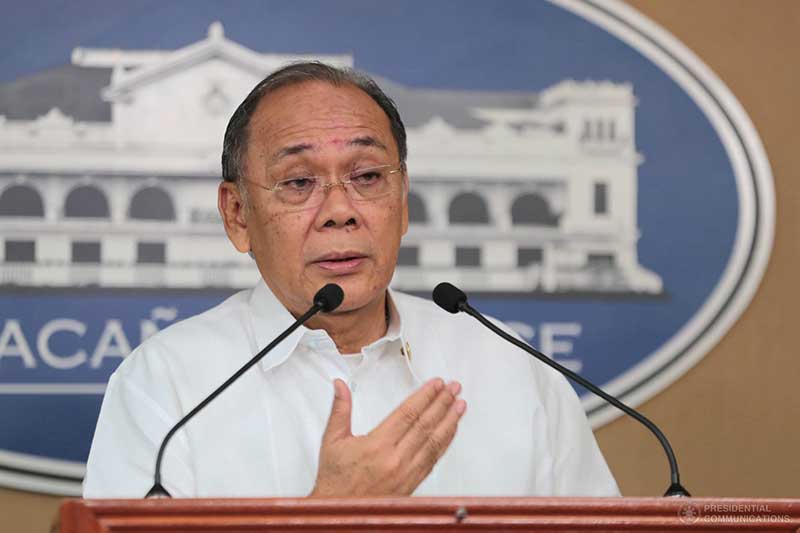 "It is with profound dismay that we regard the disturbing death of 14-year-old Reynaldo de Guzman," presidential spokesman Ernesto Abella said in a press briefing. "We call on authorities to bring the perpetrators of this suspicious crime to justice." Presidential Photo/File
'Profoundly dismayed' Palace vows no whitewash in Kulot case
MANILA, Philippines — Malacañang yesterday expressed "profound dismay" over the killing of Reynaldo de Guzman, the teenager who bore at least 26 stab wounds and whose head was wrapped in packing tape and a shirt.
"It is with profound dismay that we regard the disturbing death of 14-year-old Reynaldo de Guzman," presidential spokesman Ernesto Abella said in a press briefing. "We call on authorities to bring the perpetrators of this suspicious crime to justice."
De Guzman was the companion of 19-year-old Carl Angelo Arnaiz, the former University of the Philippines student who left his house in Cainta last Aug. 17 to buy snacks.
Arnaiz was found dead with five gunshot wounds and bruises in Caloocan 10 days after they went missing, while De Guzman's body was found in a creek in Gapan City, Nueva Ecija with at least 26 stab wounds and his head wrapped in packing tape last Tuesday.
Caloocan police have claimed that Arnaiz was killed during a shootout in followup operations after he supposedly held up taxi driver Tomas Bagcal on C-3 Road in Caloocan City, hit the driver on the head with a gun, took his wallet and fled.
But forensic analysis conducted by the Public Attorney's Office debunked the police's account of the incident as it suggested that Arnaiz was tortured before he was killed, as his wrists were swollen and bore handcuff marks and his eyes were bruised.
It also showed that Arnaiz was kneeling when he was shot several times in the chest, suggesting "intentional killing" on the part of the police.
Yesterday, Gapan City Mayor Emerson Pascual announced a P200,000 reward for any information that would lead to the identities of the people who threw the body of De Guzman in a creek in the city.
The family of De Guzman will also seek a meeting with the President, according to Public Attorney's Office chief Persida Acosta. Earlier, the family of Kian Loyd delos Santos, who was killed by Caloocan police, met with Duterte, as did the parents of Arnaiz.
Critics have blamed Duterte for the killings, saying his promise to protect policemen involved in the drug war emboldened them to commit abuses.
Duterte has denied endorsing extrajudicial killings and has vowed to prosecute "to the full extent" policemen who committed crimes.
But last December, Duterte defended government troops from allegations that they are torturing and executing suspected drug offenders.
"Hindi trabaho ng pulis iyan pati sundalo. Bakit mo balutin eh 'di patayin mo na lang (That's not the work of the policemen and soldiers. Why do you need to wrap him? Why not just kill him)? We are not producing mummy," the President said in a speech in Tarlac last Dec. 11.
When asked if Duterte still believes that policemen are not using torture techniques such as covering a person's head with packing tape, Abella said: "The whole matter is under investigation. In fact, those details that you mentioned are truly suspect."
"However, we cannot go into any speculation at this stage. It must be properly investigated. And the assurance is there will be no whitewash," he added.
'Major rethinking'
Abella also said the war on illegal drugs is undergoing "major rethinking" following the death of De Guzman, Arnaiz and 17-year old Kian delos Santos, who was killed in a raid in Caloocan City last month.
"The fact that the PNP (Philippine National Police) is being investigated, that there are Senate hearings, this indicates that actually the whole nation is in the process of rethinking the way we do things," he added.
Abella said such rethinking "falls within the ambit of the President's campaign against crime and illegal drugs."
"In other words, it's not just one isolated event. It's the whole process that we're undergoing, that we can see that there is a rethinking. A major rethinking going on," he added.
NBI probes killing, hunts taxi driver
Meanwhile, Justice Secretary Vitaliano Aguirre II has ordered the National Bureau of Investigation (NBI) to probe the killing of De Guzman.
In Department Order No. 581, Aguirre directed NBI Director Dante Gierran to determine the circumstances in the killing of De Guzman and build criminal cases against the perpetrators.
The PNP yesterday said it will help the NBI in its probe.
Aguirre also offered the parents of De Guzman coverage of the witness protection program (WPP).
"Yes, they could be covered by WPP because there is a report that they are fearing for their lives. If they want to be covered because of threats, then we can accept them as long as they qualify under our WPP," he explained.
Aguirre also tapped the NBI to locate Tomas Bagcal, the taxi driver who was allegedly robbed by Arnaiz as claimed by the Caloocan police.
Director Oscar Albayalde, chief of the National Capital Region Police Office, said the taxi driver reportedly went underground to evade journalists.
But Albayalde said Bagcal told the manager of the taxi company he was working for that he would surface and cooperate in any investigation.
Albayalde and Aguirre believe the statement of Bagcal would play a critical role in solving the killing of Arnaiz and De Guzman. Aguirre also said Bagcal could possibly become a state witness in the case.
"He is not just a person of interest. If he was really robbed then he is a victim also. But if he only made up such story (against Arnaiz), then he could be charged also," Aguirre said.
Bagcal reportedly had two inconsistent affidavits submitted to police. In the first, he said he could not describe the alleged robber. But in the second, the driver described the attire of the suspect fitting that of Arnaiz. With Edu Punay, Marvin Sy, Paolo Romero, Emmanuel Tupas, Non Alquitran, Robertzon Ramirez, Janvic Mateo, Rhodina Villanueva