Marcos camp: We have evidence of 2016 polls anomaly
September 6, 2017 | 4:05am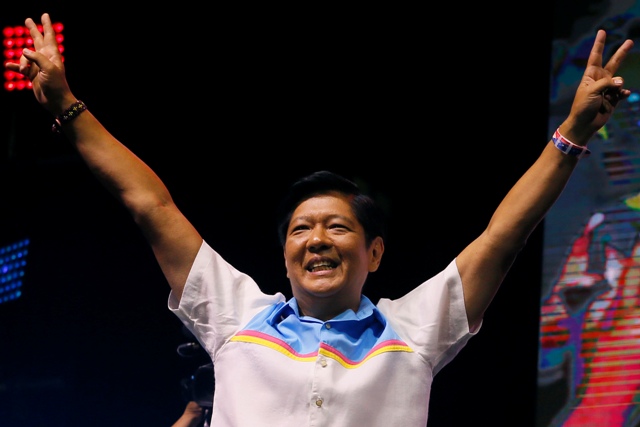 MANILA, Philippines — The camp of defeated vice presidential candidate Bongbong Marcos remains confident that they will secure victory in an election protest against Vice President Leni Robredo.
The Supreme Court, sitting as the Presidential Electoral Tribunal (PET), earlier upheld the integrity of the 2016 elections.
The tribunal dispensed the Marcos camp's first cause of action calling to nullify the results of the vice presidential race due to a "flawed" automated election system.
Lawyer George Garcia, head of Marcos' legal team, admitted that the first cause of action will not result to the proclamation of the former senator as vice president.
The protest of Marcos against Robredo, however, is still not over, according to Garcia.
READ: SC upholds integrity of 2016 polls, orders ballot boxes retrieved
"That may not be true at all when we say that the Supreme Court dismissed, that Supreme Court merely dismissed the first cause of action. We have three causes of action and it is also wrong to say that the Presidential Electoral Tribunal practically set aside the so-called nullification of the 2016 election," Garcia said in ANC's Headstart.
The second cause of action is for the revision and recount of all voters' receipts, elections returns and other documents in 27 provinces and highly urbanized cities used in the May 2016 elections.
Meanwhile, the third cause of action seeks to annul the election results in Basilan, Lanao del Sur and Maguindanao on the grounds of cheating like vote buying, pre-shading, intimidation, among others.
Garcia claimed that more than 51 percent of the voters in the three provinces were not the ones who actually voted on election day.
"If we are able to prove that based on the decision of the Supreme Court in the case of Abayon vs HRET, that may result in the nullification of the results of the election at least for the position of vice president," Garcia said.
The Marcos counsel said that their camp has evidence to prove the anomalies in the three provinces during the 2016 polls, justifying their request to retrieve election materials.
The PET also ordered the "retrieval of ballot boxes and other election documents, revision of ballots and reception of evidence can already begin with, but shall first be confined to, only the provinces that have been designated by protestant, namely Camarines Sur, Iloilo and Negros Oriental."
The nullification of election results from the three provinces may result in the victory of Marcos in the vice presidential race. Robredo won by more than 265,000 votes against Marcos.
"And in case the tribunal will annul the election in these three provinces, it may result to Bongbong Marcos winning by a 45,000-vote margin," Garcia said.