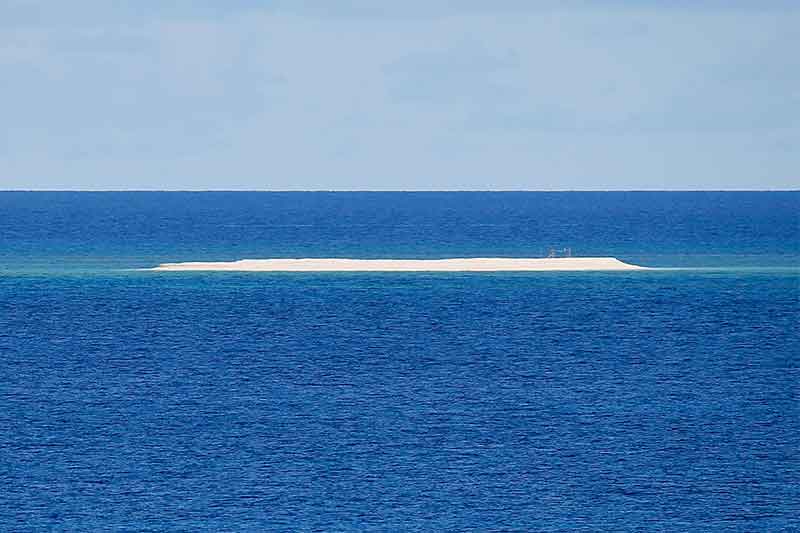 In this Friday, April 21, 2017, photo, a sandbar is seen from the Philippine-claimed Thitu Island off the disputed South China Sea in the western Philippines. On Tuesday, Aug. 22, 2017, two Filipino security officials said China has deployed its navy and coast guard ships in a cluster of uninhabited sandbars in the disputed South China Sea amid concerns that the Philippines may build structures on them in an emerging territorial issue that the government stated was quickly resolved. AP/Bullit Marquez
No budget proposal for West Philippine Sea yet, says DFA
MANILA, Philippines — The Department of Foreign Affairs has not included an amount regarding the issue of Philippine sovereignty in its proposed budget for next year.
During the budget briefing of the DFA, Albay Rep. Edcel Lagman asked Foreign Affairs Secretary Alan Peter Cayetano if there was any specific amount earmarked to assert and defend the country's sovereignty in the West Philippine Sea.
The Philippines' top diplomat said that the funds for the issue of Philippine sovereignty are lodged within the Department of National Defense.
Cayetano, however, noted that if the Congress decides to allot funds for the West Philippine Sea, his agency would put it to good use.
"We want to do two things: first, protection and research on our territorial claims and second, in anti-terrorism. If you give us a few days, we'll give you a specific proposal," Cayetano said.
When the Philippine government, under the Aquino administration, filed an arbitration case before the United Nations-backed tribunal, the funds used were from the Office of the Solicitor General.
For 2018, the DFA proposed a P19.57-billion budget for the Office of the Secretary while its attached agencies such as the Foreign Institute, Technical Cooperation Council of the Philippines and UNESCO National Commission of the Philippines have a proposed budget of P64.93 million, P4.60 million and P19.80 million, respectively.
READ: Carpio: China virtually occupying Sandy Cay | Duterte: Why defend disputed sandbar?
When asked if the DFA has taken steps to communicate with the Supreme Court to remind Senior Associate Justice Antonio Carpio regarding his public pronouncements on the West Philippine Sea, Cayetano said that the agency considers Carpio as an asset.
Kabayan party-list Rep. Harry Roque expressed concerns over Carpio's remarks on foreign affairs which contradicts the official policy espoused by the executive branch.
"In the same manner that we look at you as an asset even if you don't agree with us 100 percent, we also look at Justice Carpio as an asset. He has helped a lot with the arbitration award. He is a guiding voice and light in protecting our interest in the West Philippine Sea," Cayetano told Roque.
RELATED: Duterte hits Carpio for pushing claim in South China Sea