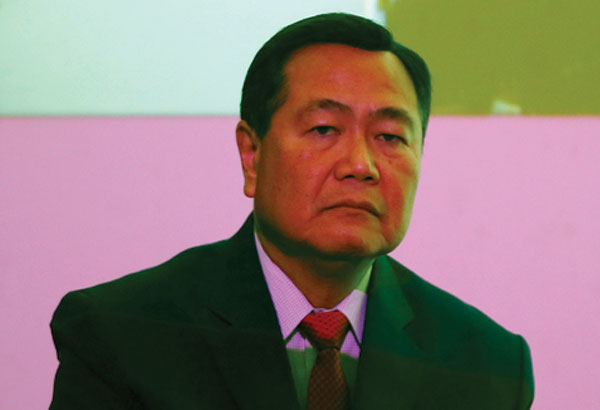 In a statement, Carpio said China is guarding Sandy Cay located some 2.5 nautical miles off Pag-asa Island in the West Philippine Sea and well within Pag-asa's 12 nautical miles territorial waters. AP Photo/Bullit Marquez, File
Carpio: China virtually occupying Sandy Cay
MANILA, Philippines - Supreme Court (SC) Senior Associate Justice Antonio Carpio yesterday expressed belief that China is breaking its vow not to occupy any more islands in the Spratlys area because it is allegedly virtually occupying a new geological feature called Sandy Cay in the West Philippine Sea.
In a statement, Carpio said China is guarding Sandy Cay located some 2.5 nautical miles off Pag-asa Island in the West Philippine Sea and well within Pag-asa's 12 nautical miles territorial waters.
It reportedly has two frigates, a coast guard vessel and two military fishing boats around Sandy Cay.
"Sandy Cay is a Philippine land territory that is being seized – to put it mildly – or being invaded – to put it frankly – by China," said Carpio.
He urged President Duterte and Foreign Affairs Secretary Alan Peter Cayetano to defend and protect the country's territory since they have both "vowed to the Filipino people that they will not concede a single inch of Philippine territory to China."
"The very least that they could do now is to vigorously protest this invasion of Philippine territory by China."
Carpio suggested that the government sends a vessel to show ownership over Sandy Cay. "If both are courageous, they should send a Philippine Navy ship to guard Sandy Cay, and if the Chinese Navy ships attack the Philippine navy vessel, they should invoke the Philippine-US Mutual Defense Treaty."
He explained that Sandy Cay was extensively discussed in the final ruling of the July 12, 2016 arbitral tribunal.
He described Sandy Cay as located between Pag-asa and Zamora (Subi) Reef and is a disappearing high-tide sandbar – appearing only for a few months before it disappears.
It would re-appear again either in the same place or in a nearby place and disappear when the sands disperse during storms and only re-appear as a result of the action of the waves, he said.
During that time, the "arbitral tribunal did not deem it necessary to decide whether Sandy Cay is a high-tide or low-tide elevation because there are low-tide elevation rocks in the Pa-asa Reef between Pag-asa and Subi Reef that could be used as baselines of Pag-asa even without Sandy Cay. These rocks, as baselines, extend the territorial sea of Pag-asa to include Subi Reef which is a low-tide elevation forming part of the continental shelf of the Philippines."
"Apparently, because of China's dredging in Subi Reef, pulverized corals drifted and gathered at Sandy Cay and made it permanently above water at high-tide. As a high-tide elevation, Sandy Cay is now land or territory capable of sovereign ownership with its own territorial sea and territorial airspace," Carpio said.