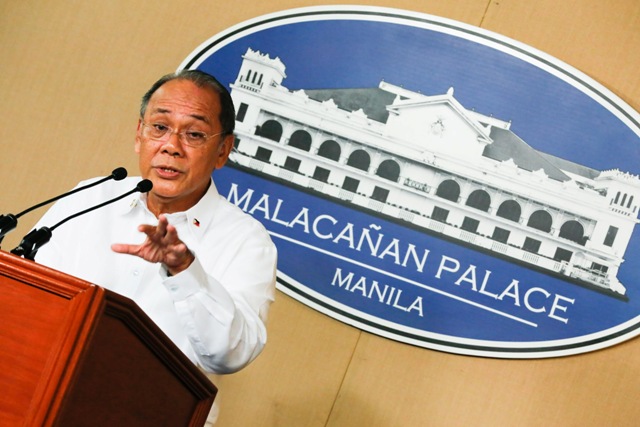 Presidential Spokesperson Ernesto Abella said that the killing of a 17-year-old senior high school student in Caloocan City was "happily isolated." File
Palace describes death of boy, 17, as 'isolated'
MANILA, Philippines — A presidential spokesman said on Friday that the death of a 17-year-old senior high school student in the hands of Caloocan cops conducting an anti-narcotics operation was an "isolated" incident.
Ernesto Abella, a spokesperson of President Rodrigo Duterte, said that despite the death of Kian Loyd delos Santos on Wednesday night, Filipinos see streets as "generally safer," a remark that came at the end of one of the bloodiest weeks in the chief executive's war on drugs.
"[T]hat incident [haply] I think is isolated," Abella, a former pastor, said based on the edited transcript from the Palace. The original quote from Abella sounded, "[T]hat incident happily I think is isolated."
Despite Duterte's pledge to shield police from possible prosecution arising from the performance of duties, Abella gave an assurance that the president would not tolerate abuses and breaches of the law.
On Wednesday night, Delos Santos was gunned down by cops conducting an anti-illegal drugs operation in Caloocan City.
According to police accounts, the boy resisted arrest and tried to fight back against officers, a usual line of reasoning from authorities when questioned about the mounting number of deaths related to the government's brutal campaign against illegal drugs which started in July 2016.
However, security camera footage and witness accounts dispute this.
A footage from the local village shows the police dragging Delos Santos to the place where his lifeless body was found later that night, according to local media. Witnesses also said the boy was given a gun and instructed to fire it and then run away, presumably to corroborate a possible police refrain that the suspect offered violent resistance.
The death of Delos Santos was just one of the dozens of killings recorded since the start of this week, one of war drug's deadliest, and sparked a rare condemnation even from allies of the president in the Senate.
The spate of killings started in Bulacan on Tuesday when simultaneous police operations resulted in the death of 32 people suspected of involvement in illegal drugs.
This was followed by the killings of 25 more people in Manila.
The most recent deadly round of police operations occurred in Caloocan, Malabon, Navotas and Valenzuela, where a total of 18 drug suspects were killed on Thursday evening and Friday morning.
Abella said those guilty of breaking the law would be brought to justice. He said the police, through their Internal Affairs Service, had an "automatic mechanism" to deal with these cases.
"They have internal mechanisms, the IAS," he said. "They automatically do that, they automatically do that."
Government authorities said that around 3,264 alleged drug offenders have died since the start of the intensified crackdown. Another 2,000 others have died in still unexplained homicides, many of which were perpetrated by unidentified motorcycle-riding men.
However, human rights activists dispute this and say that over 7,000 deaths have already occurred since Duterte launched his drug war.