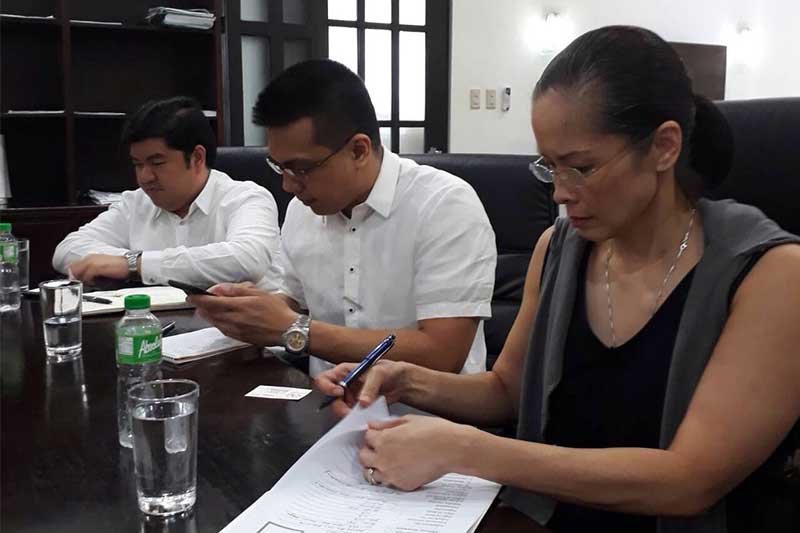 Patricia Bautista, estranged wife of Commission on Elections chair Andy Bautista, has been placed under provisional admission under the witness protection program. DOJ/Released
Bautista's wife placed under witness protection
(Philstar.com) - August 18, 2017 - 10:13am
MANILA, Philippines — The Department of Justice has placed Patricia Cruz-Bautista, wife of Commission on Elections chair Andy Bautista, under provisional coverage of its witness protection program (WPP).
According to Justice Secretary Vitaliano Aguirre II, the Bautista children will also be placed under the provisional coverage of the program.
Patricia earlier accused his estranged husband of amassing about P1 billion in unexplained wealth, which was not declared in his Statement of Assets, Liabilities and Net Worth.
Aguirre said that Patricia was placed under provisional admission into the WPP in consideration of her safety and security as a potential witness.
READ: The story so far: Poll chief Andres Bautista and wife
"We wish to stress that before being provided with actual protection, security and/or benefit under the WPP, Ms. Cruz-Bautista must execute a Memorandum of Agreement. Ms. Cruz-Bautista came to the DOJ freely and voluntarily, with her lawyers, to seek her admission to the WPP," Aguirre said in a statement.
An impeachment complaint has been filed against the Comelec chief for alleged culpable violation of the Constitution and betrayal of public trust in his previous post in the Presidential Commission on Good Government and as Comelec chief.
Marcos loyalist lawyer Oliver Lozano filed the complaint after Patricia claimed that her estranged husband was involved in alleged irregularities when he was PCGG chief and as Comelec chief.
Bautista, on the other hand, insisted that his wife's claims may be politically and financially motivated.
"Hindi po totoo iyang mga paratang na iyan. Matagal na po kaming may problemang mag-asawa na ngayon ay nababahiran na ng pulitika. Kasama ko po ang aking pamilya ng Bautista at pati na po ang kanyang pamilya, ang Cruz family, sa labang ito," Bautista said in a radio interview with dzMM last week.
The poll body chief said that he is willing to resign from his post should he become a burden to the Comelec. — Patricia Lourdes Viray
RELATED: Poll chief Andres Bautista cries 'extortion' against wife