China ships massing near Pag-asa sandbars?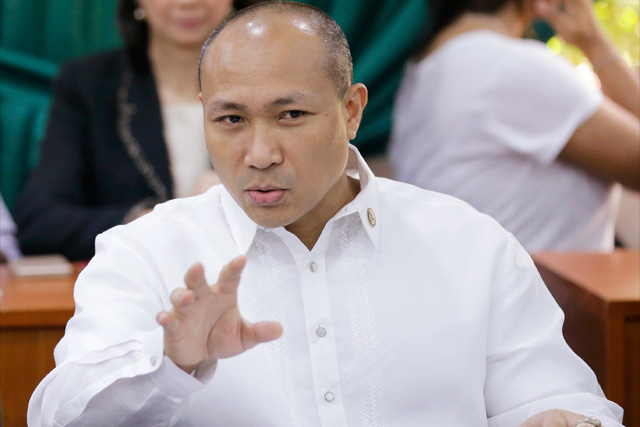 MANILA, Philippines - China is massing Navy and Coast Guard ships near Pag-asa Island in Palawan, which is occupied by a few hundred Filipino soldiers and civilians, Rep. Gary Alejano of party-list group Magdalo said yesterday.
"I received information from my sources in the military stating that since three days ago, China has deployed two frigates, one Coast Guard vessel and two large fishing vessels, with their maritime militia, one to three nautical miles north of Pag-asa Island," Alejano, a former Marine captain, said.
"Further, two days ago, a Philippine government ship from the Bureau of Fisheries and Aquatic Resources was prevented by Chinese fishing vessels from going near our sandbars located generally west of Pag-asa, around two to seven miles away," he said.
Alejano said this is highly suspicious and threatening, considering that China says one thing in public and does another on the ground.
"For example, our fishermen continue to be harassed in West Philippine Sea by Chinese Navy or Coast Guard. Let us not forget what happened in 1995 when they grabbed Panganiban (Mischief) Reef from us," he added.
The Chinese have since built military facilities on the reef. In 2012, after a standoff with the Philippine Coast Guard, China seized Panatag or Scarborough Shoal, around 120 nautical miles off Zambales and Pangasinan.
Alejano urged the Duterte administration to take his information seriously "and call the attention of China to order their ships away from Pag-asa Island and file appropriate diplomatic protest against China."
"I call on the Philippine government officials to be transparent in what is happening in West Philippine Sea. We must assert our rights in the midst of talks with China," he said.
Spokesmen for the Department of Foreign Affairs and the Armed Forces of the Philippines said they would check Alejano's information.
"Sorry, the Department of Foreign Affairs is the only authorized agency to issue a statement on matters regarding the West Philippine Sea," AFP chief Gen. Eduardo Año told The STAR in a text message.
"Allow us to validate the information. We defer to issue any comment until we get the whole picture of the current situation," Col. Edgard Arevalo, AFP Public Affairs Office chief, said.
Pag-asa is considered a town of Palawan. It has a mayor and the military has maintained an airstrip there.
There have been proposals in Congress to improve the airstrip and to build a seaport on the island.
Meanwhile, Foreign Affairs Secretary Alan Peter Cayetano said the country's trade with China has been improving despite simmering tension between the two countries on disputed territories in the West Philippine Sea.
"Our exports of banana and pineapple to China have increased by more than 100 percent," he told members of the House of Representatives foreign affairs committee yesterday.
He said the country is trying to obtain as much economic benefits as it can while trying to "build mutual trust" with Beijing, as other nations with territorial claims in the West Philippine Sea are doing.
"We will try to bring in more Chinese tourists. That single market alone has a lot of potential," he said.
Cayetano noted that Vietnam and Malaysia, which are also claiming certain islands in the West Philippine Sea, are benefitting from their economic and trade relations with Beijing.
He said Vietnam and Malaysia are receiving more Chinese investments than the Philippines.
However, he stressed that the Duterte administration "will not compromise our national integrity and any of our territories for economic benefits, for more tourists, trade or investments."
He pointed out that as President Duterte has told Chinese President Xi Jinping, Manila would raise with Beijing its victory at the United Nations Permanent Court of Arbitration over the disputed islands at the proper time.
Cayetano also revealed that Manila and Beijing are at present discussing joint exploration activities in the contested territories.
"We assure our people that such activities will conform with our national laws and our Constitution," he said.
He said the joint projects would be patterned after the Malampaya natural gas facility off Palawan, which Shell is operating and from which the government has already shared nearly P200 billion.
He said the projects they envision "should be better than Malampaya, and we will not go into them if they are bad or worse."
The Department of Energy had awarded a service contract for oil exploration in the Reed or Recto Bank, but the Duterte administration has suspended it to avoid exacerbating tension with Beijing.
Under the arbitral ruling, Recto Bank is part of the Philippines' 200-mile exclusive economic zone.
It is not clear if the joint activities Cayetano spoke of would include a combined oil search in Recto Bank.
He said Manila and Beijing are also discussing fishing activities in Panatag Shoal, which is less than 200 miles off Zambales and Pangasinan and which China seized in 2012. – With Delon Porcalla, Jaime Laude