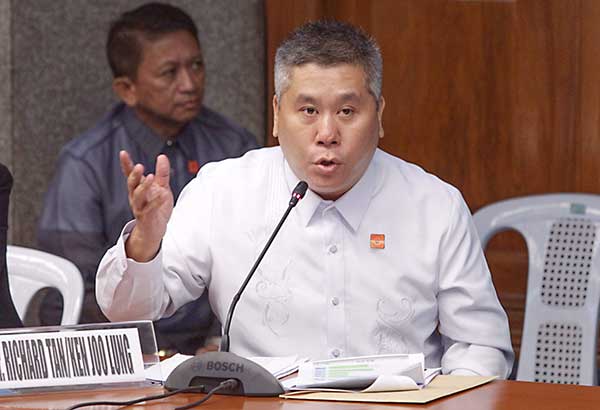 Senate detains 2 Chinese in drug bust
Paolo Romero
(The Philippine Star) - August 9, 2017 - 4:00pm
MANILA, Philippines - The Senate Blue Ribbon committee yesterday detained two Chinese businessmen for "lying" before the panel on their alleged involvement in the smuggling of P6.4 billion worth of methamphetamine hydrochloride or shabu last May 17 that passed through the express lane of the Bureau of Customs (BOC).
As the committee, chaired by Sen. Richard Gordon, was winding up its second hearing on the shabu smuggling, Senate Majority Leader Vicente Sotto III moved to cite in contempt Chen Ju Long, alias Richard Chen, and Manny Li for lying in their testimony before the panel.
Sotto and Sen. Panfilo Lacson said the detention should help the two drug importers think hard and consider telling the committee everything they know about the shipment of 604 kilos of shabu from Xiamen, China.
"You're lucky, unlike in China, there's no death penalty here for importing illegal drugs," Lacson told Chen, whose firm Hong Fei Logistics was the registered origin of the drugs contained in steel cylinders as well as the recipient in its local office in Valenzuela City.
Senate President Aquilino Pimentel III signed the detention order, saying the two testified "falsely and evasively" before the committee.
Pimentel said the two will be detained by the Senate sergeant-at-arms until such time they give their "true testimony" or purge themselves of the contempt.
Gordon said Chen, who has been running his business in China and the Philippines for the past 20 years, was actually the smuggler "pretending to be a witness" in the investigation of Senate and local authorities.
During the course of the hearing, the chain of custody of the drug shipment was established, with Chen exporting from Xiamen a shipment of goods.
Chen then contacted Li, whom he previously met in one of the meetings of the Filipino-Chinese Chamber of Commerce, to facilitate the shipment.
Li then contacted a local Chinese businessman identified as Kenneth Dong to help, and the latter sought out Customs broker Mark Taguba.
Taguba then used a front consignee and importer EMT Trading with his friend TJ Marcellana.
Taguba and Marcellana denied knowing Chen or Li. The two Chinese also denied knowing Taguba and Marcellana.
The drugs arrived at the BOC last May 17 and were released from the port on May 23.
On evening of May 25, Chen said he received a call from the Customs official from Xiamen who asked him whether his shipment had arrived, and to hold it until the BOC took charge of it.
It was also that night that BOC Customs Intelligence and Investigation Service (CIIS) director Neil Estrella received a call on the same shipment after a raid on the warehouse of Chen where the drugs were found.
Both Chen and Li denied having any knowledge that there were drugs in the shipment, initially declared as kitchenware, footwear and moldings.
However, Philippine Drug Enforcement Agency (PDEA) Director Wilkins Villanueva indicated that Chen and Li were not upfront in their testimonies.
He said while Dong, Taguba and the entities below them had the list of items declared as footwear, kitchenware and other general merchandise, Chen and Li knew there were steel cylinders, declared as printing cylinders, in the list but apparently removed them before transacting with the local brokers. – With Edu Punay