Duterte puts up P2-M bounty for cops who killed for Parojinogs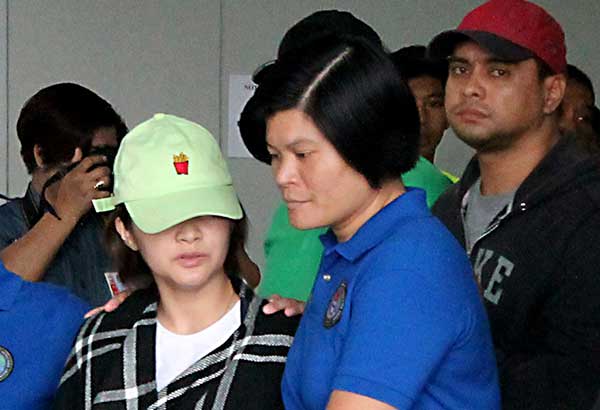 MANILA, Philippines (Updated 1:26 p.m.) — President Rodrigo Duterte on Wednesday announced a P2-million bounty on each policeman involved in the killings allegedly ordered by the influential Parojinog clan in Ozamiz City.
Duterte said the Parojinog family, whom he accused of having ties with drug syndicates, used law enforcers to silence those who defied them and to perpetuate themselves in power.
"Like the policemen who are now shortlisted in the killing of so many civilians buried in a cemetery there at the back of a barangay hall. Each of you, those policemen, carry on their head now, I am announcing two million per head," the president said during the 116th anniversary of the Philippine National Police in Camp Crame.
"I'll cut short my speech here so that you will have a chance for a crack at the two million for those idiots of your men there f***** the Filipino. Yun lang ang iwan ko (That's what I will leave behind), P2 million per head. Dead or alive," he added.
"Better dead because I have to pay for the funeral parlor. That is an added expense. I'd rather buy rice for the people."
Some members of the Parojinog clan, including Ozamiz City Mayor Reynaldo Parojinog Sr., were killed in an anti-drug raid by the local police in the family's compound last July 31.
The mayor was included in the list of politicians believed to have links with drug syndicates that was turned over to President Duterte last year. Also killed in the raid were the mayor's wife Susan, his brother Board Member Octavio Parojinog Jr., his sister Mona and 12 other individuals.
Police officials claimed that a shootout ensued after supporters of the Parojinog fired at the raiding team. The Parojinog camp has denied this and even called the law enforcement operation a "massacre."
Last Monday, Duterte said the Parojinogs created an anti-communist vigilante group called Kuratong Baleleng that degenerated into a criminal gang. He said the clan used the group to impose a "reign of terror" and to silence critics and police officers who defied them.
Ozamiz 'mass grave'
On the same day, Philippine National Police Director General Ronald dela Rosa said local authorities have found human and animal bones in a mass grave created by a gang associated with the Parojinogs. The local police started digging the alleged mass grave in Barangay Cogon last Friday but only found sacks of garbage.
Duterte vowed to protect the police officers involved in the Ozamiz City raid and the operation that left another suspected narco politician, Albuera, Leyte Mayor Rolando Espinosa, dead.
"The police chief who supervised the killing of Parojinog and (Police Supt. Marvin) Marcos, who are being prosecuted now, they will have my protection. Not to disrupt justice. I will allow justice to run," the President said.
"But there is a time where a president will have a part of it. And that is where I can assure you: You will have the justice that we all want. Remember that," he added.
Duterte was referring to Ozamiz City Police Chief Inspector Jovie Espenido, who oversaw the anti-drug operation in the Parojinog compound.
Marcos, whose unit was tagged in the killing of Espinosa, has returned to active duty after being suspended for six months and has been promoted to regional director of the Criminal Investigation and Detection Group SOCCKSCARGEN.
Duterte reiterated that he is ready to kill drug lords who will "destroy the youth of the land."
The president, who has been accused of encouraging summary executions, also reminded policemen not to commit abuses.
"I tell you now: Do your duty and I will protect you. Do not abuse, do not commit crime, not the extra-judicial killing pictured by the human rights (advocates), just leave them alone. You know, people judge best when they condemn," he said.
Duterte hits De Lima anew
Duterte also described as "naïve," the Liberal International members who visited Sen. Leila de Lima in her jail cell in Camp Crame. A critic of Duterte's anti-narcotics campaign, de Lima is now facing charges for allegedly receiving bribes from detained drug lords during her stint as justice secretary.
"But you know, the one thing that I really hated and that's why I'd give them a bad mouth is because they are so naïve and stupid that they come here and visited the Secretary of Justice who was all along running the show of shabu and illegal drugs inside the prison," Duterte said.
Duterte also ordered the military and the police to train elite troopers to strengthen their capabilities against threats like illegal drugs and terrorism.
"I do not have the money yet but I am ordering the AFP (Armed Forces of the Philippines) to start the training of about 5,000. And in the police, 2,000, I want you SAF (Special Action Forces)-trained," he said.
"I want tough and learned soldiers. I want a strong military, a strong Armed Forces and a strong police. And when we are there, we'll be able to fight the enemies of the state better and more equipped. I said you will have a priority in governance."
[Due to an erring editor, the headline of this article identified the political clan of Ozamiz City as the "Pajorinogs". The spelling has been corrected. ]