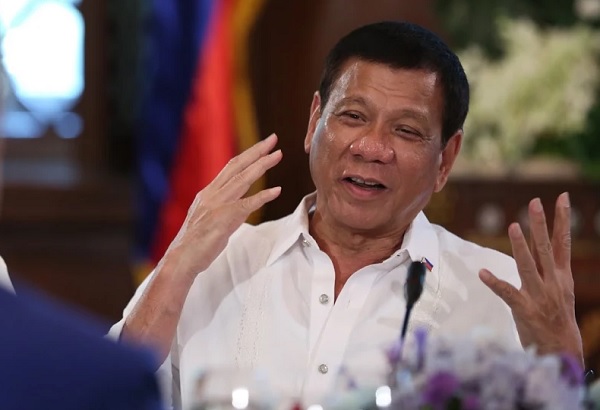 President Duterte said that he was only joking when he threatened to abolish the Commission on Human Rights. File
Duterte on threat to abolish CHR: Only a joke
MANILA, Philippines — President Rodrigo Duterte on Wednesday claimed that his threat to abolish the Commission on Human Rights and his order to government officials to seek his permission first before appearing before the Ombudsman were said in jest.
Duterte said Wednesday that he knew that he would need the imprimatur of Congress before he could abolish the CHR, a constitutional body tasked to monitor the government's adherence and respect for human rights in its actions and orders.
The president also clarified that his remarks directing government officials, especially security personnel, to seek presidential clearance first before appearing before the office of Ombudsman Conchita Carpio-Morales was an "offshoot" of his reaction to her comments that his public statements were goading the police and the military to kill people.
"Itong human rights, sabi ko... biro lang naman yung sinabi kong I will abolish you. I need Congress to do that," he said at the anniversary of the Bureau of Internal Revenue on Wednesday. "Ni-lecturan pa ako ng mga ulol. Hindi ko daw magawa yan. Alam ko."
READ: What Duterte gets wrong about the CHR
"Yun namang biro ko kay Ombudsman. Sinabi ko huwag kayo mag-report kay Ombudsman kapag pinatawag kayo, that was really an offshoot of my remark," he said.
Ombudsman's NHK interview irks Duterte
The president, though, defended again his response to Morales' statement broadcast by the Japanese television network NHK.
He said that there was no law prohibiting killing criminals destroying a country or its people.
"There is no law made here or in heaven that says you cannot kill an idiot criminal destroying your country or people," he said.
The president said last week that the CHR was better abolished as he would not allow his men to be investigated by the body.
"And when the time comes, 'yung CHR, 'yung opisina dito (that CHR, that office), you are better abolished…I will not allow my men to go there to be investigated. Remember this, Human Rights commission: you address your request through me because the Armed Forces is under me and the police is under me," he said during a press conference after his State of the Nation Address.
The president said the independent body had already become partial and should also investigate the killings of government personnel, the most recent of which were the ambush of presidential guards in Mindanao and the attack on policemen in Negros Oriental.
The chief executive also turned his ire on Morales following her critical comments on NHK.
He said that the anti-graft agency should not cite in contempt security personnel who would refuse to appear in an Ombudsman probe.
"Everything has to go through me… Whoever you will investigate, you have to course it through me. You address it to the DILG (Department of the Interior and Local Government) … If I say do not allow yourself to be investigated, you will not allow yourself to be investigated," Duterte said.
Morales said that the president did not have the power to meddle in her office's investigations. "Anong pakialam niya," she told reporters.
In an interview with the Japanese TV network, Morales said that the president's directive to kill criminals was "not acceptable" under any circumstance.
"The directive to kill people under any situation, irrespective of the context, to me, that's not acceptable," she said.
CHR: Abolition requires charter change
The CHR said that a constitutional amendment was needed to abolish it which has been critical of the government's brutal campaign against illegal drugs.
The body said that under the 1987 Constitution the CHR was tasked to investigate all forms of human rights violations involving civil and political rights and monitor government's compliance with treaty obligations on human rights.
"Any discussion to abolish CHR or any other institution for that matter can be taken in the proposed constitutional reform process. In other words, we shall cross the bridge when we get there," the CHR said in a statement.