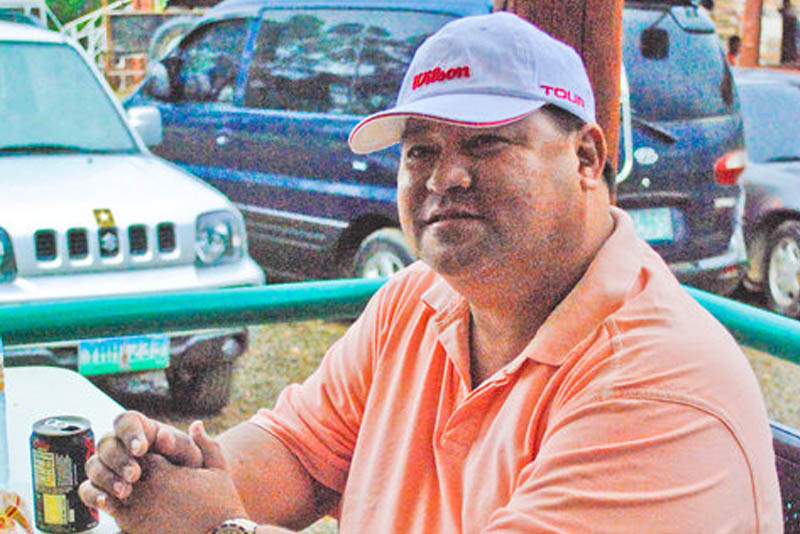 Photo shows Mayor Reynaldo Parojinog in a photo dated 2010 on his Facebook account.
Ozamiz mayor, 14 others killed in police raids
MANILA, Philippines - Ozamiz City Mayor Reynaldo Parojinog Sr., the man tagged in Kuratong Baleleng-led crimes, smuggling and drug trafficking, met a violent death before dawn yesterday as police conducted a series of raids on the family's homes.
Aside from the mayor, his wife Susan, brother Octavio Jr. and 12 others were also killed, including some members of the Barangay Peacekeeping Action Team, in what police said was a shootout in San Roque Lawis, Ozamiz City, according to Senior Supt. Jaysen de Guzman, Misamis Occidental provincial police director.
Chief Superintendent Timoteo Pacleb, Northern Mindanao police regional director, said the mayor's daughter, Ozamiz Vice Mayor Nova Princess Echavez, and son Reynaldo Jr. were arrested during the series of operations that began at around 2:30 a.m. yesterday.
Police said about P1.4 million in cash, half a kilo of suspected shabu and firearms were recovered from the vice mayor's home.
The lawyer of the Parojinogs disputed police claims that the raiders were met with a volley of gunfire from the mayor's security personnel when they were about to implement the search warrants for the alleged presence of illegal drugs and unlicensed firearms.
Last year, Parojinog was named by President Duterte as among the local chief executives involved in the illegal drug trade. He has admitted that his daughter was the girlfriend of convict Herbert Colanggo, a known drug lord at the New Bilibid Prison, but denied links to illegal drugs.
But Reynaldo Sr. denied Colanggo was his son-in-law because Nova Princess was just granted an annulment of her marriage to former basketball player Edgar Echavez and was not married to Colanggo.
According to Pacleb, Nova Princess is facing illegal possession of firearms and violation of the anti-drugs law.
Pacleb said a police officer, whose identity has yet to be established, was wounded during the operation but was declared out of danger. "It's not serious, shrapnel wound, something was said to have exploded but it was not yet clear if it was a grenade," he said.
Reports reaching Camp Crame showed joint teams from the Criminal Investigation and Detection Group (CIDG) Region 10 together with the Misamis Occidental provincial police and Ozamiz City police implemented six search warrants for Reynaldo Sr., his daughter, son Reynaldo Jr. and another brother and also Misamis Occidental board member Ricardo for charges of illegal drugs and loose firearms.
"The PNP personnel serving the search warrants were met with volley of fire from their security, prompting our law enforcers to retaliate," Pacleb said.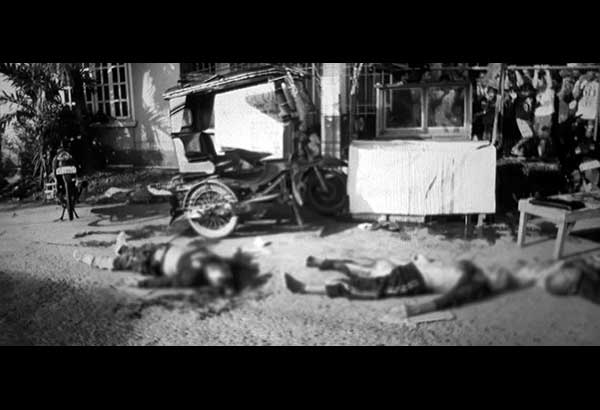 The bodies of three barangay peacekeepers lie in front of one of the houses raided by police in Ozamiz City before dawn yesterday. Image taken from ABS-CBN and the website Mocha Balita.
Pacleb said the search warrants were applied and secured following reports that the suspects were still involved in proliferation of illegal drugs and maintaining private armies with unlicensed firearms.
He said Reynaldo Sr., his wife and brother Octavio were in one house when they were killed during the police raids.
Pacleb explained the search warrants in the houses of the Parojinogs were implemented at dawn to prevent any leakage and ensure minimal resistance on the part of those named in the court order.
Pacleb pointed out the implementation of the search warrants was in order as the police operatives were accompanied by members of the barangay council and members of the media.
Pacleb said raiders reportedly recovered low and high-powered firearms and undetermined amount of shabu.
"No details of the quantity as inventory is ongoing," he added.
Aside from Colanggo, Duterte claimed the Parojinogs had links with Wu Tuan alias "Peter Co," a drug triad member operating in Luzon and Metro Manila.
The Philippine National Police revoked the firearm licenses of those named to be narco-politicians.
Parojinog, his daughter and brother Ricardo had turned over to the police a total of 20 firearms in the middle of last August, in compliance with the PNP directive.
The President and PNP chief Director General Ronald dela Rosa do not believe they turned over all that they had.
Pacleb said they will continue police operation against illegal drugs, loose firearms, private armed groups and other criminal syndicates.
"Since Northern Mindanao is included in areas where martial law is declared, PTCFOR (permit to carry firearms outside residence) is suspended," he added, referring to Duterte's declaration of martial law in Mindanao due to the conflict in Marawi City.
No shootout
In an interview over GMA 7's Balitanghali, lawyer Jeffrey James Ocang, legal officer of the Ozamiz City local government, said there was no exchange of gunfire during the raids and the injury of the policeman could be a result of friendly fire or he could have been hit by shrapnel from grenade explosion.
"As far as the mayor's group is concerned… there was no exchange of gunfire. If you can see the pictures circulating (in the) internet, all the wounds of the victims are head shots. Wala nang chance na manlaban sila (No chance to fight back)," Ocang said. "They made sure there was no evidence."
He said the search warrants were only for loose firearms and not for drugs.
The lawyer said he managed to speak with Nova Princess, who claimed the policemen disabled the CCTV cameras before the actual operation, thus there would be no proof of how the supposed raid at her house was conducted.
"Galing po sa bibig ng vice mayor that at 2 a.m. pinasok 'yung apat na bahay—bahay ni mayor, bahay ng dalawang kapatid nya. We cannot say kung ilan yung search warrant, pero apat 'yung bahay na na-search, 'yung sa board member, kay Mayor Aldong, 'yung bahay na pinag- stay-an ni vice mayor at bahay ni (Reynaldo) Junior (Vice mayor said at 2 a.m. the raiders entered four houses – the mayor's and two of the siblings' but we can't say how many warrants they had)," Ocang added.
"Nag brownout po nung madaling araw at kinabukasan nakausap ko po vice mayor, sabi po niya pinutol lahat CCTV, kinuha HD box (There was a blackout at dawn and vice mayor said all CCTV were cut and the HD box was taken)," Ocang added.
Ocang noted the policemen had to throw a grenade to prevent residents nearby from helping the Parojinogs, thus one of the policemen was hit by shrapnel.
Nova Princess is expected to be flown to the national headquarters of the Criminal Investigation and Detection Group (CIDG) at Camp Crame following her arrest.
Quoting Nova Princess, Ocang also said some policemen took the key of her locker before the actual service of the search warrant. After the raid, an undetermined amount of shabu was later found in the locker.
He said the shabu found at the house of the vice mayor was planted.
"The vice mayor was also hit several times by an officer and the proof is that she has injuries on her mouth," said Ocang, adding that news of her father's death only reached the vice mayor in the morning. "Hindi niya alam kung ano nangyari sa father nya. Umaga na niya nalaman na namatay 'yung father niya."
Ocang said the Parojinogs have been expecting that they would be targeted by liquidation months before and insinuated that Ozamiz City police director Chief Insp. Jovie Espenido was really after them.
Espenido was the chief of police of Albuera town in Leyte when police conducted several raids at the house of then mayor Rolando Espinosa, who was later killed in detention, and his son, Kerwin.
"They have been expecting that they would be liquidated as early as February this year. In interviews given by Espenido, lagi nya sinasabi malapit na sila mag encounter ng 'sweetheart' niya (he always says the encounter with his sweetheart was at hand), referring to the vice mayor," said Ocang.
Reports had it that Nova Princess was also linked to Kerwin.
"'Pag nanghuhuli siya sa drugs, sa mga interview niya sinsabi niya malapit na sila sa head, referring to the Parojinogs. He (Mayor Parojinog) was planned and targeted to be liquidated," Ocang added, noting the police official had repeatedly stated after every drug arrest that they were nearing the brains.
Part of drug war
Malacañang, through presidential spokesman Ernesto Abella, said the operations in Ozamiz City were part of the government's intensified crackdown on illegal drugs.
"The Parojinogs, if you would recall, are included in (President Duterte's) list of personalities involved in the illegal drug trade," Abella said.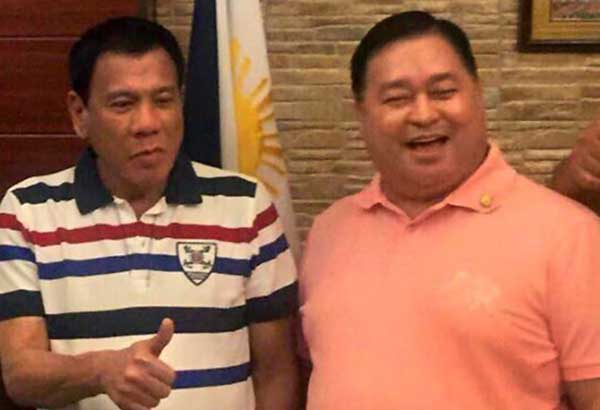 President Duterte poses with Ozamiz Mayor Reynaldo Parojinog in a photo posted on Oras Na, Roxas Na's Facebook page on July 12, 2016.
Sen. Panfilo Lacson said as of the moment, he sees no reason for the Senate to conduct an inquiry into the deadly Ozamiz raid even if some of his colleagues see similarities in the incident with the case of Albuera, Leyte mayor Rolando Espinosa.
"Whatever are the circumstances of the deaths, at least this time, the mayor and the others killed were not under detention in a government facility," Lacson said, referring to Espinosa's killing in his detention cell in Baybay, Leyte also during a pre-dawn raid.
The senator noted the fatalities were reportedly in the mayor's farm and Parojinogs' residences and probably capable of shooting it out with the authorities.
Lacson, a former PNP chief, said the founder of Kuratong Baleleng was Octavio Sr. alias Ongkoy, the late father of Reynaldo Sr. and Octavio Jr.
He said what started as an anti-communist group under supervision of the military in that area, eventually transformed into a criminal gang engaged in kidnap-for-ransom, robberies, extortion and other illegal activities.
Senate Minority Leader Franklin Drilon was suspicious over the incident and saw similarities in the controversial case of Espinosa that remains unresolved.
"Why are search warrants, served before dawn as in the cases of mayor Espinosa and now, mayor Parojinog, result in the deaths of the persons being searched? Both are tagged as drug lords. Too much of a coincidence?" Drilon said in a text message.
He said generally, a search warrant should be served in the daytime. While it may also be served anytime of the night, the issuing judge must so expressly specify this in the search warrant as stated in Section 9, Rule 126 in the Rules of Court. - With Paolo Romero, Edith Regalado, Ben Serrano, Gerry Lee Gorit, Alexis Romero