PNP bars Liberal International president from seeing De Lima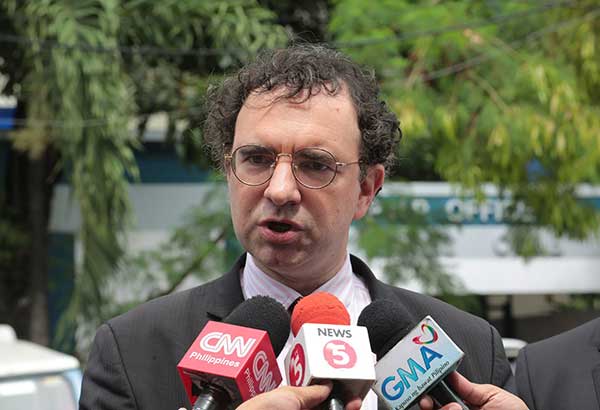 MANILA, Philippines - Police barred yesterday an official of an international organization of liberal politicians from visiting detained Sen. Leila de Lima at the Philippine National Police (PNP) detention center in Camp Crame, Quezon City.
Excluded from the list of visitors, Juli Minoves, president of Liberal International (LI), was not allowed to enter the PNP Custodial Center at around 9:45 a.m. to visit De Lima.
However, his companions Markus Loning, LI Human Rights Committee chairman; and Wolfgang Heinze, president of the Friedrich Naumann Foundation-Philippines, were allowed to enter the detention facility. LI is an international federation of liberal and democratic political parties worldwide.
Minoves is a native of the principality of Andorra near the French-Spanish border, while Loning and Heinze are both Germans.
Minoves said he was told by police officers that his name was not included in the list of visitors scheduled to see De Lima yesterday.
He said that they already informed the PNP last Monday about his impending visit.
"They said that they did not have the memo. Apparently, my colleagues have received the approval just this morning and it was sent many days ago," said Minoves.
Minoves said he wants to find out directly from De Lima about her condition and the current political situation in the country.
Saying his international organization comprised over a hundred political parties all over the world, Minoves assailed the government for barring him from visiting a detained lawmaker, which he said does not normally happen in a democracy.
"I firmly protest. I think this shows exactly what the regime is doing, which basically detained Senator De Lima without the presumption of innocence," said Minoves.
He believes that the statement against the Duterte administration over the deterioration of the rule of law in the country, which they submitted before the United Nations last June, could be the reason he was barred from meeting De Lima.
Asked for his message to Duterte, Minoves said: "You were elected by the people of the Philippines, govern for the people of the Philippines. You know that the rule of law is important or else this country will go to places it doesn't want to go. It's very sad what's happening to this beautiful country."
Loning, for his part, said De Lima was ashamed of the police authorities' treatment of Minoves.
"She felt very much ashamed about this and she excused herself," he told reporters. "I believe she felt very ashamed that a high-ranking visitor from overseas was not allowed to see her."
Loning said De Lima was in good spirits during their one-hour meeting.
She expressed her wish to be able to fulfill her duty as a senator and be part of the debate in the extension of martial law in Mindanao.
"She feels, obviously, in pain that she (does) not (have) the opportunity to do her work and to fulfill her duty," said Loning.