Congress extends martial law until December 31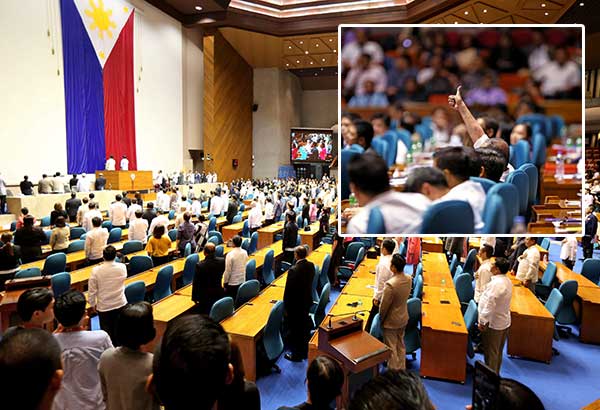 MANILA, Philippines - After more than eight hours in joint session, Congress granted yesterday President Duterte's request for an extension of martial law in Mindanao until Dec. 31 this year as casualties mount in the battle between government troops and Islamic extremists in Marawi City.
The Senate and the House of Representatives voted 261-18 to approve the extension of the 60-day martial law Duterte imposed last May 23 through Proclamation 216, which also suspended the writ of habeas corpus.
"The nation has chosen to stand united in defending the Republic," presidential spokesman Ernesto Abella said in a statement after the voting.
"Now, that the debate is over, let us get on with the job of nation-building and contribute in the attainment of the full promise of Mindanao. There is much work to be done to bring back public safety and law and order in the whole island of Mindanao," Abella added.
Under the Constitution, any extension of martial law declaration must be approved by Congress in joint session. The joint session yesterday was held on the last day of the effectivity of Proclamation 216.
The overwhelming vote was expected as Duterte continues to have a strong hold on both chambers. In the House, the voting was 245-14 while the Senate voted 16-4. Senate President Aquilino Pimentel III and Speaker Pantaleon Alvarez presided over the joint session.
Senators Antonio Trillanes IV, a vocal critic of Duterte, and Nancy Binay were absent while Sen. Leila de Lima could not participate as she remains in detention at Camp Crame.
Senators who voted against the extension were Senate Minority Leader Franklin Drilon and Senators Paolo Benigno Aquino IV, Risa Hontiveros, and Francis Pangilinan.
Sen. Grace Poe voted "yes" but with reservation as she wanted the extension to be shorter. She also expressed deep concern for the more than 500,000 people displaced by the conflict.
Senate President Pro Tempore Ralph Recto also said he would have preferred a shorter period "but it is out of respect to those in the frontline, to the soldiers in the line of fire, that I am acceding to a five-month extension of martial law."
"Ensuring that peace is restored in Mindanao and that public safety is protected is not only a battle for the military but for all of us. It is a battle that we must win at all costs because we cannot afford more lives and properties destroyed," CIBAC party-list Rep. Sherwin Tugna said in approving the extension.
Last July 18, Duterte wrote to Alvarez and Pimentel seeking the extension, saying despite the "progress and significant strides" against the Da'watul Islamiya Waliyatul Masriq (DIWM), "the rebellion still persists."
DIWM is the other name for the group of militants composed of the Maute group, Abu Sayyaf and Bangsamoro Islamic Freedom Fighters, which carried out the siege of Marawi City.
"A lot more remains to be done to completely quell the same and bring back public order and safety in Mindanao," Duterte said.
After the voting, both chambers will then draft a resolution on the extension, which is already deemed approved.
'Serious security crisis'
Sen. Gregorio Honasan, chairman of the Senate committee on national defense and security, and House Majority Leader Rodolfo Fariñas separately moved to approve the martial extension.
Honasan said it would be better if the government enforced martial law "than need it and not have it."
"There is a potential for abuse but the mechanism to prevent them is in place and within our control… martial law presents both risks and opportunities but we can manage both," Honasan said.
Fariñas warned that the militants were so well entrenched and hence should be dealt with accordingly.
"We face a serious crisis of security in Mindanao and we should give our security forces all the help they need," Fariñas said.
Drilon, House Minority Leader Edcel Lagman, and ACT Teachers party-list Rep. Antonio Tinio separately objected to the motions. Drilon pushed for amendments to limit the extension to another 60 days.
Senate Majority Leader Vicente Sotto III however countered that amendments can only be entertained if the original motion is defeated.
Aquino, Drilon, Hontiveros, and Pangilinan all expressed fears that the extension could pave the way for a nationwide martial law "under the smallest of pretexts."
Drilon grilled Executive Secretary Salvador Medialdea about the existence of actual rebellion – not just terror threats – in other parts of Mindanao. Medialdea led Cabinet and security officials invited by Congress to the joint session.
"If this Congress gives full and unqualified assent for the continued martial law in the entire Mindanao, where there is no evidence of actual rebellion outside or Marawi City, then we might have just been reduced to a mere echo chamber," Drilon said.
In yesterday's Congress joint session, Medialdea again presented the President's explanation for seeking an extension of martial law.
"Key leaders of the rebellion, namely, (Isnilon) Hapilon, the Maute brothers Abdullah, Omarkhayam and Abdulasiz alias Madie, and foreign terrorist Mahmud bin Ahmad remain at large," Medialdea said, reading Duterte's letter to Congress.
"Despite the arrest of key personalities like Ominta Maute, support structures have been continuously sustained, with the emergence of such new replacements as Adel Sarip Maute alias Monai, who was recently apprehended in Taguig City, Metro Manila," Medialdea continued to read from Duterte's letter.
150 days for 4 towns?
But Pangilinan pointed out that government security forces were able to liberate 16 barangays in Marawi City in 60 days and only four barangays were left under the DIWM control.
"So why do we need 150 days for four barangays?" he asked.
Sen. Manny Pacquiao cited the Bible in voting for the extension, saying those attempting to overthrow duly constituted authorities are an affront to God.
"What's at stake is our freedom, which we enjoy now right here where we are debating. Let's repay our gallant soldiers," Sen. Sonny Angara said.
Sen. Sherwin Gatchalian, who also voted for extension, said allowing government to exercise extraordinary but limited powers "is a small sacrifice compared to the dire economic and security consequences of allowing extremism to take seed and spread throughout our country."
"We need to trust that with sufficient time and latitude, the administration will only do what is necessary and just to secure a prosperous and safe future for our country," Gatchalian said.
Sen. Juan Miguel Zubiri pointed out that protesters during the joint session would not be able to do so under an extremist regime.
"If the Maute group caught you (protesters) you could have been lined up outside and shot," Zubiri said.
Sen. Cynthia Villar also supported the extension to boost the morale of government troops.
Opposition lawmaker Teodoro Baguilat Jr. of Ifugao said he voted "no" as he preferred a shorter period and limited only to Lanao or in areas where the militants were active.
Benguet Rep. Ronald Cosalan, a member of the Liberal Party, voted for extension. "If Mindanao leaders and the President believe and have basis for asking an extension, I will support it," he said.
Rep. Joseph Sto. Niño Bernos of Abra, chairman of the House committee on peace and order, also voted for extension.
Kalinga Rep. Jesse Allen Mangaoang of the Nacionalista Party (NP) said he approved of the extension "because the people of Mindanao are 90 percent in favor."
Medialdea and National Security Adviser Hermogenes Esperon said they were willing to recommend to Congress to end martial law before Dec. 31 if the situation warrants.
"It is always desirable to limit the geographical scope of martial law but the current developments in Marawi City have left us with very thin deployment (of troops) in other areas," Esperon said.
Esperon and Defense Secretary Delfin Lorenzana, the martial law administrator, also agreed to Drilon's proposal for a regular reporting by security officials to members of Congress on the developments in Mindanao.
Essential to stability
In a statement after the voting in Congress, Abella said peace in Marawi is within reach with the extension of martial law. "The extension of martial law is essential to the overall peace and stability," he said.
Now that Congress has approved the extension of martial law, security forces can step up their operations against the remaining militants and their supporters in Marawi, the presidential spokesman said.
"The rebellion in Marawi continues to persist and we want to stop the spread of the evil ideology of terrorism and free the people of Mindanao from the tyranny of lawlessness and violent extremism," he said.
"There is much work to be done in the recovery, reconstruction and rehabilitation of Marawi. Together, let us transform Mindanao into a land of fulfillment," he said.
The Armed Forces of the Philippines (AFP), through spokesman Col. Edgard Arevalo, said Congress' granting Duterte's request for martial law extension is "an acclamation of the sacrifices of every soldier, airman, sailor, and marine who died; or were wounded in the fighting or while supporting the fight to retake Marawi and liberate hostages."
He added the military is still faced with the daunting tasks of neutralizing terrorists, rescuing their civilian hostages, and making possible the reconstruction and rehabilitation of the devastated city.
"While the AFP thanks the people for their overwhelming support and manifestation of appreciation, it beseeches fellow Filipinos to join hands and fight violent extremism and never to allow its seeds to take roots in their midst," Arevalo said.
Manila Mayor Joseph Estrada said Duterte deserves support in his campaign against terror and lawlessness.
"President Duterte is facing a lot of serious problems today. All of us must give our all out support to the President," Estrada told The STAR.
The Department of the Interior and Local Government (DILG), for its part, welcomed expressions of support for martial law extension from different LGU groups.
DILG officer-in-charge Catalino Cuy cited the League of Provinces of the Philippines (LPP) and the Liga ng mga Barangay (LnB) for issuing separate statements favoring martial law extension.
"We appreciate that the various leagues took their stand behind the President and our people in this critical hour when we need to ensure that good will triumph over evil," Cuy said in a statement.
The Union of Local Authorities of the Philippines (ULAP), League of Cities of the Philippines (LCP), and the League of Municipalities of the Philippines (LMP) also released statements expressing support for martial law.
"The quest for peace in Mindanao is not yet over, though we fervently hope that it will be very soon. As we all know, there is an ongoing and continuous clearing operations of our troops on the ground which necessitate the extension," he added. Jess Diaz, Christina Mendez, Artemio Dumlao, Jaime Laude, Emmanuel Tupas, Jose Rodel Clapano