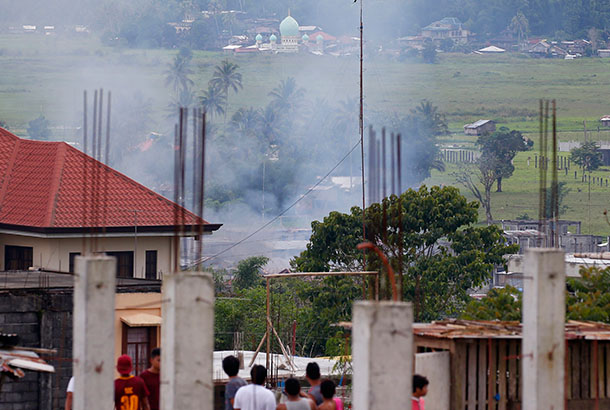 Residents watch a house that caught fire when government troops continue to battle with Muslim militants who lay siege in Marawi city in southern Philippines Thursday, May 25, 2017. Army tanks packed with soldiers rolled into the southern Philippine city Thursday to try to restore control after ISIS-linked militants launched a violent siege that sent thousands of people fleeing for their lives and raised fears of extremists gaining traction in the country. AP / Bullit Marquez
'Task Force Bangon Marawi' readies for rehabilitation of besieged city
MANILA, Philippines — The Duterte administration has formed an inter-agency task force to handle the rehabilitation of besieged Marawi City in Lanao del Sur.
Defense Secretary Delfin Lorenzana, who is also National Disaster Risk Reduction and Management Council chief, said he will chair the "Bangon Marawi" task force. Lorenzana is also martial law administrator.
He shared that neighboring towns whose residents were also asked to evacuate because of fighting in Marawi that began on May 23 are included in the rehabilitation program.
"I just got the [Administrative] Order No. 3 creating an inter-agency task force for the recovery, reconstruction, and rehabilitation of the City of Marawi and other affected localities," Lorenzana said during the Mindanao Hour press briefing on Monday afternoon.
"We are preparing the mechanism to go into rehabilitation recovery as soon as the fighting stops in Marawi," he added.
The Defense chief said that the government considers the Marawi crisis a man-made disaster and so he would use the mechanisms of the NDRRMC to implement the rehabilitation.
Once the armed conflict stops, Lorenzana said, the first thing the government will do is clear the city of any unexploded ordnance and improvised bombs. Residents would then be allowed to return to their homes.
He said the government will subsequently help rebuild private homes, establishments and government buildings.
Lorenzana added that there is already an engineering brigade assigned for the planned rehabilitation. They are set to handle the restoration of lights, water, and roads among others.
"[They are] always on standby once the fighting stops," Lorenzana said.
'Destroyed residences, establishments are priority'
The Defense chief said that among the priority structures to be rebuilt are stores so residents will have places to buy their provisions when they return. He also said the banks are also lined up as a main concern as they can help restore business operations in Marawi city.
President Rodrigo Duterte earlier pledged P20 billion for the rehabilitation of Marawi City. Lorenzana admitted that they do not know if the proposed budget would be enough. He said the fund would cover the residents' needs but he is open to augmenting the reconstruction budget.
Lorenzana on Marawi rehab: First concern is funding @PhilippineStar @PhilstarNews

— Alexis B. Romero (@alexisbromero) July 3, 2017
Lorenzana says Marawi rehab to require emergency procurement, says usual bidding procedures may take time @PhilippineStar @PhilstarNews

— Alexis B. Romero (@alexisbromero) July 3, 2017
He also said that residents whose houses are still considered habitable will be given materials and help from carpenters but that rebulding structures heavily damaged by the clashes and air strikes will be a priority.
HUDCC to help Marawi women
Meanwhile, Presidential Spokesperson Ernesto Abella reported that the Office of the Cabinet Secretary has ordered the Housing and Urban Development Coordinating Council to reallocate half of its current Gender and Development budget as well as the unutilized GAD budget from the previous years to provide hygiene kits, psychosocial support services to women affected by the Marawi conflict.