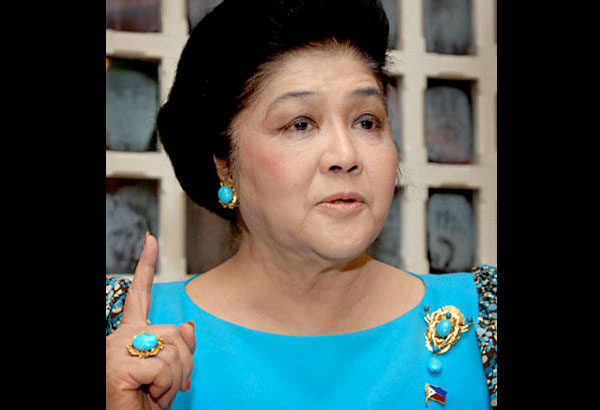 Ilocos Norte Rep. Imelda Marcos on Tuesday formally asked the House committee on Good Government and Accountability to free the six Ilocos Norte provincial government employees, known as the "Ilocos Six." File photo
House panel OKs show-cause order vs CA justices over 'Ilocos 6' release order
MANILA, Philippines – The House Committee on Good Government and Accountability on Tuesday voted to issue a show cause order against the three appellate court justices who ordered the release of six Ilocos Norte government employees detained for contempt.
The House panel voted unanimously to summon CA Associate Justices Stephen Cruz, Edwin Sorongon and Nina Antonino-Valenzuela, who are members of the court's 4th Division that issued the provisional release of the so-called Ilocos Six.
House Speaker Pantaleon Alvarez earlier slammed the three magistrates and threatened to disbar them.
During the Judicial Bar Council's public interview on Monday, CA Justice Cruz remained firm on the court's decision saying they only did their duty.
"If we falter because of some threats that would show our weakness as a magistrate," Cruz told the JBC.
Courts can issue writs of habeas corpus to compel authorities to present people being held by the government before the court to determine the legality of their detention.
Imelda appeals for release of 'Ilocos 6'
Ilocos Norte Rep. Imelda Marcos on Tuesday also formally asked the House Committee on Good Government and Accountability to free the detained provincial government employees.
"I respectfully appeal to the compassion and sympathy of the House of Representatives through your leadership grounded on humanitarian purposes for the temporary liberty of the six Ilocos Norte provincial government employees being detained in relation to House Resolution 882," Rep. Marcos' letter read.
Marcos' letter of appeal to the House panel was read during the fourth day of the joint House committee inquiry into the alleged misuse of tobacco excise tax by the provincial government of Ilocos Norte. Marcos, widow of ousted dictator Ferdinand Marcos, was also present during the hearing.
The six detained public employees are Bids and Awards Committee and Provincial and Planning Development Unit chair Pedro Agcaoili, Provincial Treasurer Josephine Calajate, accountant Edna Battulayan, Provincial Budget Officer Evangeline Tabulog, and Treasury Office employees Genedine Jambaro and Encarnacion Gaor. They have been detained at the House Legislative Building after being cited for contempt for 22 days now.
Marcos sad that the employees are aged 47 to 63 and some of them have medical conditions that may be worsened by their confinement.
"One of the six has cardiomyopathy, others have diabetes, one has lumbar disability and another has suffered a mild stroke. Also they are parents and grandparents who have children and grandchildren who are depending on them for their daily needs," Marcos said.
"The sudden and prolonged interruption on their daily family routine have caused much anxiety to them and their family members," Marcos, who was first lady during an administration marked by arbitrary detentions and human rights violations, said.
Last Sunday, Re. Marcos also released a statement urging House Speaker Pantaleon Alvarez to release the 'Ilocos Six.' She just reiterated her call in the letter to the committee.
"Thus I respectfully and graciously petition this honorable committee to release temporarily on my own recognition the six detained provincial government employees. I vouch for the six employees," the former first lady said.
"Whatever mistakes they may have made, such answers through which they faltered your mercy, please release the Ilocos Six to their families so they will be able to help this committee and my honorable congressmen to find the truth," she concluded.
Marcos' daughter, Ilocos Norte Gov. Imee Marcos, is also being summoned by the House panel to explain the alleged misuse P66.5 million in tobacco excise funds. Gov. Marcos, however, has missed the past four hearings.
Surigao del Sur Rep. Johnny Pimentel repeated his statement that they can set the Ilocos Six free on the condition that they will tell the truth. "If not, we will enforce to return them to their respective jail," Pimentel said.