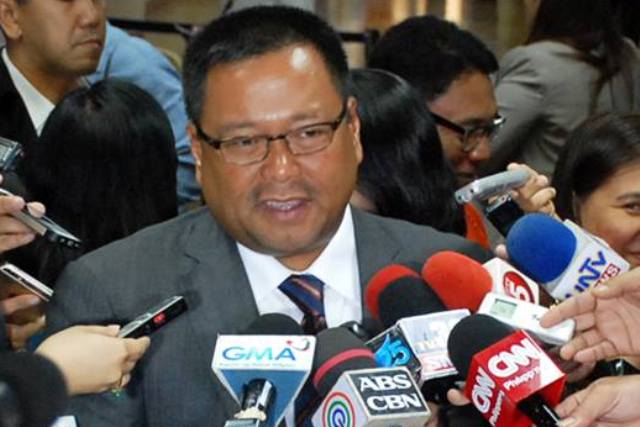 Sen. Ejercito said his duty as a senator and his scheduled return to the country show he is not a flight risk. JV Ejercito staff / Released, file
Sandiganbayan OKs Ejercito's France visit
MANILA, Philippines — The Sixth Division of the Sandiganbayan anti-graft court has allowed Sen. Joseph Victor "JV" Ejercito to join colleagues on a parliamentary visit to France later this month.
In a short hearing Monday morning, Associate Justice Rodolfo Ponferrada, division chairman, announced that the court has resolved to grant Ejercito's motion to leave the country from June 27 to July 3.
Ponferrada, however, directed Ejercito to submit before the court travel authority from Senate President Aquilino "Koko" Pimentel III and the itinerary for the trip.
Ejercito is facing trial before the Sixth Division for a technical malversation case in connection with the allegedly anomalous purchase of P2.1 million worth of submachine guns in 2008 during his term as mayor of San Juan City.
The ombudsman, who filed the case early last year, said that the purchase was done using the city's calamity fund allegedly without a competitive bidding and examination of the supplier's qualifications.
The Sixth Division had earlier issued a hold departure order against Ejercito barring him from leaving the country without prior approval from the court.
In his motion filed on June 14, Ejercito said he was among the senators chosen to join Pimentel in an official parliamentary visit to France, where they are scheduled to meet with the members of the French Senate, the France-Southeast Asia Inter-parliamentary Group and the French Constitutional Council.
Other meetings for confirmation are with the members of the French National Assembly, Foreign Minister Jean-Yves Le Drian and Minister of Ecology, Sustainable Development and Energy Nicolas Hulot.
Ejercito assured the court that he has no intention of evading the case against him.
"Accused is not a flight risk, as he is a senator of the Republic and owes fidelity to the people who voted for him. His scheduled quick return to the country also manifests the absence of any intention on his part to flee," Ejercito's motion read.
'Restoring strained Philippine-EU relations'
In an earlier interview with Senate reporters, Ejercito said the visit also aims to "repair" the strained ties between the Philippines and the European Union, which France is a member of.
It can be remembered that the relationship between the Philippine government and the EU turned sour after it raised concerns for alleged human rights violations in the Duterte administration's drug war.
President Rodrigo Duterte has since then repeatedly blasted the EU for supposedly meddling with Philippine internal affairs. The president even announced that the government will no longer accept EU grants that impose conditions that are perceived to meddle with his administration's policies.