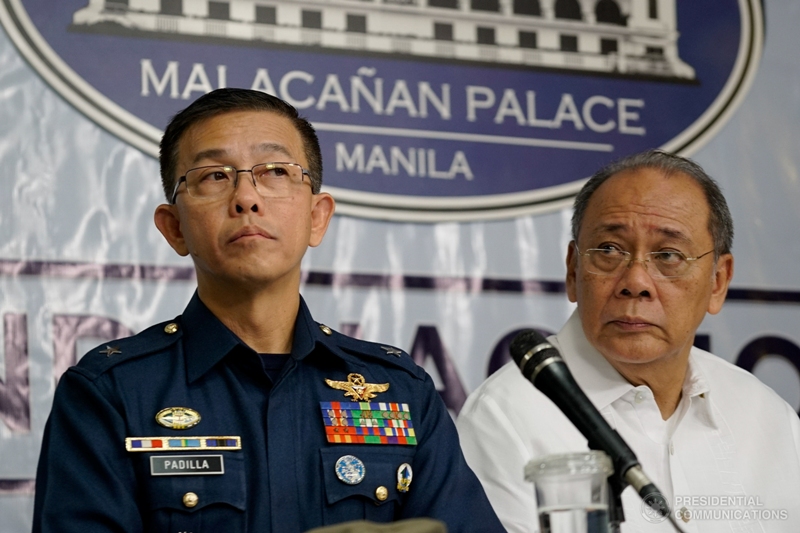 Armed Forces of the Philippines Spokesperson Restituto Padilla Jr. gives updates on the military operations against the terrorists in Marawi City during the Mindanao Hour press briefing in Malacañang on June 2. Also in the photo is Presidential Spokesperson Ernesto Abella. Presidential Photo
1,200 ISIS operatives in Philippines? Gov't mum
MANILA, Philippines — The revelation of Indonesian Defense Minister Ryamizard Ryacudu that there are about 1,200 Islamic State operatives in the Philippines came as a surprise to the military.
At the Shangri-La Dialogue in Singapore, the Indonesian defense minister said that around 40 fighters from Indonesia are in the Philippines as part of the international terrorist group.
Armed Forces of the Philippines spokesperson Brig. Gen. Restituto Padilla said that the military does not have information on the numbers of foreign fighters in Marawi City.
"The revelations of the Indonesian defense minister is something that came as a surprise to us because as was mentioned by senior defense officials, in truth we don't have those numbers. I'll leave it at that for the moment," Padilla said at a televised press briefing.
READ: Indonesia: 1,200 IS operatives in Philippines
Malacañang also refused to comment on the specific numbers of alleged ISIS fighters in the country.
"We cannot comment on specific numbers but it is clear that the violence in Marawi is being waged by both Philippine and international criminals and the southern part of Mindanao has long been used as a refuge by fugitives from Indonesia, Malaysia and other locations," presidential spokesperson Ernesto Abella said.
Abella added that this is one of the reasons why the Indonesian defense minister pointed out that regional and global anti-crime efforts must be heightened.
Experts, however, have warned as early as 2013 that the Islamic State's ideology is appealing to local militants in MIndanao,, inspiring a "black flag movement" of smaller groups using a black flag identified with the ISIS. The Syria-based terror organization has also targeted the Philippines to expand its reach, releasing a recruitment video in June last year.
Despite the military and presidential spokespersons' silence, Defense Undersecretary Ricardo David said the 1,200 figure of ISIS sympathizers in the country was new to him.
"I really don't know, my figure is about 250-400, a lot less," he told reporters in a previous report.
David also said there were 40 foreign IS fighters among those who seized parts of Marawi, eight of whom have been killed by government forces.
Challenges
Criminals and rebels are challenges for the region and the international community, Abella said.
"Criminals and rebels do not respect international boundaries," the presidential spokesperson said.
ALSO READ: 6 reasons why stopping terrorism is challenging
Abella stressed that the Philippine government is committed to doing its part in the global war against terrorism and extremism to promote peace and order in the country.
On May 23, President Rodrigo Duterte declared martial law and suspended the privilege of the writ of habeas corpus in Mindanao following a clash between government troops and the Maute terror group.
Members of the local terror group reportedly flew black ISIS-style flags in various areas of Marawi City.