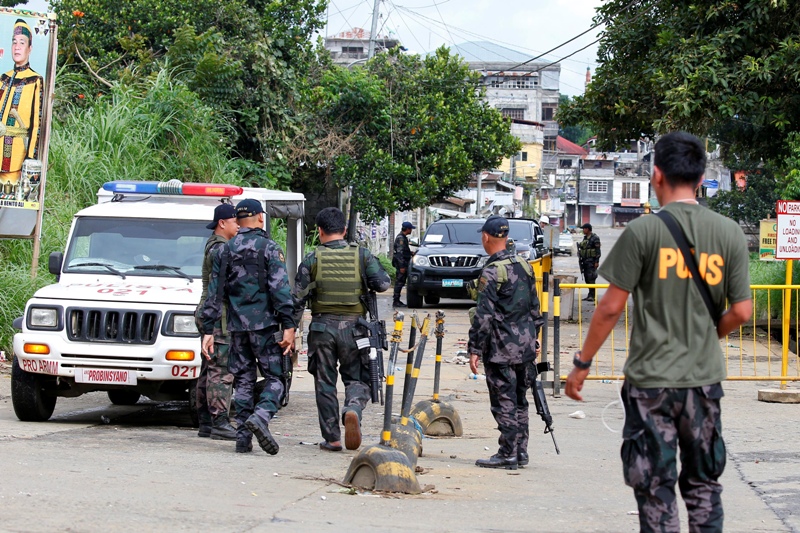 Police question a two-vehicle convoy of humanitarian volunteers who earlier ignored their checkpoint to rescue residents trapped in the fighting between government troops and Muslim militants who continue to hold their ground in some areas of Marawi city for almost a week Monday, May 29, 2017 in southern Philippines. Philippine forces control most of the southern city where militants linked to the Islamic State group launched a bloody siege nearly a week ago, authorities said Monday, as the army launched airstrikes and went house-to-house to crush areas of resistance. AP/Bullit Marquez
15 senators back martial law in Mindanao
MANILA, Philippines — Majority of the senators have expressed support for President Rodrigo Duterte's proclamation of martial law and suspension of the privilege of the writ of habeas corpus in Mindanao.
15 out of 23 senators signed Senate Resolution 388 expressing support for Duterte's proclamation and finding no cause to revoke it.
The following senators signed the resolution dated May 29:
Sonny Angara
Nancy Binay
JV Ejercito
Sherwin Gatchalian
Richard Gordon
Gringo Honasan
Panfilo Lacson
Loren Legarda
Manny Pacquiao
Aquilino Pimentel III
Ralph Recto
Tito Sotto
Joel Villanueva
Cynthia Villar
Migz Zubiri
In their resolution, the senators cited Section 18, Article VII of the 1987 Constitution which states that:
...In case of invasion or rebellion, when the public safety requires it, he (President) may, for a period not exceeding sixty days, suspend the privilege of the writ of habeas corupus or place the Philippines or any part thereof under martial law...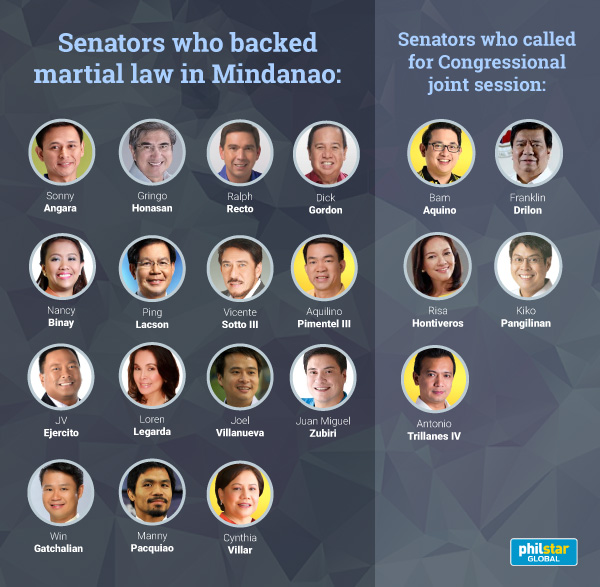 On May 23, Duterte declared martial rule in the whole of Mindanao after a clash between government troops and the Maute terrorist group in Marawi City.
In his full report submitted to the Senate and the House of Representatives, Duterte said that the local terror group has burned down certain government and private facilities and inflicted casualties on government forces.
The Maute group had also started flying the flag of the Islamic State of Iraq and Syria (ISIS) in several areas.
The Senate resolution also cited Article 134 of the Revised Penal Code which provides that:
The crime of rebellion or insurrection is committed by rising publicly and taking arms against the Government for the purpose of removing from the allegiance to said Government or its laws, the territory of the Philippine Islands or any part thereof, of any body of land, naval or other armed forces, depriving the Chief Executive or the Legislature, wholly or partially, of any of their powers or prerogatives.
Meanwhile, five senators from the minority bloc filed a resolution calling for a joint Congressional session on the declaration of martial law in Mindanao.
Senators Francis Pangilinan, Franklin Drilon, Risa Hontiveros, Antonio Trillanes IV and Bam Aquino filed Senate Resolution 390, stressing that under the Constitution, the Congress has the obligation to seek information surrounding the proclamation.
RELATED: Congress snubs joint session on martial law as recess draws near