No Philippines-Russia security alliance, but closer economic ties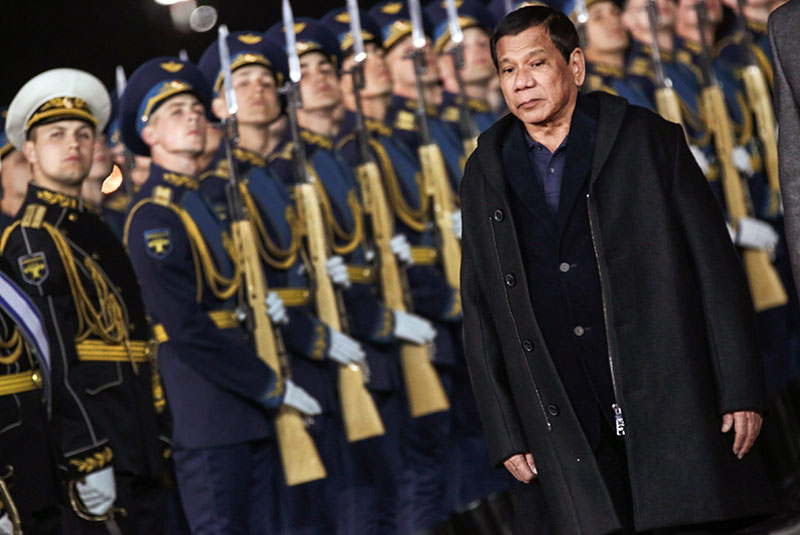 MOSCOW – The Philippines may be acquiring weapons from Russia, but the two countries will not forge a strategic security alliance and will only focus on boosting economic ties, an envoy said yesterday.
Philippine Ambassador Carlos Sorreta said Russia has no plans of becoming a military power in the region and that its pivot to Asia is geared toward strengthening economic relationships.
"They just want a good relationship, a very respectful one. Right now, they want to start heavily on the economic and then eventually on security," Sorreta said in a press conference here yesterday.
"They don't want to be a military power in our region. They have no interest in competing with the existing power dynamics. They want to engage our region, Southeast Asia, purely on economic, cultural, people-to-people."
Duterte, in Russia for a four-day official visit, has announced plans of acquiring precision-guided bombs to strengthen efforts against rebels and Islamic State-inspired terrorist groups. He said Russia is ready to provide the country all the defense equipment it needs.
But Sorreta clarified that the acquisition of weapons from Russia is different from forging a strategic defense alliance.
He said Russia sells firearms without conditions unlike the US, which he said provided the Philippine armaments that are "loaded with conditionalities."
"The arms will be sold and they trust us to use it properly. I have always believed that our brave men and women in uniform should not be going into battle carrying arms attached to strings that run all the way to Washington," he added.
Sorreta said Russians do not impose limits on the military equipment acquired from them.
"If you want to buy an attack helicopter, they will train you and make sure you know how to use it and they will sell it to you. They will not say, 'we are not going to sell it to you because we are afraid you will not use it'," the envoy said, referring to attack helicopters that have night vision and infrared (cameras) that could detect enemy forces in the thick of the jungle at night.
Sorreta, who also worked for a long time with the Philippine embassy in Washington, said that the US always attaches political conditions to the Philippines when it comes to the sale of weapons.
Economic ties
Sorreta believes that now is the best time to enhance economic ties with Russia, which previously focused its trade engagements on Europe.
"They are expanding their economic engagements on the eastern side, the Asian side of Russia. Their cooperation with China, Korea and Japan is just absolutely amazing, billions and billions of dollars worth of cooperation on the East side. Very sparsely populated areas and they're focusing now also on Southeast Asia. So I think it's a good time," he said.
The envoy cited the Philippine targets of sending more agricultural products, like tuna and bananas, to Russia, noting it is a huge market that imports $1 billion worth of the fruit per year. The Philippines could also export more sugar as Russia is "a country that likes sweet stuff" and processed fruits like dried mangoes and desiccated coconut oil.
Non-interference
Asked how Russia reacted to Duterte's tirades against the supposed interference of the US and the European Union with his drug war, Sorreta said the country follows a policy of non-interference and that Russia is seeking to expand economic ties with Asia but not meddle in the internal affairs of other nations.
"They don't want to make enemies for us or tell us who not to be friends with, unlike other countries. So they just want a good relationship, a very respectful one," the envoy added.
They basically respect a country's decision on what to do. For example, human rights is a big issue for Western countries, and Philippine ambassadors have been summoned and given the views of the host country. Russia, on the other hand, believes that sovereign states are capable of making decisions for themselves and would benefit or suffer by those decisions.
Russia has not taken sides on the South China Sea dispute, which involves its ally China, Taiwan and Southeast Asian countries the Philippines, Malaysia, Vietnam and Brunei.
While western countries are accusing him of being a killer and human rights violator, Duterte is "greatly admired" by Russians for his "strong leadership," Sorreta said.
"I can't change the channel on TV without seeing coverage of the Philippines and our President. And it's not the kind of coverage you would see in New York or in Europe, Western Europe. It's a coverage that shows great admiration, great desire to develop relations," the envoy said.
"I think Russians in general admire strong leadership. They admire predictability. They admire consistency. So they see all these with our President. And one thing they truly admire is his strong and committed desire to build service to the people," he added.
Security and intelligence agreements
Meanwhile, the Philippines and Russia forged last night a number of security and intelligence agreements delving on the fight against crime, drugs, terrorism and cybercrime.
National Security Council chief Hermogenes Esperon Jr. and Russian counterpart Secretary Nikolai Anatoly Patrushev signed the accords on the sidelines of the security symposium that Russia hosted in Zavidovo, about two hours from here.
Esperon and other Philippine security officials arrived here Monday midnight together with President Duterte for a four-day official visit in Russia.
He explained that details of the agreements were actually worked out way before President Duterte assumed office on June 30, 2016.
"The agreements were hastened and given attention when Duterte became President," Esperon said, adding that cooperation on security matters between the two countries was planned six months before former president Benigno Aquino III stepped down from office.
Russian President Vladimir Putin discussed with Duterte the planned cooperation on security matters during their meeting at the Asia-Pacific Economic Cooperation Summit in Lima, Peru last November and the recent One Belt, One Road leaders' summit in Beijing last week.
Before last night's signing, Patrushev visited Davao City and met with Duterte in February to come up with the details of the agreements, which Esperon hopes would benefit the Philippines in terms of defense and security.