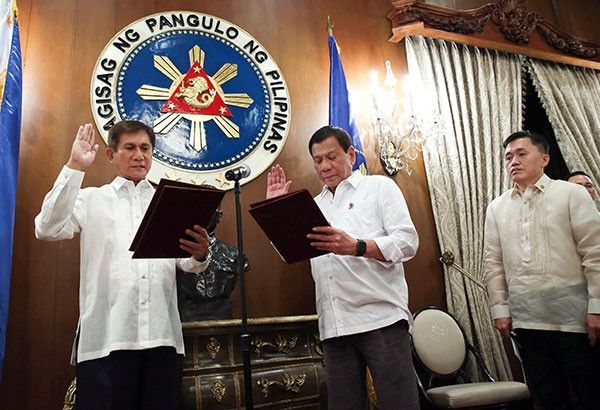 President Duterte swears in former AFP chief Roy Cimatu as new DENR secretary.
Ex-AFP chief Cimatu heads environment department
MANILA, Philippines - President Duterte has apparently gotten over the rejection of former environment secretary Gina Lopez, naming former Armed Forces chief Roy Cimatu to replace her, just five days after her confirmation was blocked by the Commission on Appointments (CA).
Cimatu took his oath of office yesterday during a Cabinet meeting in Malacañang.
"We are confident that Secretary Cimatu shall faithfully serve the interest of the country and the Filipino people in his capacity as the new DENR (Department of Environment and Natural Resources) secretary," presidential spokesman Ernesto Abella.
The CA, a bicameral body that examines the background of presidential appointees, thumbed down Lopez's appointment last Wednesday, a decision that the former environment chief blamed on "business interests."
Lopez had ordered the closure and suspension of several mining firms she accused of violating environmental laws.
Her critics had asked the CA to reject her appointment, claiming that her bias against large-scale mining makes her unfit for the post.
Duterte had expressed regret over the rejection of Lopez's appointment and even hinted that "lobby money" had influenced the CA voting.
Malacañang officials later clarified that Duterte was not trying to diminish the integrity of the CA when he made the statement.
Duterte seemed to have been planning to appoint Cimatu to the Cabinet even before the rejection of Lopez's appointment.
Speaking to the Filipino community in Riyadh last April 12, Duterte said Cimatu would become a Cabinet member "one of these days."
During the opening of the Palarong Pambansa last April 23, Duterte called Cimatu "Secretary Cimatu."
Appointment papers released to the media showed that Cimatu has been named "acting" environment secretary. Abella explained that Cimatu would serve in an acting capacity because his appointment would still be subject to confirmation by the CA.
Cimatu served as Armed Forces chief from May 18, 2002 to Sept. 10, 2002. He was later named by then president Gloria Macapagal-Arroyo as special envoy to the Middle East, a post he held again after Duterte assumed office.
Cimatu was one of the generals dragged into the corruption controversy that hounded the armed forces in 2011.
Retired Lt. Col. George Rabusa claimed that former military chiefs were given millions in "pabaon" of send-off money upon retirement.
He said former military chief Angelo Reyes got P50 million in pabaon while Diomedio Villanueva and Roy Cimatu got P160 million and P80 million, respectively. – With Rhodina Villanueva, Louise Maureen Simeon, Paolo Romero