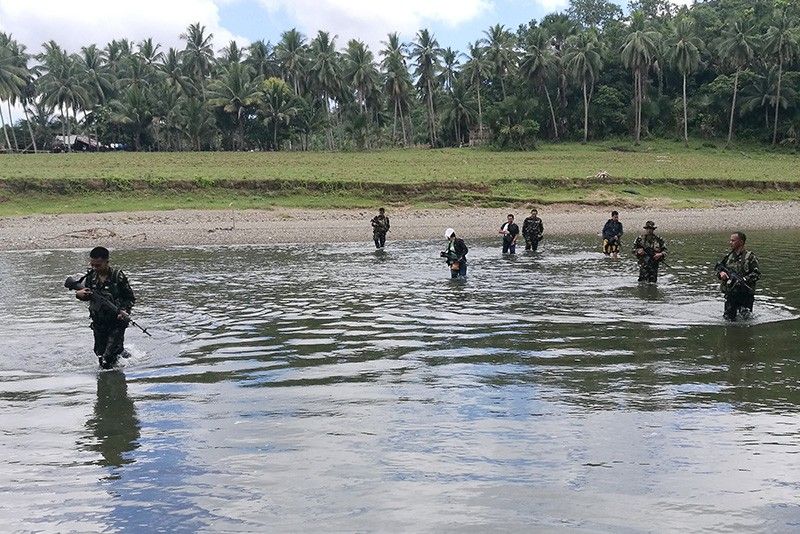 Soldiers wade through a river as they search for the hideout of Islamic militants in Inabanga town, Bohol province, in the central Philippines on April 12, 2017. The Philippines military said on April 12 it was on the trail of five Islamic militants who are on the run after landing on a tourist island, triggering clashes with security forces that claimed 10 lives.
STR/AFP
Palace asserts it's still more fun in the Philippines amid travel warnings
MANILA, Philippines — Despite the recent travel warnings and terrorist activity, it's still more fun in the Philippines.
Presidential spokesman Ernesto Abella made the claim Friday as he stressed that the Philippines remains a safe destination for business or pleasure trips.
"We understand the concern of foreign governments over their nationals. However, we assure everyone that the Philippines remains a safe place to work, to conduct business, or simply to have fun," Abella said, alluding to the Philippines' tourism campaign.
"While we urge continued mindfulness of one's surroundings, it is still more fun in the Philippines," he added.
Five Abu Sayyaf bandits, three soldiers and a policeman were killed after the local terrorist group attacked government troops in Inabanga, Bohol on April 11.
The attack came as the Philippines is preparing to host the Association of Southeast Asian Nations (ASEAN) Summit and Related Meetings next week.
While security forces have thwarted the attack in Bohol, foreign governments issued warnings against traveling to Central Visayas, citing the threat posed by Abu Sayyaf.
Abella said Tourism Secretary Wanda Teo is coordinating with her counterparts in the region to assure them that the Philippines remains a safe place. He said security around the western province of Palawan has also been strengthened to prevent any untoward incident.
Malacañang previously said tourists' interest in the Philippines "continues to surge" despite the travel warnings.
The tourism department aims to lure 6.5 million tourists this year.