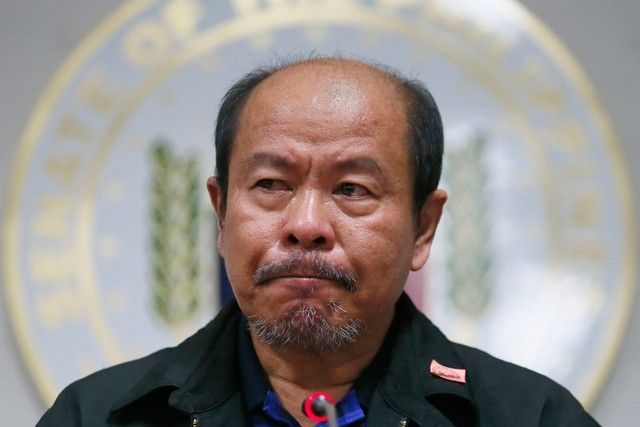 An emotional retired police officer Arthur Lascañas tells a news conference at the Philippine Senate in suburban Pasay city, south of Manila, Philippines, Monday, Feb. 20, 2017. Lascanas said President Rodrigo Duterte, when he was a city mayor, ordered and paid him and other members of a so-called liquidation squad to kill criminals and opponents, including a kidnapping suspect and his entire family and a critical radio commentator.
AP/Bullit Marquez
UN probe into Duterte's drug war urged after ex-cop's confession
MANILA, Philippines — The allegations of retiring police officer Arthur Lascañas should prompt an urgent United Nations investigation into the administration's brutal war on drugs, a top human rights agency said.
In a statement on Monday, New York-based Human Rights Watch said Lascañas' allegations heightened the urgent need for an independent probe into the deaths of more than 7,000 individuals in the drug war.
The group said the probe will uncover ultimately responsibility for those crimes.
"The disclosures also suggest possible motivations for the Duterte administration's moves to launch a politically motivated prosecution of Senator Leila de Lima, who as chair of the Commission on Human Rights in 2009 launched the only official investigation into the Davao Death Squad killings," HRW Deputy Asia Director Phelim Kine said.
On Monday, Lascañas appeared before the media to retract his previous denials that he was involved in the killing of scores of people under the orders of former Davao City Mayor Rodrigo Duterte, who is not Philippine president.
Lascañas said that the so-called Davao Death Squad exists, as he was a member of the group purportedly founded by Duterte in 1988.
Kine, meanwhile, repeated an earlier call to Philippine authorities to immediately drop the "political motivated charges" against De Lima.
READ: Human Rights Watch: Drop politically motivated charges vs De Lima
"The authorities should immediately drop all charges against Senator de Lima, cease their harassment of her and cooperate fully with a UN probe," he said.
In late January, the HRW said the UN should lead an independent investigation into killings linked to Duterte's war on drugs.
Prior to that, UN's human rights chief last December 2016 asked the Philippine authorities to investigate Duterte for murder after he claimed to have killed people in the past and to also look into the "shocking number of killings" under his brutal crackdown on illegal drugs. — Philstar.com file video taken in December 2016