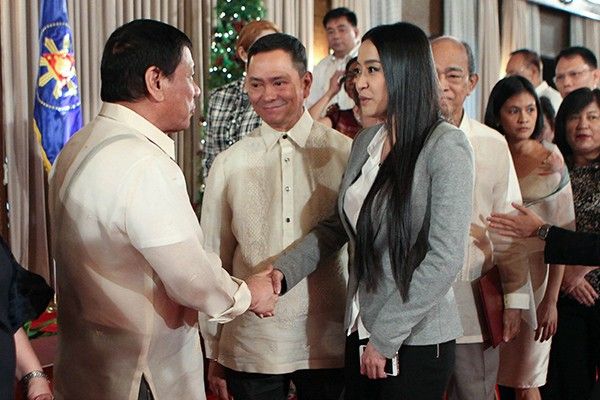 President Rodrigo Roa Duterte congratulates newly appointed Movie and Television Review and Classification Board member Margaux "Mocha" Uson during the oath-taking ceremony of government officials at the Rizal Hall in Malacañan Palace on Jan. 9, 2017.
Robinson Niñal/Presidential Photo
Palace: Mocha Uson free to quit her post in MTRCB
MANILA, Philippines — Former dancer and sex adviser Mocha Uson is free to leave her post as a member of the Movie and Television Review and Classification Board (MTRCB), Malacañang said Sunday.
In a video that circulated online over the weekend, Uson, whose real name is Margaux Justiniano Uson, said she would resign from the MTRCB if she could not convince other board members to stop television programs from airing lewd scenes.
Uson said she would be of no use to the board if the interests of television networks and their sponsors prevail over that of the public especially the youth.
"Kung hahayaan ko lang pong magpatuloy ang mga basurang programang ito na ipinalalabas ng mga TV network para lang kumita sila, wala na po akong silbi dyan sa MTRCB (If I just allow the garbage programs of TV networks to continue so they can profit from them, I am no longer of any use to MTRCB)," she said.
Asked in a dzRB interview to comment on Uson's statement, presidential spokesman Ernesto Abella said: "I'm not sure about… the issues involved. But if she feels that she needs to quit then she is free to do so."
"But as far as I know, she still said that she would be continually supporting the president in whatever capacity that she has," he added.
Uson, a staunch supporter of President Rodrigo Duterte, was appointed to the MTRCB last December. Her appointment to the board, which is tasked to censor objectionable television and movie materials, raised eyebrows due to her stint as sex adviser and leader of all-female dance group Mocha Girls.
Uson, who claimed to have shed off her sexy image, has been using her blog to malign and discredit Duterte's critics, including the media.