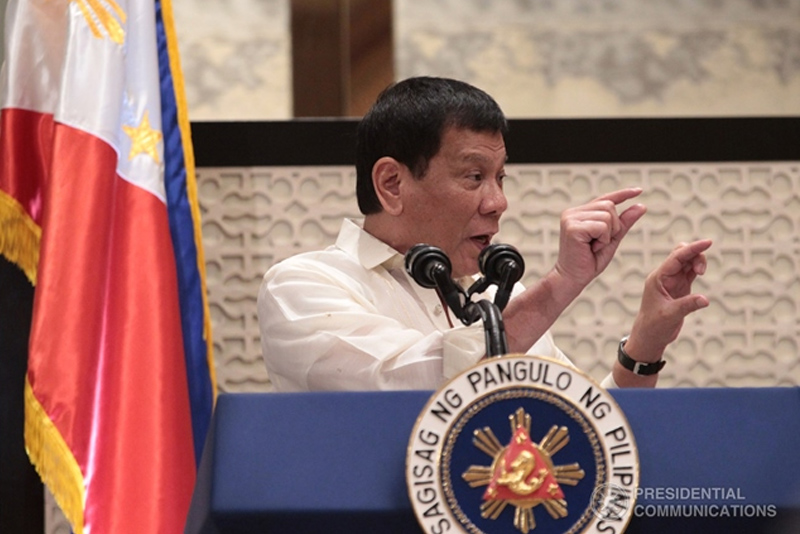 "Do not believe that you will go to hell... There is no such thing as heaven and hell. You know it would need a very stupid God if he creates me as a human being and at the end of my earthly life he would just send me to hell," President Rodrigo Duterte said in his latest rantings against the Catholic Church in the country during a convention of the Philippine Association of Water Districts in Davao City. PPD/King Rodriguez
Rody: Only stupid God will send me to hell
MANILA, Philippines - He may be everything but righteous, but President Duterte believes he is not destined for hell, as only a "stupid" God would consign a being he created to eternal damnation.
"Do not believe that you will go to hell... There is no such thing as heaven and hell. You know it would need a very stupid God if he creates me as a human being and at the end of my earthly life he would just send me to hell," Duterte said in his latest rantings against the Catholic Church in the country during a convention of the Philippine Association of Water Districts in Davao City.
Despite his tirades, he admitted a "good pope" heads the Church, referring to Francis.
"God is alpha and omega, the beginning and end. He sees everything. You have free will but just the same, God knows that you're going to hell so why the heck create me if you let me suffer?" he added.
"If you're the creator of life, then create another one but not me. You know (this is my) universal identity so you can't tell me to change. 'Mayor, do not say bad words, be courteous to visitors.'"
Duterte's tirades came a week after he asked the public to ignore his outbursts against bishops.
Duterte, a baptized Catholic who claims to believe in God but not in religion, has been badmouthing the Catholic Church, some of whose bishops have criticized alleged extrajudicial killings in his war on drugs.
Last week, the President said he is ready to resign if his claims about the corruption and sex scandals in the Church are proven false.
He went as far as accusing retired bishop Teodoro Bacani of having two wives and ridiculing priests with bad breath and dirty hands.
The President asked the public to "pray to the true God" as he took a jab at the Church, which he described as "all pageantry and drama."
"In the meantime, we try to survive in this planet and we can only pray to the true God. Their God, with all the pageantry, look at their gold cross," he said.
"I thought Christ was crucified on a wooden cross?"
Duterte then rehashed his story about priests' supposed sexual indiscretions, including his being allegedly molested by a Jesuit priest when he was still a young student of Ateneo de Davao.
The President also accused bishops of spending billions for their travels and for failing to account for the money collected during masses.
"You keep on collecting but where's the money?" the President said.