Floods, landslides kill 5 in Mindanao
January 18, 2017 | 12:00am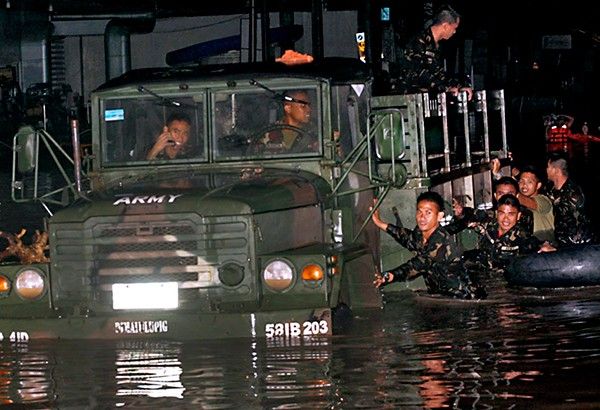 MANILA, Philippines - Incessant torrential rains over Northern Mindanao for the past several days have spawned widespread flooding and landslides, leaving at least five people dead, one missing and around 30 others injured, the National Disaster Risk Reduction and Management Council (NDRRMC) said yesterday.
NDRRMC executive director and Office of Civil Defense (OCD) chief Ricardo Jalad said the fatalities were mainly due to drowning and landslides.
He said another civilian has been reported missing in the severe flooding that hit Cagayan de Oro City the other day – the worst since Typhoon Sendong in 2011.
Officials said over 4,000 people were displaced from their homes following the torrential rains that flooded Cagayan de Oro and nearby areas starting Monday.
The NDRRMC has yet to officially receive full reports on the identities of the dead, but said they all came from Northern Mindanao, particularly Misamis Oriental.
Initial reports, however, showed that aside from a certain Renny Boy Cabidno who was buried under a collapsed wall in Cagayan de Oro, the rest of the fatalities came from Gingoog City with two dead and one each in Magsaysay and Opol towns. Another was reported missing in Medina town, all in Misamis Oriental.
There were also initial reports of five people who perished and a child missing in flashfloods that struck the towns of Jose Dalman and Roxas in Zamboanga del Norte.
Jalad said the flooding in Cagayan de Oro has been compounded by drainage problems in the city.
He said the sewerage system failed to drain the floodwaters following heavy rains that hit upper Bukidnon.
Regional disaster officials in Northern Mindanao reported the floods displaced some 1,654 families or 6,827 individuals.
On top of Cagayan de Oro City (Misamis) and Iligan in Lanao, 14 of Misamis Oriental's 23 towns and Gingoog City were hardest hit by widespread flooding.
The city council declared Cagayan de Oro under a state of calamity yesterday to hasten services to the displaced residents now staying in 19 evacuation centers.
Except for severe flooding in low-lying areas, there was no reported casualty in nearby Iligan City.
In 2011, Cagayan de Oro was also devastated by torrential floods from Typhoon Sendong, leaving at least 1,152 people dead in the city and in neighboring Iligan.
On the other hand, Malacañang declared the government is doing all it can to normalize the situation in Northern Mindanao.
"Government is doing everything to ensure that things go back to normal especially now that the weather is improving and roads are again passable," presidential spokesman Ernesto Abella said.
Abella said the Department of Social Welfare and Development (DSWD) is now providing assistance to affected families in Northern Mindanao, including Cagayan de Oro City, which is now under a state of calamity.
The DSWD said 953 families or a total of 4,378 individuals have been evacuated in affected areas in Eastern Visayas and Northern Mindanao.
Social Welfare Secretary Judy Taguiwalo said another 1,116 families or 4,879 individuals were affected by the flooding caused by torrential rains brought about by a low-pressure area and the tail-end of a cold front.
Aside from Cagayan de Oro, DSWD also reported evacuation of affected families in various parts of Misamis Oriental and in Iligan City, Lanao del Norte.
A number of residents in Eastern Samar were also evacuated due to the flashfloods.
"Our regional officials are also maintaining constant communication with officials of the local government units," Taguiwalo said yesterday.
"The Cagayan de Oro local government and its disaster units as well as social welfare office are addressing the immediate needs of affected citizens. Our field office (in the region) is always prepared to provide augmentation support," she added.
Senate President Aquilino Pimentel III, a native of Cagayan de Oro, appealed for more help and assistance for the victims of the massive flooding in the city.
"We need to show the flood victims that they are not alone, and we are ready to stand in solidarity with them in their hour of need," he said.
Pimentel said his office, with its limited resources, would do its best to help the victims to complement government efforts.
The Office of the Senate President has launched a relief drive, "TabangCDO" to help the flood victims in the city.
Pimentel also gave assurance the help will not be limited to his hometown.
"Let us remember that flood victims are not limited to CDO. We should ensure that we can help everyone to the best of our abilities," he said.
A month's volume of rain
The low-pressure area (LPA) which triggered massive flooding in Cagayan de Oro City and other parts of Northern Mindanao last Monday has dissipated.
However, a tail-end of a cold front will continue to bring moderate to occasionally heavy rains and thunderstorms over Visayas and the regions of Northern Mindanao and Caraga until today, the Philippine Atmospheric, Geophysical and Astronomical Services Administration (PAGASA) said yesterday.
"We still expect rains over these areas although not as heavy as last Monday," PAGASA weather forecaster Benison Estareja said in a television interview.
Estareja continued to warn residents in affected areas, especially those living in low lying and mountainous areas, against possible flashfloods and landslides.
"By Thursday, we expect the tail-end of a cold front to weaken and by then we can expect improved weather condition in Mindanao," he said.
The two weather systems dumped almost a month's volume of rain in one day in Misamis Oriental, according to PAGASA.
The PAGASA-El Salvador station recorded 72.4 millimeters of rain in the province over a 24-hour monitoring on Tuesday. The area's average total rainfall for January is 98.9 mm.
The heavy rains caught residents by surprise, leaving the city at a virtual standstill.
Most residential areas had no light or water supply since the torrential rains began Monday.
Rescue workers had to retrieve several students of Mindanao University of Science and Technology in the city who were trapped in their classrooms because of the floods.
A shopping mall in the city remained open to allow the thousands of stranded to stay inside during the heavy rains and floods. –Alexis Romero, Evelyn Macairan, Janvic Mateo, Gerry Lee-Gorit, Paolo Romero, Helen Flores, Lino de la Cruz, John Unson, Roel Pareño