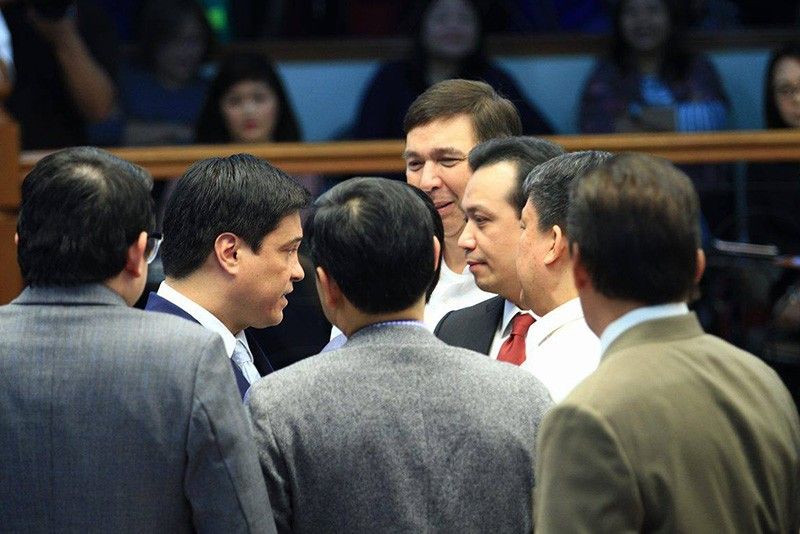 Sen. Miguel Zubiri and Sen. Antonio Trillanes IV engage in a heated argument during a session on Tuesday afternoon, Jan. 17, 2017.
Mark Pimentel for Philstar.com
Trillanes, Zubiri nearly trade blows at Senate session
MANILA, Philippines — Senate President Aquilino "Koko" Pimentel III was forced to suspend plenary session on Tuesday afternoon following a heated debate between Sen. Antonio Trillanes IV and Sen. Juan Miguel "Migz" Zubiri.
Trillanes and Zubiri nearly exchanged blows following a debate on which panel will investigate the bribery scandal case in the Bureau of Immigration.
Zubiri said he was offended by the statement of Trillanes that he and Sen. Richard Gordon wanted to whitewash the Senate probe on the matter. He stressed that the Blue Ribbon Committee has always been the panel that investigated such issues.
"I am not privy to any whitewash. I will make a motion today as a member of the blue ribbon that Sen. Gordon immediately hear the bribery scandal case and I will actively attend," Zubiri told the Senate.
Trillanes admitted that his statement was meant to offend Zubiri as his committee blocked the referral to his own panel.
"I'm glad that the gentleman took offense because the statement was meant to be offensive," Trillanes said.
Trillanes then proceeded to call Zubiri a "cheater" and reminded him that he resigned from the Senate in 2007 due to an alleged cheating incident during the elections.
Defending himself, Zubiri said that he never cheated in the 2007 elections. He stressed that he was not involved in the incident and those who were responsible for the cheating were already in jail.
Zubiri then reminded their colleagues in the Senate that Trillanes was imprisoned for rebellion after the 2003 Oakwood mutiny involving 321 armed soldiers.
"The gentleman also is accused of rebellion and treason," Zubiri said.
Pimentel ordered a suspension of the session following the heated argument during the two senators. During the break, other senators were seen trying to break Trillanes and Zubiri away from each other. — Video report by Efigenio Toledo IV