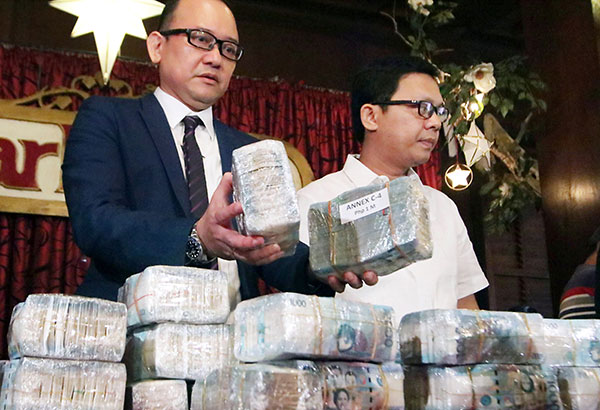 Immigration Deputy Commisioners Al Argosino and Michael Robles present to media yesterday P30 million in cash, which they admitted accepting and keeping purportedly as part of an investigation against Macau-based businessman Jack Lam. EDD GUMBAN
Rody fires BI execs in casino bribe
(The Philippine Star) - December 18, 2016 - 12:00am
MANILA, Philippines – President Duterte has fired Immigration Deputy Commissioners Al Argosino and Michael Robles, as well as the immigration bureau's intelligence chief Charles Calima Jr., all of whom were tagged in a multimillion-peso bribe scandal involving Chinese casino operator Jack Lam.
Duterte also announced the government will sequester the properties of Lam for cheating on his taxes.
"Consistent with this electoral campaign, I have directed the dismissal of the two associate commissioners of the Bureau of Immigration who are now tainted with corruption. They will be held accountable for their actions. They will face the full force of the law," Duterte said in a speech delivered in Davao City upon his arrival from Singapore early yesterday.
Duterte said his order to dismiss was in line with his promise to stop corruption.
"One of them is a retired general. The two lawyers (will also be dismissed) and you know what? They are my fraternity brothers, if you must know. They're from San Beda and they are my fraternity brothers. But I told (presidential assistant) Bong Go, tell them to resign. You're fired," he said.
Argosino and Robles on Friday announced their plan to quit shortly after Duterte disclosed in Singapore that he would fire two ranking public officials implicated in corrupt deals as soon as he returns home, but did not mention names.
Argosino and Robles are Duterte's fraternity brothers in San Beda College of Law's Lex Talionis Fraternitas.
When the immigration officials asked about the chances they would be reinstated, Duterte replied: "Not in a million, not in a million. Let the law take its course. You did that, so face the consequence."
"So the law is the law and I told everyone, including my relatives, do not do it. If you want a legitimate business, do it right and everything is OK," he added.
Argosino and Robles were accused of extorting P50 million from Lam, who allegedly resorted to bribery to secure the release of the more than 1,300 undocumented Chinese nationals working for him at the Fontana Leisure Parks and Casino in Pampanga.
Last Tuesday, Argosino and Robles surrendered P30 million out of the P50 million they received from Lam's camp.
The two officials, however, denied they were involved in extortion and claimed they were framed while conducting an investigation.
Argosino and Robles said the other P18 million went to Calima while P2 million was given to retired police chief superintendent Wally Sombero, who was accused of being the middleman in the transaction.
The P30 million surrendered by the two immigration officials would be temporarily deposited in a bank for safekeeping.
Duterte added the properties of Lam would be sequestered for payment of taxes.
"I am sequestering, ordering the sequestering of properties. And maybe, I can get as much as I want because – well, (Internal Revenue commissioner Caesar) Dulay and everybody says that we've been cheated for so long," Duterte said.
"He (Lam) talks as if all officials are in his pocket because he was into corruption. I got pissed off, and I said arrest him. And they say he has no case, never mind. There is no case, there is no case, we will find a case and I'm just sorry that he was able to leave the country three days before," he added.
"I told them arrest him, detain him in the most foul-smelling precinct."
Duterte said Lam has been playing with his supposed tax dues.
He said government has to investigate further how much it has been losing since Lam only pays taxes for the games here in the country but does not pay any amount for betting outside the country.
Duterte said Lam has expressed his intention to return to the country to settle his obligations. The Chinese gaming operator left for Hong Kong days before Duterte ordered his arrest.
"So that this is the warning to everybody: If you have proof that you are bribing anybody or if anyone in the government is asking money from you…report it to me immediately and I will protect you… if you tell me the truth," Duterte said.
"Do not corrupt people. If you are into corruption, go out of business for a while. Anyway I'm just here for six years. After that, you can have your way again. I really don't mind, in fairness to the one (who's) succeeding. But for now I said I'm going to give the Philippines a respite from the corruption all of these years," he said.
Justice Secretary Vitaliano Aguirre II said the President's decision to sack the two immigration officials linked to extortion only affirms Duterte's fight against corruption.
"It's good. A reiteration of his stand and campaign against corruption," he said. – Alexis Romero, Evelyn Macairan, Edith Regalado