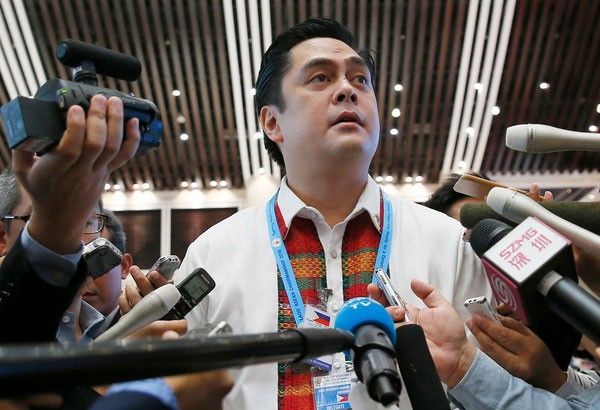 Presidential Communications Secretary Martin Andanar said that it is the role of the PCO to educate the Filipinos on the Association of Southeast Asian Nation and its benefits.
AP Photo/Bullit Marquez
Palace to educate Filipinos on ASEAN
(philstar.com) - January 5, 2017 - 2:51pm
MANILA, Philippines — The Presidential Communications Office will be educating Filipinos on the Association of Southeast Asian Nations and the benefits of membership,a Palace spokesman said Thursday.
In a press briefing at Malacañang, Presidential Communications Secretary Martin Andanar said that it is the role of the Presidential Communications Office to educate the public on the ASEAN as the lead of the committee on media affairs. The Philippines is chair of the ASEAN this year, a position that rotates among member nations.
He added that the office has created a campaign that speaks to everyone "from all walks of life."
"It is the vision of the PCO that every Filipino will know how ASEAN has benefited them," Andanar said.
According to Andanar, the plan is to have road shows that will travel through different barangays in the Philippines throughout the year.
He added that ASEAN representatives from PCO will deliver talks and conduct seminars during the road shows, and that they will be distributing comics, as well as other reading materials in different Philippine dialects so "no one is left behind."
According to Andanar, this is to reach "those without access to the internet or traditional media."
Benefits of ASEAN membership
Andanar also laid out the benefits of any ASEAN citizen, including the Filipinos.
According to Andanar, the ASEAN will prioritize the health and nutrition of the ASEAN citizens, including social protection for the women, elderly, and those who are disabled.
It will also give focus on the rights of migrant workers to ensure that they will not be exploited or mistreated.
Andanar also said that members of the ASEAN will work together to keep peace and stop the proliferation of illegal drugs and terrorism.
The ASEAN will also ensure protection of the seas and will hold workshops and dialogue to strengthen maritime cooperation and security due to the importance of shipping and seaborne trade.
They will also promote entrepreneurship in micro, small, and medium enterprises to help employees become business owners and encourage current business owners to go digital in order for them to compete globally.
Boosting the country's regions' contingency capabilities and risk management programs will help make ASEAN resilient to disasters and adaptable to climate change, Andanar said.
The Philippines accepted the chairmanship of the ASEAN on September 8, 2016, and unveiled the theme "Partnering for change, engaging the world."
Andanar said that representatives of the ASEAN community will be arriving in Davao City on January 15, and will officially launch ASEAN 2017 at the Davao SMX Convention Center.
"PCO has partnered with different government agencies led by the Department of Tourism to create a memorable event that will set the tone for this yearlong important commitment," Andanar said.