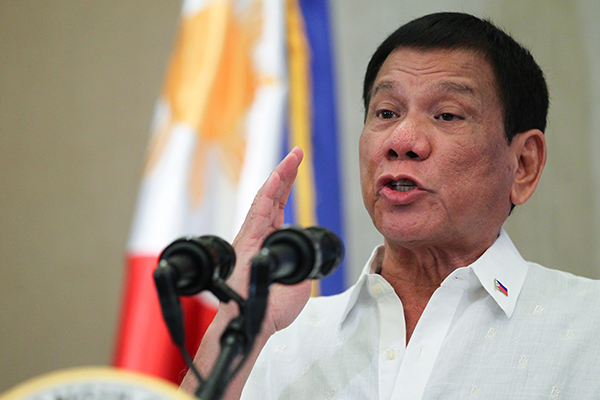 President Rodrigo Duterte has threatened to execute "five or six" death row convicts daily once the death penalty is restored. PPD/Ace Morandante
Duterte wants 6 executions daily
Alexis Romero
(The Philippine Star) - December 19, 2016 - 12:01am
MANILA, Philippines – President Duterte has threatened to execute "five or six" death row convicts daily once the death penalty is restored.
Duterte, who has launched a bloody war against illegal drugs and criminality, said he wanted capital punishment restored "because I want to use it against you (criminals)."
He implied that capital punishment failed to work as a crime deterrent in the past because only a few executions were carried out.
"Restore it and I will execute criminals every day – five or six. That's for real," he said during the 38th birthday celebration of Sen. Manny Pacquiao in General Santos City Saturday night.
The President has been pushing for the restoration of the death penalty, saying it would serve as retribution for those who committed serious crimes.
Capital punishment was scrapped in 1987 during the presidency of Corazon Aquino but was reimposed in 1993 under then president Fidel Ramos, who now serves as Duterte's adviser.
Crimes that were punishable by death included rape, kidnapping for ransom, murder and drug trafficking.
Capital punishment was abolished anew in 2006 during the presidency of Gloria Macapagal-Arroyo, now a Pampanga congresswoman.
Former president Benigno Aquino III also rejected the death penalty, saying it was more important to fix the problems in the Philippine justice system.
Before assuming the presidency, Duterte said he would like to execute criminals by hanging, believing those who were under the influence of drugs had been reduced to a "bestial state."
"Hang first and then there will be another ceremony for a second time until the head is completely severed from the body. I'd like that because I am mad," Duterte said in a press conference last May.
The Roman Catholic Church, the religion of more than 80 percent of Filipinos, has been opposed to death penalty, saying sinners should not be eliminated but should instead be given a chance to amend their lives.
The Archdiocese of Manila has urged its clergy and the faithful to say a prayer against the revival of the death penalty law in the Philippines.
The bill restoring death penalty has been approved at committee level in the House of Representatives, which is dominated by allies of the President. Senate leaders, however, expect the controversial measure to be subjected to long debates and public hearings.
Free overstaying prisoners
Meanwhile, Buhay party-list Rep. Lito Atienza called on Duterte to release prisoners under the Bureau of Jail Management and Penology.
Atienza pointed out that the slow pace of the justice system and lack of lawyers keeping an eye on their cases had been depriving thousands of inmates of a speedy trial, as provided for under Article III, Section 16 of the Constitution, stating that, "All persons shall have the right to a speedy disposition of their cases before all judicial, quasi-judicial, or administrative bodies."
"Many inmates who were supposed to serve short sentences end up being imprisoned for extended periods. This is contrary to what our Constitution guarantees. This is a classic case of justice delayed is justice denied," Atienza lamented.
Atienza said their release must be done "in the spirit of the Christmas season."
Atienza urged President Duterte to direct the BJMP to immediately conduct an inventory of inmates and release those who would already qualify.
"This is one of the reasons why we are absolutely against the death penalty. Because of our defective and disjointed criminal justice system, only the poor who cannot afford lawyers, will be sentenced to death. While the moneyed criminals buy their way through the corruption network and go scot-free," Atienza said.
Atienza also reminded government to focus not only on political detainees, but more so on prisoners suffering in subhuman conditions inside jails.
He invoked Article III, Section 19 of the 1987 Constitution: "The employment of physical, psychological, or degrading punishment against any prisoner or detainee or the use of substandard or inadequate penal facilities under subhuman conditions shall be dealt with by law."
Atienza also cited Article I of the International Convention on Civil and Political Rights, providing that, "All persons deprived of their liberty shall be treated with humanity and with respect for the inherent dignity of the human person." - With Delon Porcalla