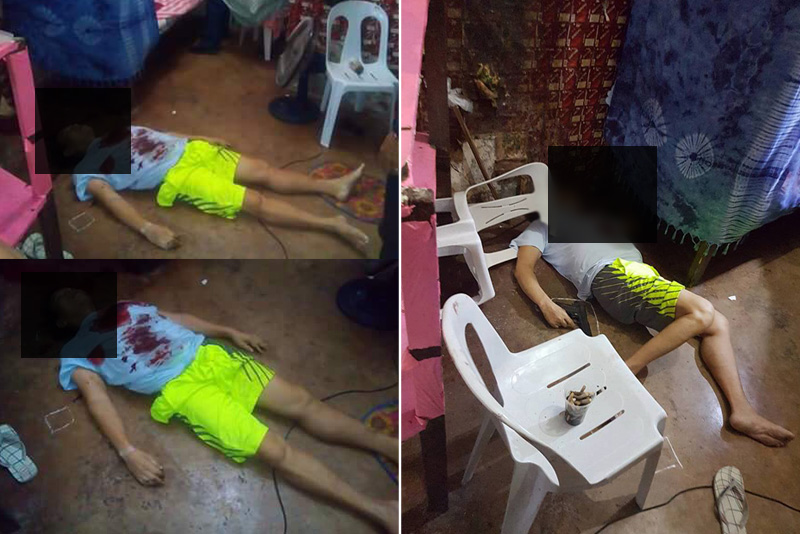 Photos on the left obtained by the Philippine Center for Investigative Journalism show the body of Albuera Mayor Rolando Espinosa Sr. lying flat on his back with his eyes half-open, and both of his hands empty. The photo on the right, officially released by the Criminal Investigation and Detection Group 8 of the Philippine National Police shows Espinosa's body slumped sideways, with his right hand appeared to be holding a gun. PCIJ/Nancy Carvajal; CIDG handout/ABS-CBN
NBI: Espinosa slay was a rubout, not shootout
MANILA, Philippines (UPDATED 3:43 p.m.) — Suspected drug lord Mayor Rolando Espinosa of Albuera, Leyte was killed during a "rubout" inside a provincial and not in a shootout with Criminal Investigation and Detection Group (CIDG) officers, the National Bureau of Investigation said on Tuesday.
Releasing the findings of its probe into Espinosa's death, the NBI has recommended to the Department of Justice the filing of multiple murder and perjury charges against 24 CIDG Region 8 officers and other individuals involved in the killing of Espinosa and his cell mate, Raul Yap, on November 5.
"After conducting an exhaustive investigation of the incidents surrounding the killing of Mayor Espinosa and Yap, the NBI concluded that the testimonies of several witnesses had disputed the claim of an alleged shootout between the CIDG Operatives and Inmates Mayor Espinosa and Raul Yap but a 'rub out,'" the NBI said in a statement.
The bureau also recommended the filing of charges against Police Chief Inspector Leo Diao Laraga, PO3 Norman Abellanosa and Paul Olendan for a search warrant maliciously obtained.
The NBI stated that a few items like cellular phones during its "Oplan Galugad" at the jail facility on October 30.
"It was, therefore, impossible for Espinosa and Yap to possess these firearms and illegal drugs inside their respective cells on the night of the supposed implementation of the search warrants," the NBI said.
NBI spokesman Ferdinand Lavin added that the killing of Espinosa was premeditated as the victim was defenseless.
Facing multiple murder and perjury charges are CIDG Region 8 chief Superintendent Marvin Marcos, Superintendent Noel Matira, Chief Inspector Leo Laraga, Senior Inspectors Deogracia Diaz and Fritz Blanco, Senior Police Officers Melvin Cayobit, Eric Constantino, Benjamin Dacallos, Juanito Duarte and Alphinor Serrano Jr., police officers Johnny Ibanez, Norman Abellanosa, Niel Centino, Bernard Orpilla, Lloyd Ortiguesa, Jerlan Cabiyaan, Cristal Gisma and Divine Grace Songalia.
Also facing charges are PNP Regional Maritime Unit 8 personnel Chief Inspector Calixto Canillas Jr. and Inspector Lucresito Candelosas as well as police officers Antonio Docil, Mark Cadilo, John Ruel Daculan and Jaime Bacsal.
The son of the late mayor, alleged drug lord Kerwin Espinosa, earlier said that he believes his father was killed in a rubout contrary to the claims of the police.
Marcos was placed under suspension due to the Espinosa slay case but was later on reinstated following an order from President Rodrigo Duterte through PNP Director General Ronald Dela Rosa.
RELATED: I don't need to explain why I reinstated Marcos, Duterte says