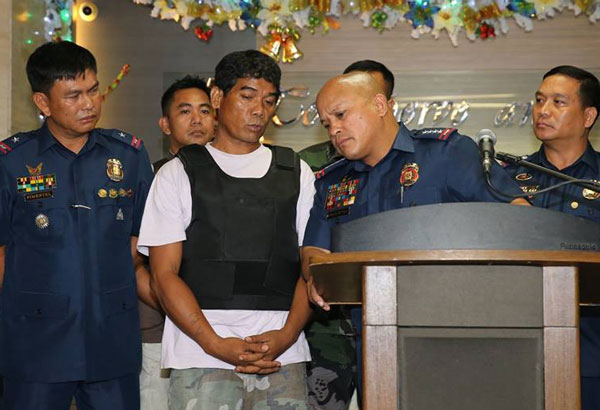 Ronnie Dayan is expected to attend the Senate public order and dangerous drugs committee inquiry into the killing of Mayor Rolando Espinosa Sr. of Albuera, Leyte on Monday morning. PNP PIO/Released
LIST: Senate guest list for Espinosa slay probe – Day 3
MANILA, Philippines — The Senate Committee on Public Order and Dangerous Drugs will resume its inquiry into the killing of Mayor Rolando Espinosa Sr. of Albuera, Leyte on Monday morning.
The investigation is being held jointly with the Senate Justice panel.
The mayor, an alleged drug coddler who had previously surrendered to police and was released before seeking police protection and was later arrested on drug charges, was shot dead inside his cell in a sub-provincial jail in Baybay City, Leyte.
His son, confessed drug lord Kerwin Espinosa, is expected to "tell all" about the illegal drug trade in the country.
The following are expected to attend the Senate hearing:
Director General Ronald Dela Rosa - chief, Philippine National Police

P/CSupt. Asher Dolina - former Eastern Visayas regional director, alleged drug coddler

P/CSupt. Aurelio Trampe Jr.-

PDir. Elmer Beltejar - Eastern Visayas

Sr. Supt. Franc Simborio - Provincial director

CInsp. Jovie Espenido - Albuera Municipal Police

P/CInsp. Wilfredo Abordo - Kerwin has alleged that he traded drugs with Abordo

PC/Insp. Benjamin Cruto Jr. - Regional Crime Laboratory 8

PO3 Dennis Torrefiel - Kerwin has alleged that he traded drugs with Torrefiel

PC/Insp. Rio Tan - Kerwin alleges he gave Tan protection money

P/Supt. Joseywells Manla Estopin - Kerwin alleges he gave Estopin protection money

P/SInsp. Daryl Samson Chua - Kerwin alleges he gave Chua protection money

P/SInsp. Jerome Camacho - Kerwin alleges he gave Camacho protection money when he was Albuera town chief

P/SInsp. Berniede Magamay - Supposedly headed the checkpoint to and from Albuera town; Kerwin alleges he gave Magamay protection money

PO3 Roberto Arafol - Kerwin alleges he gave Arafol money as well

P/CInsp. Elvis Angay-Angay - Kerwin alleges he gave Angay-Angay protection money through a remittance service

P/SInsp. Benjamin Lodo Jr - Police station chief in Ormoc City; Kerwin alleges he gave Lodo protection money personally

P/SSupt. Jose Macanas - Chief of the Ormoc City police; Kerwin alleges he gave Macanas protection money

P/SInsp. Jabines - Kerwin alleges he gave Jabines protection money

SPO3 Bituin - Checkpoint leader in one Albuera barangay; Kerwin alleges he gave Bituin protection money

P/C Supt. Elmo Francisco Sarona - Chief of the Cordillera regional police office

PSupt. Elmer Ragay

SPO3 Rodel Abnasan

PO3 Aldrin Saltin

Kerwin Espinosa

Ronnie Palisoc Dayan

Victor Espina

PCSupt. Roel Obusan - PNP Crime Investigation Detection Unit

CInspt. Leo Laraga - CIDG

P/Supt. Marvin Marcos - Region VII, CIDG

PO3 Norman Abellanosa

P/Supt. Santi Noel Matira

PO2 Jennifer Monge - Region VIII Regiona; Tactical Operations Center

PCSupt. Leo Angelo Leuterio - Acting Deputy Inspector General, PNP Internal Affairs Service

Daanbantayan, Cebu Mayor Vicente Loot

Janella Marie Sales Belleza – Nueva Caceres Housing Village, San Agustin, Camarines Sur

Ram John Michael Espinosa

Ramon Espinosa

Leilani Villarino – Counsel for Kerwin

Vitaliano Aguirre II - Secretary, Department of Justice

Director Dante Gierran – National Bureau of Investigation

Chief Persida Rueda-Acosta - Public Attorney's Office