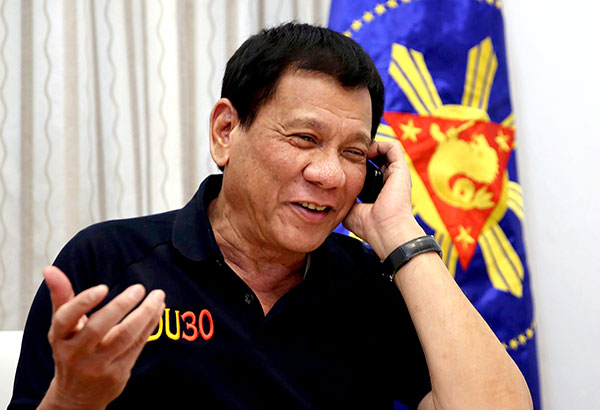 GOOD RAPPORT: President Duterte is all smiles as he talks to US president-elect Donald Trump on the phone at the Legaspi Suites in Davao City the other night. During the seven-minute phone conversation, Trump told Duterte the Philippines was conducting its deadly drug war 'the right way.'
Duterte-Trump talk seen to boost ties
Rody: He wished me success in drug war
MANILA, Philippines - Philippine-US relations seem to be back on track after President Duterte said he feels a "good sense of rapport" with president-elect Donald Trump following a late night phone call.
In their seven-minute phone conversation Friday night, Duterte assured Trump the Philippines would maintain its ties with America – practically an about-face from his open hostility toward the Obama administration.
Trump, in turn, wished Duterte "success in my campaign against the drug problem."
Duterte called to congratulate Trump late Friday in their first contact that was described by an aide as a "very engaging, animated conversation," during which both leaders invited each other to visit his country.
The conversation was arranged by the Department of Foreign Affairs.
In a video released by Duterte's aide Christopher Go, the Philippine leader is seen smiling while talking to Trump. "We will maintain... and enhance the bilateral ties between our two countries," Duterte was heard telling the US president-elect.
The other parts of the conversation were not aired but in a statement released by his aides, Duterte said Trump "was wishing me success in my campaign against the drug problem."
"He understood the way we are handling it and I said that there's nothing wrong in protecting a country," Duterte said. "It was a bit very encouraging in the sense that I supposed that what he really wanted to say was that we would be the last to interfere in the affairs of your own country."
"He said that ... well, we are doing it as a sovereign nation, the right way," Duterte said in his statement. It was unclear whether he or Trump remarked that the widely criticized crackdown was being carried out properly.
"And in just a few minutes, we were talking a lot of things. He was quite sensitive also to our worry about drugs," Duterte said.
Duterte has lashed out at President Barack Obama, the State Department, the European Union and UN officials and human rights groups for raising concerns over the crackdown, which has left more than 4,600 suspected drug dealers and users dead, including many who were feared to have been gunned down in gangland-style killings.
While being antagonistic to the US, his country's treaty ally, Duterte has reached out to China and Russia.
Obama canceled what could have been their first formal meeting in an Asian summit in Laos in September after Duterte unleashed an expletive-laden warning for the US leader not to lecture him on human rights.
In one speech, Duterte asked Obama to "go to hell."
Duterte has repeatedly threatened to scale back the presence of visiting US troops and joint combat exercises with the Americans, but he and his defense officials have walked back on most of those threats.
In one speech while visiting Beijing, Duterte announced he would separate from the US but later clarified that he meant he would chart a foreign policy that does not lean toward America.
During their talk, Trump invited Duterte to visit the White House next year and Duterte asked the incoming US leader to attend an East Asian summit to be hosted by the Philippines next year, according to Go.
"He said that he will try his best to be here. He wants to attend the summit and that would be great for our country," Duterte said.
"I appreciate the response that I got from president-elect Trump and I would like to wish him success. He will be a good president for the United States of America. I am very sure," Duterte said. – Edith Regalado, AP