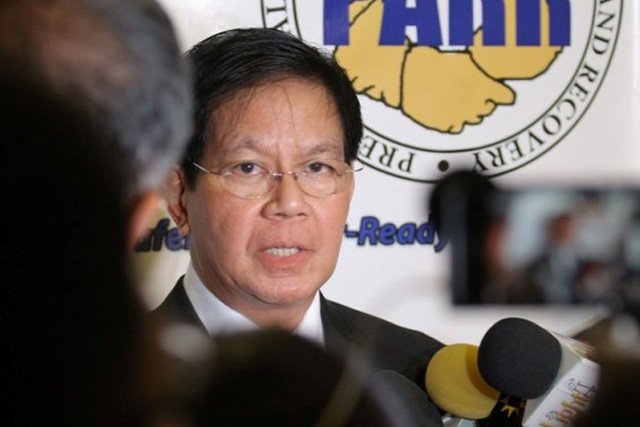 Sen. Panfilo "Ping" Lacson was unable to hide his dismay over the admission of President Rodrigo Duterte that he ordered Philippine National Police Chief Gen. Ronald "Bato" dela Rosa to reinstate Superintendent Marvin Marcos. PCOO/Robert Viñas, File
Lacson slams Duterte's drug war: Change isn't coming after all
MANILA, Philippines - Sen. Panfilo "Ping" Lacson expressed his dismay to President Rodrigo Duterte over the "double standard" in his relentless war on illegal drugs.
"I thought it was an all-out drug war I was supporting. Talk about double-standard. Talk about double-speak," said the senator in a Twitter post Friday.
"Change isn't coming after all," he added.
Lacson was unable to hide his dismay over the admission of Duterte that he ordered Philippine National Police (PNP) Chief Gen. Ronald "Bato" dela Rosa to reinstate Superintendent Marvin Marcos as Criminal Investigation and Detection Group (CIDG) chief in Region 8.
On Friday night, the president told reporters in Davao City that he directed his special assistant Christopher "Bong" Go to call the PNP chief.
"By the time pinasa niya (Go), ang sumagot si Dela Rosa. Sabi ko, do not remove the guy (Marcos) because kasali yan sa.. I am doing an investigative job," said Duterte.
According to Duterte, former police director for eastern Visayas, Chief Superintendent Asher Dolina, has already been cleared from allegations of receiving protection money from drug lord Kerwin Espinosa while Marcos has long been "tainted" with illegal drugs.
"Si Dolina was cleared. Marcos, positive. Kasi I was keeping track of his movements," said Duterte.
When asked by reporters what he would do since Marcos had been found to be "positive," the chief executive replied: "He (Marcos) has to face the charges. But ngayon, pwede nang.. Let him maintain the right to be heard."
Marcos was the leader of the CIDG raiding team that served a search warrant on Albuera Mayor Rolando Espinosa inside his detention cell in the Baybay, Leyte sub-provincial jail on November 5.
The Albuera mayor was killed in what the authorities claim was a shootout but that some senators like Lacson said seems like a rubout.
Lacson, who chairs the Senate committee on public order and dangerous drugs, said there is a "glaring conclusion" that Espinosa's killing was premeditated based on the testimonies of various PNP officials.
The senator reminded Dela Rosa that the responsibility to reinstate a police official still falls on him.
"Kumpare, kumare, kamaganak, kaibigan, etc. asking favors from Chief PNP – So what? It still boils down to command responsibility pag pumalpak," said Lacson in his Twitter post Friday.
Lacson also expressed his disappointment to Dela Rosa who gave in to the request of a "higher up" or a "kumpare," later on found to be Duterte himself, to reinstate the controversial cop.
"And I thought Ronald was strong willed and uncompromising," the senator said.
Lacson became the PNP chief from 1999 to 2001 before he was elected to the Senate.