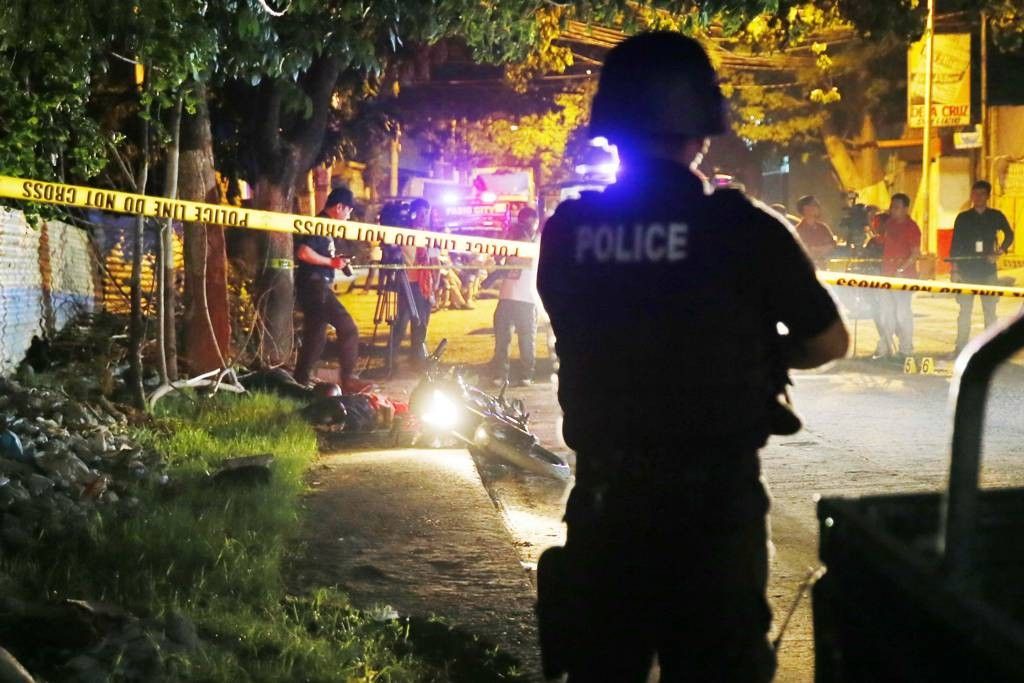 FILE - In this Sept. 23, 2016 file photo, a police SWAT member stands guard as police operatives examine the scene where two bodies lay on the road after being killed in a police drug "buy-bust" operation at Pasig city before dawn east of Manila, Philippines. In just 100 days in office, President Duterte has stirred a hornet's nest by picking a fight with Barack Obama, the United Nations, the European Union and others who have criticized his brutal crackdown against drugs that has left more than 3,600 suspects dead. In another defining aspect of his unorthodox rule, the 71-year-old Duterte has pushed back his country's 65-year treaty alliance with the United States while reaching out to China and Russia.
AP/Bullit Marquez, File
Spare OFWs from extrajudicial killings, groups say
MANILA, Philippines — Overseas Filipino workers (OFW) rights advocacy groups appealed to the Duterte administration to spare them from extrajudicial killings.
This statement comes after the killing of a vacationing OFW who was last seen in police custody.
The United Overseas Filipinos Worldwide and the OFWs for Peace Coalition expressed concern that the circumstances of the death of Mark Anthony Culata indicate the he was a victim of extrajudicial killing.
CCTV footage showed that PO2s Yves Luyun and Emerson de Ocampo and PO1s Edgardo Fontanilla and Herman Romanes took custody of Culata, whose body was later found with gunshot wounds.
The four police officers have been relieved from their duty at the Tanza Police Station in Cavite. PNP Director General Ronald Dela Rosa earlier said that the National Bureau of Investigation os handling the criminal case that will be filed against them.
The OFW rights groups earned that the death of Culata may have a "chilling effect" on workers who may decide not to go home to the Philippines for Christmas in fear of their lives, according to international group Human Rights Watch (HRW).
"Such fears aren't unjustified. Since Duterte took office on June 30, he has declared a 'war on drugs,' resulting in an alarming surge in killings of alleged criminals," HRW Asia Deputy Director Phelim Kine said.
Latest PNP statistics show that as of October 10, 3,844 have died in the war against drugs since July 1.
Duterte considers the killings as proof of the success of his war on drugs and urged the police to seize the momentum, Kine said.
Kine warned that Filipinos living outside the country will not be safer than those living in the country unless the government rethinks its "abusive war on drugs."
Meanwhile, Malacañang spokesman Ernesto Abella announced that Executive Secretary Salvador Medialdea has sent the formal invitation to United Nations special rapporteur on extrajudicial executions Dr. Agnes Callamard to visit the Philippines and investigate drug killings.
Callamard has welcomed the invitation but is yet to formally receive the invite. A similar invitation is being readied for representatives of the United States and the European Union.