SWS: 76% of Filipinos satisfied with Duterte's performance
MANILA, Philippines – President Rodrigo Duterte yielded a "very good" net satisfaction rating and the approval of 76 percent for his first three months in service, according to the recent survey of the Social Weather Stations released October 6.
Based on the survey first published by BusinessWorld, Duterte gained a +64 net satisfaction or "very good" rating in the first quarter.
The survey also showed that 76 percent of the respondents from Metro Manila, balance of Luzon, Visayas and Mindanao, were satisfied in the president's performance while only 11 and 13 percent were dissatisfied and undecided about his performance.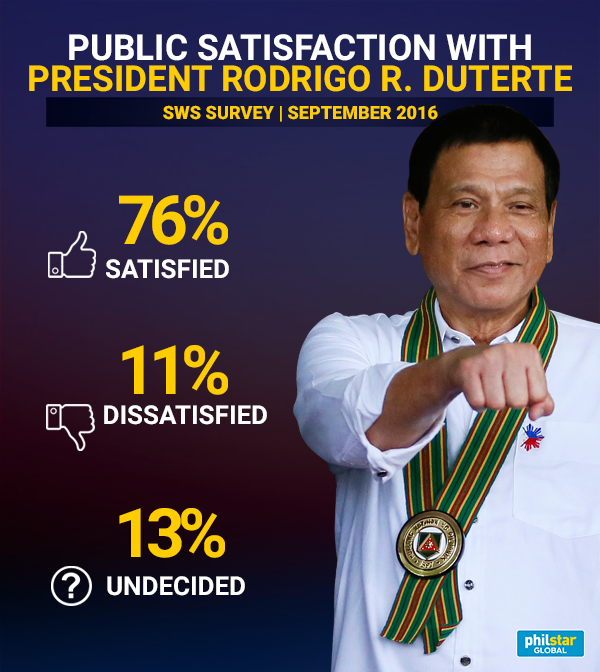 Duterte managed a "very good" rating from across socioeconomic classes with +65 while he was mostly preferred by male with +71 rating as compared to female with only +58 net satisfaction rating.
For his net satisfaction rating, Duterte also fared "excellent" or +85 in his bailiwick, Mindanao, and "very good" scores elsewhere. He gained +62 in Visayas, +58 in Metro Manila and +57 in balance Luzon.
A total of 1,200 adult respondents participated in the face-to-face interview survey conducted by SWS last September 24-26. The survey has a ± 3-percent error margin.
According to the SWS, Duterte bested most of his post-EDSA revolution predecessors with his +54 net satisfaction rating except for Fidel Ramos who scored +66 in 1992.
Last July, Duterte also got an "excellent" trust rating in the SWS survey with 84 percent. A Pulse Asia survey after his oath taking also yielded a 91-percent trust rating for the newly elected president.