Duterte peace panel backs release of prisoners
Talks with NDF to resume in July
MANILA, Philippines — After conducting the two-day exploratory talks with a communist rebel group in Oslo, Norway, representatives from the incoming government panel will resume its formal talks in the third week of July, saying they are inclined to raise the possibility of releasing detainees.
Handpicked by President-elect Rodrigo Duterte, new peace negotiators led by incoming Presidential Peace Adviser Jesus "Jess" Dureza signed a joint statement with the Communist Party of the Philippines-National Democratic Front (NDF) leader Jose Maria Sison bearing some details of items to be discussed in upcoming meetings by the two camps in Oslo dated June 15.
"Finally, formal resumption of peace talks with CPP (Communist Party of the Philippines)/NPA(New People's Army)/NDF," Dureza said in the caption of a photograph of the joint statement released online.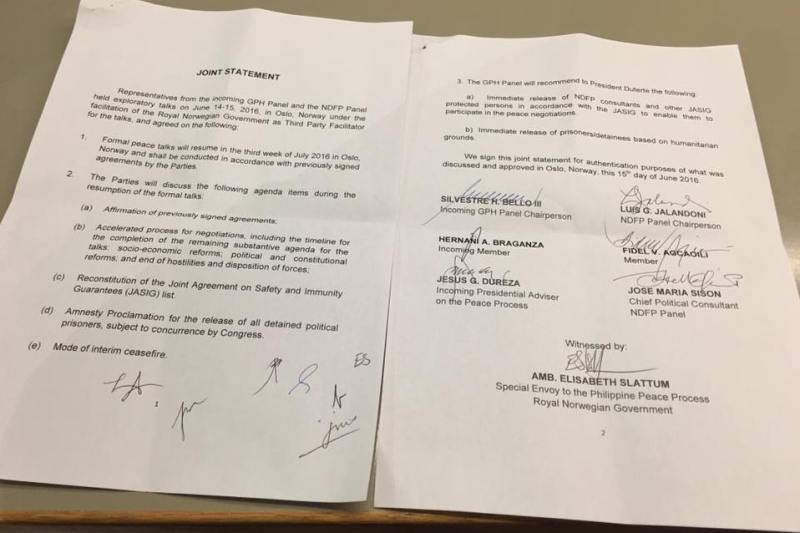 Photo released by incoming President Peace Adviser Jesus Dureza of the joint statement of the incoming government peace negotiators and the National Democratic Front of the Philippines panel following exploratory talks in Oslo, Norway on Wednesday.
In the joint statement, the the incoming government peace negotiators said they are inclined to recommend the immediate release of members of the leftist organization and other JASIG-protected persons who will participate in the talks.
The "immediate release of prisoners/detainees based on humanitarian grounds" will also be raised to Duterte.
The two panels also said they are set to discuss the accelerated peace process for negotiations, socio-economic, political and constitutional reforms, end of hostilities and disposition of forces, reconstitution of The Joint Agreement on Safety and Immunity Guarantees (JASIG) list, amnesty proclamation for release of detained political prisoners subject to concurrence by Congress, and the mode of interim ceasefire.
The conduct of the July meeting will follow previously agreement upon rules .
Renato Reyes, secretary-general of the left-leaning Bagong Alyansang Makabayan, lauded the incoming Duterte administration for the resumption of peace negotiations with the NDF.
Duterte on track to do more for peace talks with NDF in his first 100 days than Aquino did in 6 years.

— Renato Reyes, Jr. (@natoreyes) June 16, 2016