Elections complicate El Niño response in Sultan Kudarat
SULTAN KUDARAT, Philippines — The upcoming elections are slowing the flow of government aid to communities here affected by El Niño, interviews with residents suggest.
The local council of Esperanza town, for example, has yet to declare a state of calamity.
Leopoldo Estil, 61, and a farmer and member of a farmers' association in the barangay, said the mayor has asked the municipal council to pass a resolution to declare a state of calamity in the area but that that is unlikely to happen because of local politics.
With the campaign in full swing, councilors are already split along party lines and some of them have "already switched sides," Estil said in Filipino.
With the mayor also in campaign mode, Estil said that political opponents may be refusing to convene on the resolution to prevent the local government from taking action on the drought, which has turned many of the fields in the village brown.
He said that councilors may not want calamity funds made available out of concern that the money will be used to support the mayor's campaign.
"Next set of officers na ito," Estil said when asked if he expects the council to declare a state of calamity any time soon.
Generally, provincial governments need municipal governments to declare a state of calamity as basis for declaring a calamity in the province. Towns also need declarations on the barangay level.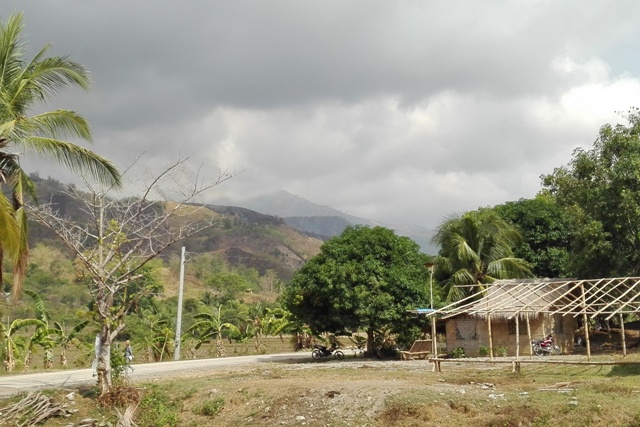 rice has become more expensive since the drought, to as much as P39 per kilogram from P32 from before El Niño.
Declarations of a state of calamity make emergency funds available and impose price freezes on basic goods like rice.
Farmers in the village say rice has become more expensive since the drought, to as much as P39 per kilogram from P32 from before El Niño.
In the meantime, Estil and other farmers from Barangay Numo that development group Oxfam gathered for a focus group discussion on Wednesday, said their families have had to get by on their own.
"Humihingi ako sa mga kamaganak, pero hindi ko alam kung hanggang kailan sa makakapgbigay dahil kulang din sila," copra farmer Jorge Santayo, 69, said.
"Iyong iba, nagbebenta ng hayop o nag-uuling," he said, adding incidents of livestock theft have gone up as well.
"May hihingin sana akong mga saging sa kapatid ko, pero pagbalik ko nung hapon, may kumuha na," he added.
The Department of Social Welfare and Development (DSWD) distributed rice in March—5 kilograms that would last for two to three days—and the Agriculture department also gave away drought-resistant seeds.
"Ang gobyerno natin, wala talagang direct assistance," Estil said.
Another farmer, who declined to be named, said the seeds came too late since the fields are too dry.
Water has also become scarce, with two barangays also getting their water from Numo, agricultural technologist Christopher Dable with the town's Office of Agricultural Services said.
He said that barangay governments have also been slow to respond to the dry spell because they were "waiting for advice from the Department of the Interior and Local Government."
He did not elaborate.
Barangay Tinumigues in Lambayon town paints a similar picture.
Barangay secretary Cherlita Felecia, 61, said the barangay captain, who is running for vice mayor, is only available in the evenings because of the campaign.
In any case, the barangay cannot do much because of an election ban on government spending.
"Hindi namin magalaw ang calamity [fund] dahil sa eleksyon," she said.
Comelec Resolution 3479 actually only prohibits the participation of candidates and their relatives in the distribution of relief goods during emergencies and calamities.
Under the resolution distribution must be done by non-partisan groups like the Philippine Red Cross.
Felecia said, though, that the barangay chairman is being extra careful to avoid being brought up on technicalities.
Barangay treasurer Meriam Odio, 52, said, that the chairman has urged residents to help each other in the meantime.
Communities like Numo and Tinumigues are still lucky since they were able to prepare for the dry spell.
"Sinabihan namin ang mga tao na huwag na muna magtanim," Odio said.
She added an NGO gave the barangay piglets and goats to raise so they can be sold to fund the next planting.
Gerundio Ayson, Jr., 56, of Barangay Numo said he was also told not to plant rice because of the impending drought. He has been planting eggplants instead, a crop that he said government should distribute seeds for.
But most of the government intervention at the barangay level has been through information drives.
The situation in Sultan Kudarat is not an isolated case, Oxfam, which is also assessing several parts of Mindanao also affected by El Niño, said part of the problem may be a lack of coordination between levels of government.
Oxfam Humanitarian Policy Officer Rhoda Avila said that since information on how calamity funds can be used during the election period might not have cascaded to LGUs.
"Automatic iyan, puwede na gamitin [ang calamity funds]," she said, noting that El Niño had been foreseen even before the election period started.
The DSWD has already asked the Comelec for an exemption on the ban, she said, but the application only covers the conditional cash transfer program. The Department of Agriculture has also reportedly asked for an exemption.
Felecia said that the barangay had declared a failure of crops in December and have been following up a request for help since then.
Residents have had to reduce their rice consumption while waiting for aid, with interviewees in both villages saying skipping breakfast and supplementing meals with root crops has become normal here.
There is rice in town, but farmers have no money since they have had poor harvests, if they have managed to harvest at all.
The fields beside Barangay Numo are black from a grass fire that hit recently and a fire was raging on one side of a nearby mountain during the interview.
"Kahit umulan na, mga four months pa bago kami makaka-ani," Estil said as he talked about petitioning the barangay and municipal governments for assistance to tide them over until the rains come.
"Hindi naman kami aasa sa assistance habambuhay pero sana may pang-lugaw man lang kami," Odio said.