Pope Francis apologizes for cutting Leyte trip short
MANILA, Philippines — Pope Francis on Saturday apologized to members of the Catholic clergy and religious and disaster survivors inside the Palo Cathedral in Leyte for cutting short his trip in the typhoon-ravaged province.
He said that the storm "Amang" forced the change in the original schedule, but he admitted that he was saddened by it.
"I apologize to you all. I'm sad about this, truly saddened, because I have something prepared especially for you. But let us leave everything in the hands of our Lady because I have to go now," Pope Francis said in Italian, subsequently translated to English by his companion, Msgr. Mark Gerard Miles.
The Holy Father explained that the Philippine Airlines pilots wanted the flight to leave at 1 p.m.—four hours earlier than the scheduled 5 p.m. departure from Tacloban City to Manila.
"There is a storm unfortunately around us and the pilots of the airplane have insisted that we have to leave at 5 p.m. because the weather forecast says that after 1 p.m. it's going to be worse," he said.
The audience reacted to the pope's announcement but welcomed his apology with applause.
ALSO READ: Pope Francis braves storm, moves Tacloban with homily
The Roman Pontiff also remarked in jest that the problem is that the plane cannot land in Palo.
"You know the problem is the airplane cannot land here, that is the problem!" he said.
He also asked the audience two things, the first asking their prayers for himself. "Secondly, keep quiet!" Pope Francis said, laughing.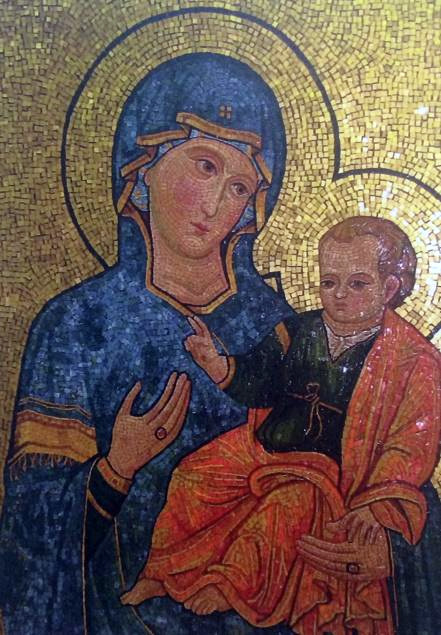 Pope Francis' gift to the diocese of Palo, Leyte--a mosaic of the Madonna del Popolo. CBCP News/Released
He led the praying of a Hail Mary and received the Palo diocese's gift of a wooden image of the Virgin Mary graven from the debris from a church destroyed by Supertyphoon Yolanda in 2013.
The pope, in exchange, left the local church a mosaic of the Madonna del Popolo.