US gov't study: 9-dash line inconsistent with int'l law
December 15, 2014 | 5:59pm
MANILA, Philippines — An agency under the United States Department of State questioned China's nine-dash line over the South China Sea, the subject of contention with its neighbors such as the Philippines.
The Bureau of Oceans and International Environmental and Scientific Affairs' study released earlier this month urged China to clarify sweeping delineation over the strategic waterway as the claim appears to be inconsistent with international law.
"China has not clarified its maritime claims associated with the dashed-line maps in a manner consistent with international law. China's laws, declarations, official acts, and official statements present conflicting evidence regarding the nature and scope of China's claims," it said.
"Unless China clarifies that the dashed-line claim reflects only a claim to islands within that line and any maritime zones that are generated from those land features in accordance with the international law of the sea ... its dashed-line claim does not accord with the international law of the sea," the study affirmed.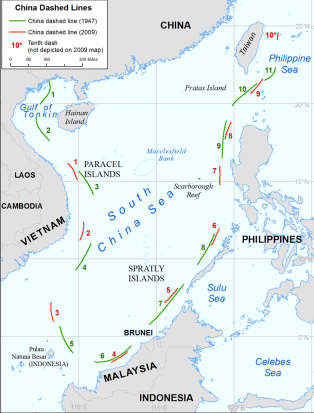 Comparison of China's dashed-line claims in 2009 and 1947. Map lifted from the US Department of State's "Limits in the Sea" study released December 5. US Bureau of Oceans and International Environmental and Scientific Affairs
The study explored interpretations of the dashed-line claim, which China has said is based on its historical stake on maritime features and waters.
It noted, however, that China's possible explanations for the nine-dash line will not assure it of sovereignty and jurisdiction over the areas.
"Even if the legal test for historic waters were applicable, the dashed-line claim would fail each element of that test," the authors wrote.
The Philippines has repeatedly objected to China's claims in asserting its own rights over the hotly disputed sea. It is also pushing an arbitration case against the Asian giant under the United Nations Convention on the Law of the Sea (UNCLOS) despite Beijing's rejection of the proceedings.
The Department of Foreign Affairs, meanwhile, welcomed findings of the study as a contribution to the "substantive literature that supports the primacy and utility of the UNCLOS for the determination of maritime entitlements, and the peaceful settlement of maritime disputes."
RELATED: What's next in South China Sea? 4 scenarios simulated