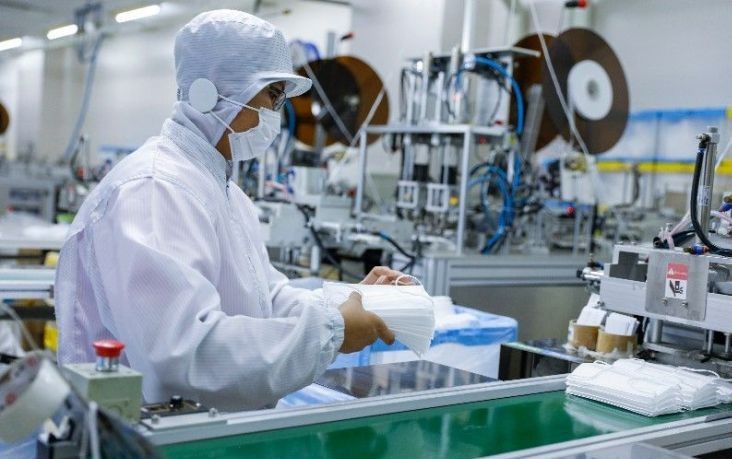 Private sector, civil society efforts vs COVID-19 in Philippines
LATEST UPDATE: October 20, 2020 - 7:36pm
+ Follow Story
October 20, 2020
About 63% of adult Filipinos deem the efforts of private businesses and companies in preventing the spread of COVID-19 among their employees adequate.
The national mobile survey conducted from September 17 to 20 also found that 23% of the respondents consider them inadequate while 12% are undecided.
The poll was conducted using mobile phone and computer-assisted telephone interviewing among 1,249 adult Filipinos nationwide. Error margin is at ±3% for national percentages, ±6% for Metro Manila, ±5% for Balance Luzon, ±6% for the Visayas, and ±6% for Mindanao.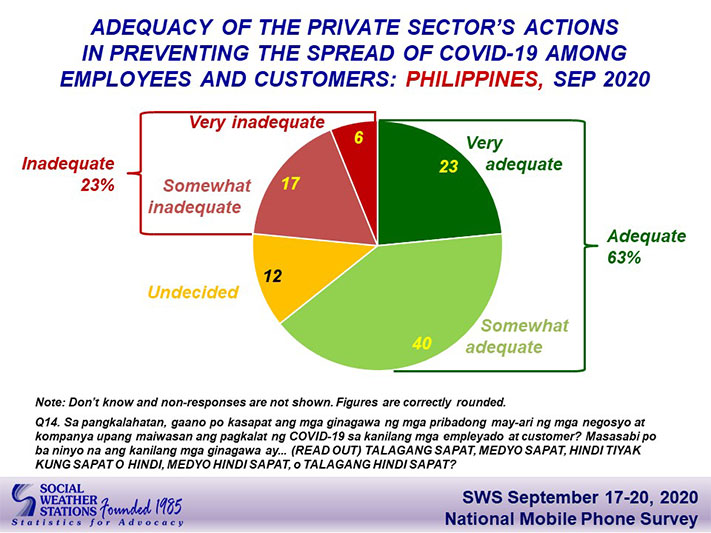 July 3, 2020
J. Amado Araneta Foundation, the social development arm of Araneta City, says it has donated COVID-19 rRT-PCR test kits to the Quezon City government last June 30.
"These test kits, which are expected to test 500 samples at the Quezon City General Hospital, were developed by scientists from the University of the Philippines-National Institute of Health, with the assistance of the Department of Science and Technology through the Philippine Council for Health Research and Development," the group says in a statement.
June 23, 2020
UNICEF has "delivered 72,000 PPE sets, 450,000 N95 and surgical masks for health workers, and 2,000 PPEs for cleaning staff to the Department of Health as part of our support to the Philippine government to address the COVID-19 pandemic," the UN Children's Fund says in a report to donors.
Aside from the equipment, UNICEF has also given support to COVID-19 relief through the DOH and the Child Welfare Council "to provide adolescent well-being hotlines linked to telemedicine and the door-to-door service delivery of adolescent sexual reproductive health services, including antiretroviral supply for HIV/AIDS."
It has also "[provided] webinars on mental health and psychosocial support for community partners."
June 20, 2020
Nonprofit Save the Children Philippines announces that it has provided assistance to deprived and marginalized children and their families in partner communities in Sarangani and Cotabato to help them cope with the COVID-19 crisis.
Personal protective equipment comprised of 272 surgical masks, 189 boxes of gloves, 150 face shields, along with 354 bottles of 1-liter alcohol, 302 boxes of vitamins and information materials were provided to 92 Barangay Health Emergency Response Teams and four Rural Health Units.
Lawyer Alberto Muyot, chief executive officer of Save the Children Philippines says a strong partnership with local government units is critical for an effective implementation of the program.
June 5, 2020
Anvil Business Club, an association of young Filipino Chinese entrepreneurs, says it made donations totalling to around P45 million worth of cash and medical supplies through several foundations and local government units in the fight againt COVID-19.
Assistance was given to civic causes through the following: Hinabang Foundation through First Lady Honeylet Avanceña, Sen. Kiko Pangilinan, GMA Kapuso Foundation through GMA Chairman Atty. Felipe Gozon, Quezon City Mayor Joy Belmonte, Cavite Vice-Governor Jolo Revilla and San Juan City Mayor Francis Zamora.
June 5, 2020
The United States provides an additional P201 million ($4 million) worth of assistance for communities in Mindanao to help against the COVID-19 pandemic. This brings the total US pandemic assistance to the Philippines to over P978 million ($19.5 million).
According to the US Embassy, the additional fund in humanitarian assistance will allow USAID to provide 100,000 persons with essential hygiene supplies, handwashing stations, hygiene promotion to reduce transmission risk and help communities reopen in Mindanao.
"With the additional $4 million in humanitarian assistance, USAID will protect vulnerable populations — those displaced by conflict and the recent earthquakes in Mindanao — from the ongoing COVID-19 pandemic," the US Embassy says in a statement.
May 29, 2020
The University of the Philippines Baguio launches "UP Ikot: Talipapa as Oble", which aims to assist the local community to obtain farm produce and other food items at no-markup cost.
The UP talipapa is scheduled to be held every Friday, 08:30 a.m. to 12:00 noon. It is open to the public who are required to follow health security protocols while shopping.
May 7, 2020
Quezon City public school teachers have raised more than P1 million from a donation drive to provide medical frontliners with protective equipment, the Allianc eof Concerned Teachers say in a press release.
The money was raised by the Quezon City Public School Teachers Association (QCPSTA), under the banner of ACT for People's Health Program.
"Ambagan ng mga Guro procured 1,120 Personal Protective Equipment, 1,450 N95 masks, 1,154 face shields, 50 gallons of alcohol, 2,600 surgical gloves and 2,610 surgical masks for 16 hospitals in the National Capital Region," it also says.
Among the hospitals that the supplies will go to are Philippine Heart Center, Lung Center of the Philippines, Novaliches District, Quezon City General Hospital, East Avenue, Medical Center, Rosario Maclang-Bautista General Hospital, New Era Hospital, Philippine Children's Medical Center, Rizal Medical Center, Philippine Orthopedic Center.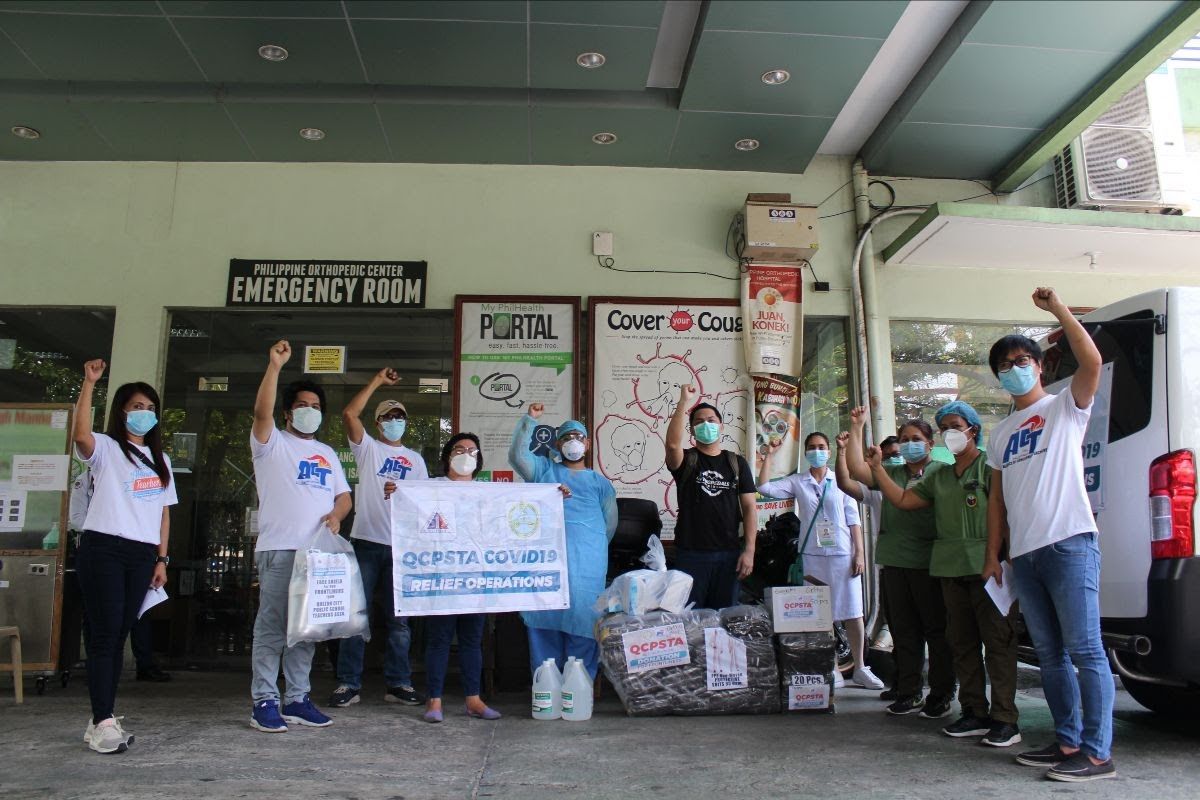 May 4, 2020
With its main ride-sharing service suspended during the enhanced community quarantine, Grab Philippines says it has harnessed innovation to launch several products to help communities during the COVID-19 crisis. Among these are:
Nearly 100 units of e-scooter service GrabWheels deployed in 12 key cities in Metro Manila, Visayas and Mindanao to support healthcare workers and other front liners.
Specialized car delivery fleets to distribute food and medical supplies in Quezon City, Caloocan, Muntinlupa, Pasig and Pasay.
Development of donation streams using GrabRewards and GrabPay, through which P9 million was channeled to purchase 3,300 PPEs, 36,000 meals for front liners and 1,500 food bags for vulnerable communities.
Contactless delivery through GrabFood and GrabExpress.
Introduction of GrabMart to make it more convenient for residents to shop for daily essentials and groceries
April 29, 2020
Meralco offers its Multi-Purpose Hall at the Meralco Fitness Center in Ortigas City for frontliners of The Medical City who had been staying in the hospital since the enhanced community quarantine .
"These frontliners treat COVID-19 patients and we wanted to do our best to make them feel loved, cared-for, safe, and comfortable," says Meralco President and CEO Ray Espinosa.
April 22, 2020
An appliance maker donates water dispensers, electric fans and ovens to the Philippine General Hospital, one of the COVID-19 referral centers in Metro Manila.

Hanabishi has also sent 10,000 cans of sardines for ABS-CBN's Pantawid ng Pag-Ibig donation drive which aims to help families whose livelihood were affected by the enhanced community quarantine.

"Let us look for ways to help each other out during these challenging times. We should put our best practices and resources to respond to the needs of our fellow Filipinos," says Jasper Ong, Hanabishi president.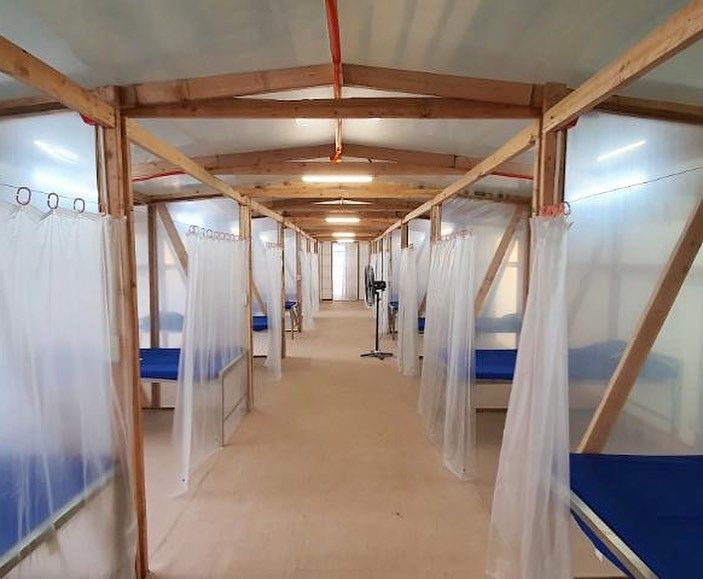 April 21, 2020
Globe Telecom announces that it will extend the bill payment due dates for its mobile and broadband postpaid customers, including all business and enterprise clients nationwide, up to May 15.
Globe customers are given up to 60 days of bills payment extension equivalent to two months of unpaid bills. The company initially provided a 30-day bill payments extension which expired on April 15.
April 18, 2020
PepsiCo and its philanthropic arm, PepsiCo Foundation, contribute US$500,000 (P25.4 million), together with top business groups to raise more than US$30 million (P1.6 billion) towards
Project Ugnayan.
The Philippine Disaster Resilience Foundation, Caritas Manila and its partners are implementing Project Ugnayan to reach over 12.5 million individuals and deliver assistance to Metro Manila's vulnerable communities, with approximately 100 million meals by April 30, 2020.
April 16, 2020
Sen. Risa Hontiveros says there should be safeguards against scammers who may be using the COVID-19 crisis to swindle potential donors but says government accreditation should have less red tape.
"I hope the [Department of Social Welfare and Development] makes the requirements simpler and free. Otherwise, a lot of donations might stop," she says in Filipino.
"We need to cut red tape during this crisis and deliver aid to those who need it ASAP."
April 16, 2020
Airbnb is expanding its global Frontline Stays initiative to provide housing to 100,000 COVID-19 responders.
Airbnb, through a partnership with the Philippine Disaster Resilience Foundation, will launch a program in April that aims to provide healthcare staff and frontliners with safe and convenient places to stay while they carry out their critical work.
April 11, 2020
Carlito Galvez Jr., chief implementer of the country's national policy against COVID-19, expresses gratitude to the private sector's "Project Ugnayan" that has already raised P1.7 billion for 1.5 million families affected by the enhanced community quarantine.
"We are very grateful to businesses and organizations which have taken part in 'Project Ugnayan'," says Galvez.
"Through your efforts, you are helping our less forunate brothers and sisters cope with with the effects of this COVID-19 pandemic," he adds.
April 10, 2020
The United States government donates 1,300 new cots in support of the Philippines' fight against COVID-19.
The US donated more than 1,100 cots to the Office of Civil Defense for COVID-19 patients while it also provided 150 cots to the Philippine General Hospital for healthcare professionals.
These cots were originally for the Balikatan 2020 joint military exercise which was canceled.
April 9, 2020
The University of the Philippines' Psychosocial Services or PsycServ, New Good Feelings Mindstrong's HOPELINE, United Nations' Children's Fund and ABS-CBN Foundation's Bantay Bata 163 partner with Globe to provide free psychotherapy, counseling and children's support.
The telco is giving free unlimited call and text to UPD PsycServ to allow volunteers to reach out to those who send them messages via text or Viber for the duration of the Luzon-wide community quarantine.
Hotlines and numbers are available in the detailed news release here.
April 9, 2020
Procter & Gamble (P&G) Philippines' manufacturing plant in Cabuyao City, Laguna is being readied to produce surgical masks.
In an announcement, the company says that the face masks will not be available for sale but will be for donation and for use of their employees.
The Philippine government has made the wearing of masks outside homes as mandatory.
A thread of efforts by companies and organizations in response to the COVID-19 pandemic and its effects. (Main photo from Pampanga-based Yokoisada Philippines' manufacturing plant for surgical masks)