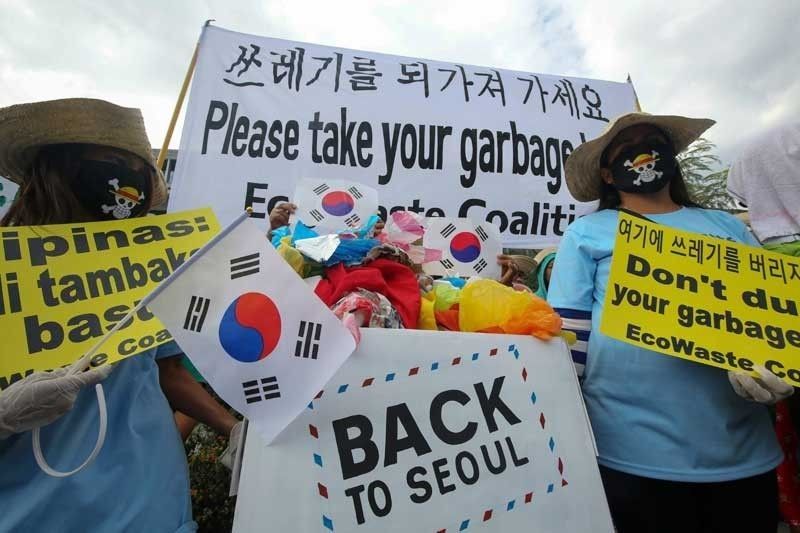 South Korea garbage shipment
LATEST UPDATE: March 15, 2019 - 9:15am
LOCATION:
SOUTH KOREA
PHILIPPINES
+ Follow Story
March 15, 2019
Verde Soko, a recycling company, linked to the importation of misdeclared trash from South Korea does not even have facilities to recycle plastic, Rep. Juliette Uy (Misamis Oriental) says in a press release.
A video of the inspection of Verde Soko's property in Tagaloan town that was posted on Thursday was included in the release.
"We did not see any working machinery, equipment, and supplies needed for plastic recycling," Rep. Frederick Siao (Iligan City) says in the same release.
The ship taking back the garbage shipment misdeclared as plastic synthetic flakes back to South Korea arrives at Misamis port today, a solon says.
Rep. Juliette Uy (Misamis Oriental, 2nd District) makes the announcement in a statement Sunday, January 13 as she thanked the government of South Korea, Customs and Environment department officials and civil society groups for swiftly addressing the solid waste management controversy.
The 5,100 tons of trash which arrived at the Mindanao International Container Terminal in Misamis Oriental last July 2018 was supposed to be shipped back to Pyeongtaek City in South Korea where it originated on January 9 but was held back due to the delay in the ship's arrival.
The South Korean government found in an investigation that the company behind the shipment made a false declaration and forged export documents.
What was supposed to be plastic synthetic flakes contained plastic, used batteries and hospital wastes such as diapers and dextrose tubes, among others, the Philippines' Environmental Management Bureau said.
Meanwhile, Verde Soko Philippines Industrial Corporation, the consignee of the shipment, earlier vowed to ship back hazardous material to South Korea after calls that they and the shipper shoulder the expenses for the return of the trash.