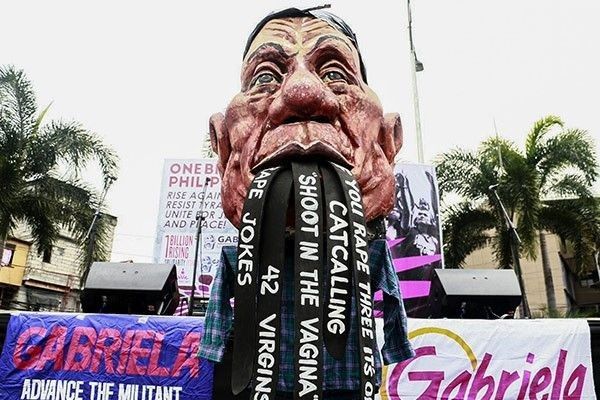 LATEST UPDATE: May 27, 2019 - 10:46am
LOCATION:
MANILA
PHILIPPINES
+ Follow Story
May 27, 2019
Gabriela slams President Duterte's latest rape joke at the Philippine Military Academy's graduation rites where the chief executive pretended to read out offenses committed by cadets, which, he joked, included rape and multiple rape.
"The Number One is for rape, p***** i**. Ang Number Two is drugs with rape with robbery. Para sa Muntinlupa ito. Pangatlo, multiple rape of the women of Baguio. The beautiful ones. Sino 'yan?" Duterte said as he pretended to read a list of cadet's offenses. The president said he would let the cadets off the hook for now "because I need good and capable soldiers and I know that one or two is bound to happen, but I will forgive you."
"Their Commander-in-Chief is actually absolving them from accountability at this early stage of their careers, and prodding them to commit offences and not be held accountable because they are 'good and capable' soldiers anyway," the women's rights group says.
"Walang kadala-dala itong bastos na Presidente. Matapos ng matagal na pagkawala sa mata ng publiko, magpapakita siya at maghahasik na naman ng kabastusan."
GABRIELA slams Duterte's latest rape joke
"Walang kadala-dala itong bastos na Presidente. Matapos ng matagal na pagkawala sa mata ng publiko, magpapakita siya at maghahasik na naman ng kabastusan. " pic.twitter.com/fWokCrLEMa

— GABRIELA (@gabrielaphils) May 26, 2019
January 6, 2019
Vice President Leni Robredo says "jokes" about molesting sleeping househelp "normalize" sexual abuse.
On her weekly radio show, Robredo says that telling jokes is not wrong but says in Filipino that "there are some jokes that really shouldn't be told."
President Rodrigo Duterte reaped criticism last week for saying he had touched a sleeping househelp when he was still a teen. The Palace has said that the president's story was made up and was supposedly meant to highlight sexual abuse by Catholic priests.
Robredo says the "joke" could put Filipino OFWs at risk and says the president's story seems to have been told "without considering so many of our fellow Filipinos work as domestic helpers abroad and there have been many cases of abuse."
She says: "Parang ginagawang normal... Parang ginamit mo ito bilang isang biro o pahayag, parang nano-normalize yung isang bagay na napakasama."
(It makes it normal. By using it in a joke or a statement, it's like you're normalizing something that is so wrong.)
January 4, 2019
The Commission on Human Rights calls on the Duterte administration to refrain from making statements that may contravene its commitment to uphold the rights of Filipino workers abroad after a remark by President Rodrigo Duterte claiming to have abused a female domestic worker during his teenage years.
"Filipino domestic workers, especially women, face a number of challenges in some receiving countries. The current administration is fully aware of this condition when, in early 2018, the government even prompted a deployment ban in Kuwait following numerous cases of disappearance, death, and abuses of Filipino workers. Reports of similar forms of maltreatment are also being reported in other countries," CHR spokesperson Jacqueline Ann de Guia says in a statement.
The state human rights body urges the government to be consistent "both in words and deeds in this regard."
Gabriela holds One Billion Rising protest on Valentine's Day against President Rodrigo Duterte's "habitual sexist tirades against women." Women protesters will slash the "tongues" of an effigy Duterte. The tongues represent misogynistic remarks uttered by the president. Duterte has made numerous "rape jokes," which earned criticisms from local and international rights groups. Recently, he remarked that troops shoot female New People's Army rebels in the vagina.