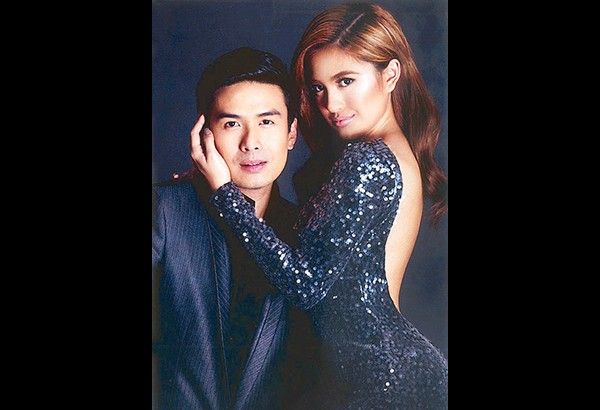 PETA has come up with a musical titled Ako Si Josephine featuring the songs of Yeng Constantino, including Ikaw which she wrote for her husband Yan Asuncion
Credit: Screen grab of Ikaw music video
Christian: All artists have insecurities
FUNFARE
-
Ricky Lo
(The Philippine Star) - October 14, 2016 - 7:28pm
Curtain-raisers:
Gentle reminder: Ang Hindi Nakikitang Pakpak, the musical inspired by Rita Avila's children's book The Invisible Wings, will be staged Oct. 20, 21 and 22 at 10 a.m. and 3 p.m. at the St. Cecilia's Hall of St. Scholastica's College. Tickets (P350 per) is available at the gate. Directed by Joey Ting, the musical is produced by Harlene Bautista and Peter Serrano.
Another gentle reminder: The car (a Toyota brand) of a not-so-young TV-host-comedian is waiting to be claimed at his favorite casino where he left it as collateral after he lost a big amount. Otherwise, according to the Funfare source, the car will be sold at an auction.
* * *
At the presscon for his and Julie Anne San Jose's concert, When Julie Anne Meets Christian (at Kia Theater on Nov. 11), Christian Bautista was asked if he didn't feel insecure about the fast takeover of new talents discovered in searches every quarterly.
"I guess all artists have insecurities," admitted Christian, "and I have my insecurities, too. Not only every year but every six months, ang daming new talents na nadi-discover. Everyone is entitled to his own piece of the sky; every talent deserves a break. Those in my rank should just keep going. For fallback, if they can they should put up a business."
Christian looks up to such enduring artists as Basil Valdez and Jose Mari Chan as role models.
"After so many years," he said, "they are still very much around, very much in demand, and I hope to reach that level."
Produced by Dreamstar Events Management and GMA Network, When Julie Anne Meets Christian is the two Kapuso artists' first concert together.
"I used to call him Kuya Christian," said Julie Anne. "I never thought I could be doing a concert with him.
Incidentally, Christian was mum on his love life (his girlfriend is of Indian ancestry) lest it turn out to be a dud like the previous one (a Singaporean).
(The show's musical director is Marc Lopez, with Marvin Caldito as director. For tickets, call Ticketnet at 911-5555.)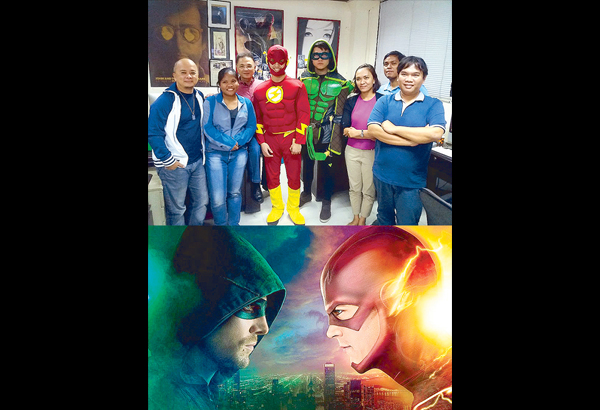 Models Benjamin George II (as The Flash, in red) and Aaron Vinuya (as Arrow, in green) with the STAR Entertainment staff (from left) Ver Paulino, Phoebe Marquez, Ricky Lo, Honey Orio-Escullar, Emerson Salvador and Jerry Donato. The visit was part of the promo for the shows (below) The Flash and Arrow which premiere on TV5 Monday, Oct. 17.
A chance to compare Robin Hood with Arrow
A few weeks ago, there was a minor controversy prior to the premiere of Dingdong Dantes' show Robin Hood on GMA, simply because of Dingdong's hooded character which is very similar to that of Stephen Amell who posted his hooded picture as lead star of Arrow on social media.
Starting on Monday night (Oct. 17) at 7 o'clock, Arrow will be airing on TV5 (with The Flash following soon after at 8 p.m.), so this is a good chance for everybody to compare the two shows. If you're a follower of Supergirl (second season available on HOOQ effective last Monday, Oct. 10), you must have seen how Flash star Grant Gustin crossed over with Supergirl star Melissa Benoist on the previous season (and with Superman star Tyler Hoechlin in the first few episodes of the current season).
I won't spoil the fun, so I'd rather have you find out how The Flash got his power of super speed and what Arrow is all about.
As they did for the promo of Walking Dead when they visited media offices with three men dressed as zombies, the TV5 PR girls dropped by the STAR Entertainment section Wednesday afternoon with two handsome guys, models Aaron Vinuya as Arrow and Benjamin George II as The Flash. The two are artistahin, doing special events (cosplay, etc.) while waiting for a break. Aaron, 20, is in the cast of Carlo J. Caparas' Kamandag ng Droga.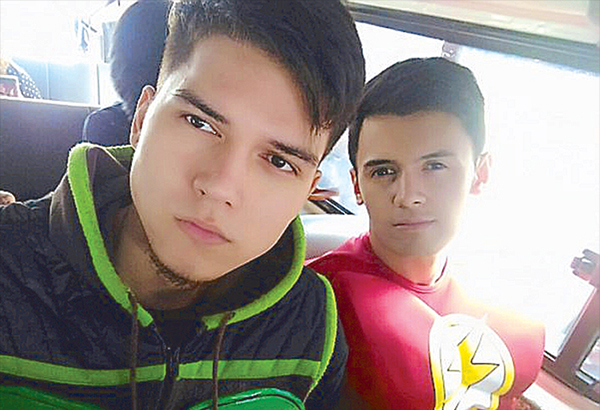 Aaron and Benjamin without their masks
(E-mail reactions at entphilstar@yahoo.com. You may also send your questions to askrickylo@gmail.com. For more updates, photos and videos visit www.philstar.com/funfare or follow me on www.twitter/therealrickylo.)